Who or what do you worship?
Yourself?
The idea of having a perfect partner?
Money?
Success?
Power?
Happiness?
Jesus commands us to worship only God:
Jesus answered him, "It is written, "'You shall worship the Lord your God, and him only shall you serve.'" (Luke 4:8)
As John Piper puts it:
Everyone in the world worships something. From the most religious to the most secular, all people value something high enough to build their lives around it. It may be God, or it may be money. But what makes it worship is the driving power of some cherished treasure that shapes our emotions and will and thought and behavior. Into this universal experience of worship Jesus demanded, "Worship [God] in spirit and truth" (John 4:24). In other words, bring your experience of worship into conformity with what is true about God, and let your spirit be authentically awakened and moved by that truth . . . worship now happens through Jesus because he himself is God. He is not simply the mediator of worship between us and the Father; he is also the one to be worshiped.(What Jesus Demands from the World)
Why should we worship Jesus?
Jesus expects us to worship himself, because he is one with God. We see this in several places.  Firstly he explicitly asks his followers to serve him, something which Luke 4:8 uses as a synonym for worship.
If anyone serves me, he must follow me; and where I am, there will my servant be also. If anyone serves me, the Father will honor him (John 12:26).
When Jesus forgives sins that have been committed against God then he is also implicitly claiming to be God as only God can forgive sins against himself (Mark 2:5–11).
Elsewhere, Jesus explicitly makes claims of his oneness with God:
Believe that I am he. Truly, truly, I say to you, whoever receives the one I send receives me, and whoever receives me receives the one who sent me. (John 13:19-20) 

Whoever has seen me has seen the Father. How can you say, 'Show us the Father'? . . . Believe me that I am in the Father and the Father is in me (John 14:9-11).

"Truly, truly, I say to you, before Abraham was, I am" (John 8:58)
Jesus unashamedly owns the title Lord, which is used throughout the New Testament for God:
You call me Teacher and Lord, and you are right, for so I am (John 13:13)
Indeed the simple act of calling Jesus Lord is a crucial part of becoming a Christian (see Romans 10:9). You cannot be a Christian without worshiping Jesus as Lord.
When Jesus makes the audacious claim that those who follow him will find that all things become possible, it simply makes sense for us to worship him.
Do Christians worship three Gods?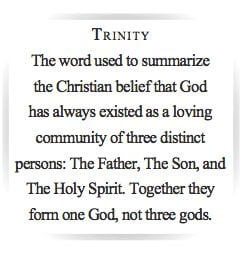 The Christian God is three in one: God the Father, God the Son, and God the Holy Spirit. Christians explain this by the concept of the Trinity: God has always existed as three persons, but one God, and we worship them all.
Perhaps one of the clearest demonstrations of their personhood was at Jesus' baptism, when they each had distinct roles. The Son was the one getting wet, the Father spoke from heaven, and the Spirit appeared in the form of a dove (Luke 3:21-22).
The Bible tells us that "God is love" by His very nature (1 John 4:16). This was true even when only the Trinity existed, and there was no one else to love.
God has eternally been a community of three people, and so we should never foolishly imagine that He was lonely before the universe was created.
From eternity past the members of the Trinity have loved and indwelt each other. Jesus said, "The Father is in me and I am in the Father" (John 10:38).
There are several illustrations commonly used to describe God. While these are all helpful to some extent, they all have weaknesses which help us realize what God is not like.
The Trinity is often compared to water, which can exist in three forms: liquid, steam, and ice. However, God is not sometimes the Father, sometimes the Son, and sometimes the Holy Spirit. He is all three all at once. Another illustration that is used is a man who may be simultaneously a husband, a father, and a son. However, the man is only one person, who functions in different ways. In contrast, God comprises three persons, rather than three manifestations of the same person.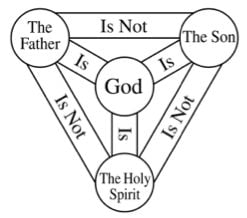 Ultimately, God is incomparable and all we can finally do is worship Him. The three persons of the Trinity are distinct from each other, yet together they make up one God.
This truth has been expressed for centuries in a diagram we include on this page. This is a profound mystery. Yet it is a simple truth.
Calling Jesus "Lord" also declares that He is in charge of you and that you will live for Him. Many today do not want to surrender the control of their lives to anyone, let alone to Jesus.
The Bible is clear: you cannot be a Christian and carry on living for yourself. If Jesus is your Lord, you must obey Him and give Him your total allegiance.
How you choose to respond to Jesus is the most important decision you will ever make. Some say, "He was a great teacher, the best the world has ever seen." Even secular historians recognize that Jesus was the most influential man in all of history.
Others go further saying, "He was a great prophet." But Jesus claimed to be God, accepted worship, and proclaimed that He would rise from the dead.
Good teachers don't claim they are the only way to God; instead, they point to their teachings. What He said was either true, or else He was foolish, or a liar. Jesus, it is often said, was either bad, mad, or God.
If you are not yet a Christian, recognizing Jesus as God and choosing to worship and follow Him as your Lord is the crucial turning point.
Declaring Jesus to be your Lord and meaning it requires the help of the Holy Spirit (1 Corinthians 12:3). It is crucial that you admit to Jesus that you have sinned, and ask Him to forgive you, and help you to follow Him from now on.
How do we worship Jesus?
We d0 have to use our mouths to offer worship.  When Jesus performed a miracle and walked on water, the gospel tells us,
"those in the boat worshiped him, saying, "Truly you are the Son of God." (Matthew 14:33).
Unlike angels who refused to accept worship, Jesus didn't try and stop them.
Jesus also accepts worship from Thomas, as the doubter becomes the true believer and declares the divinity of Jesus:
Then he said to Thomas, "Put your finger here, and see my hands; and put out your hand, and place it in my side. Do not disbelieve, but believe."  Thomas answered him, "My Lord and my God!"  Jesus said to him, "Have you believed because you have seen me? Blessed are those who have not seen and yet have believed" (John 20:27-29).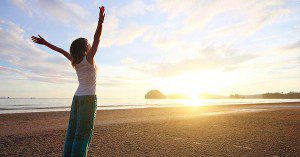 Worship is not just about singing songs, although that is clearly a part of it.  It is much more about who we serve. We worship our master, who determines and directs our lives.
If you worship Money, it means you serve it and allow its dictates to determine all your decisions.  If you worship God, you make him your Lord and follow him in every aspect of your life.
To worship also means to honour, it is all about respect, and again Jesus demands the same honour from us as we are to give to his Father:
For the Father judges no one, but has given all judgment to the Son, that all may honor the Son, just as they honor the Father. Whoever does not honor the Son does not honor the Father who sent him. (John 5:22-23)
At the heart of Christianity lies the belief that Jesus is God, and following His triumphant resurrection, He is the ruler of the universe who will one day return to earth to reign as King.
Worship is not a one-way street. As we gather to worship Jesus, or worship him on our own he promises to meet with us. And it is this meeting with God that will draw our hearts to honor him more, and then to live for him. Obeying Jesus comes from abiding with him, and loving him.
As Terry Virgo put it,
Consciously enjoying the love of Jesus gives you much stronger motivation to please, trust & obey him.

— Terry Virgo (@TerryVirgo) April 15, 2018
It seems appropriate to end this article with the opening words of John's Gospel which describes Jesus as the Word:
In the beginning was the Word, and the Word was with God, and the Word was God. He was in the beginning with God.  All things were made through him, and without him was not any thing made that was made.  In him was life, and the life was the light of men. The light shines in the darkness, and the darkness has not overcome it. . .  The true light, which gives light to everyone, was coming into the world.   He was in the world, and the world was made through him, yet the world did not know him.  He came to his own, and his own people did not receive him.  But to all who did receive him, who believed in his name, he gave the right to become children of God,  who were born, not of blood nor of the will of the flesh nor of the will of man, but of God.

And the Word became flesh and dwelt among us, and we have seen his glory, glory as of the only Son from the Father, full of grace and truth. . . No one has ever seen God; the only God, who is at the Father's side, he has made him known.  (John 1:1-17)
---
Related Articles
---
Don't miss the rest of the series "Jesus Commands"
Jesus said that if you obey him your life will be established on a firm foundation when the storms come.
Follow the link to read all the articles, or subscribe to our newsletter to be notified as they are published. 
Complete the form in the top of the right hand column, or below if you are visiting on a mobile device.
---
Images: Pixabay unless otherwise indicated. Part of this article was adapted from Hope Reborn by Tope Koleoso and Adrian Warnock