Listen.
Hear that?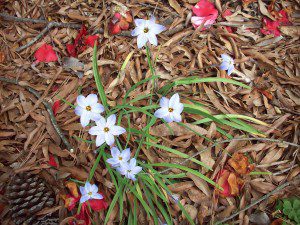 The birds have started singing again, at least outside my window. I've never been much of a bird lover before, but for some reason this season, birdsong has become one of my favorite sounds. It's soul-soothing, and charged with the magic and energy of the coming spring.
The darker months have always been a challenge for me, even after moving to the south and discovering a winter where the sun still shines. There's just something about the season that slows me down; something within me longs to hibernate, and the fact that modern life doesn't afford me this opportunity makes me sometimes sad, sometimes cranky, for the days between Halloween and Imbolc.
Despite the pull of winter, I am resistant to the idea of stillness, and the thought of a "fallow time" eats at my type-A personality. I am a doer, a planner, a multi-tasker, and yet every year, I am bested by winter. This year, I tried to listen to my deeper urges. I cleared the calendar as best as I could, and I gave myself permission to sleep in, do less, and seek out things that felt nurturing and warm. I wasn't always successful (I always feel like if I am not doing ALL THE THINGS then I have done nothing), but I did find some peace and stillness in the depths of the passing season.
With the coming Equinox, however, I am ready to shed my winter skin. Not only is spring beginning to burst out, but we are approaching a powerful moment. The days have been getting gradually longer, but before we can feel the full flush of summer, we must pause and acknowledge the equinox. At the vernal equinox this week, day and night will be almost balanced. Such an event only occurs twice a year, and because of this rarity, it provides us with a powerful opportunity for soul work and magic.
What do you want to bring into balance? Think about the lessons you learned in the darkness of winter, and consider the sweetness of summer that you are craving. How can you walk forward into the light of longer days with a steady step? Take some time in the coming week to consider these questions. What does balance mean to you? This is a great opportunity to start (or renew) a journaling practice. Listen to the world around you, and listen to your deepest self.
In my life, I've come to learn that being balanced doesn't mean devoting myself equally to all the things before me; for me, balance comes from listening to my inner voice, cultivating my spiritual practice, and finding something joyful in every day. Do I sometimes bite off more than I can chew? Yes. Does my work sometimes tip the scales, taking me away from play? Yes. Does this mean I am out of balance? As long as I can draw a deep breath and feel centered within myself, no matter what my schedule looks like, I believe that balance is within my reach.
Learning to see balance as a constantly accessible internal state rather than an external goal has made a world of difference for me, but sometimes, I forget. When I do, I feel myself spiraling down into a frantic place, where ALL THE THINGS wait, demanding attention. This winter, though, I think I did better at stopping and listening to the darkness than I usually do. When I allowed myself to slow down, I was able to breathe in stillness.
Still, it's not good to get complacent, so in the days surrounding the equinox, I will take a little extra time for myself; perhaps I'll take a healing bath, or maybe I'll spend some time with my tarot cards. Maybe I'll just put my feet up and get lost in a good book.
How will you cultivate balance today?
---
The Busy Witch is published on alternate Tuesdays. Follow it via RSS or e-mail!