Lately, I've felt stuck.
(Just typing that sentence took twenty minutes).
I can find any number of excuses for my blocked creative flow: it's still winter, the sky is gray, I hate all this rain, I'm in between projects, or maybe I just need a nap. But all the excuses in the world don't change the fact that the past two months have been a fairly fallow time for me. As a person used to living creatively, these doldrums have felt worse than they really are, and I have found myself piling on guilt and self-loathing each day that I don't do the things that set my heart on fire. It's an unhealthy reaction, but I am slowly trying to cultivate more kindness toward myself, whether or not I am operating at my peak. Even so, I don't like to remain stagnant, and I have been searching for a way to jump-start my heart and get me back to a place of movement.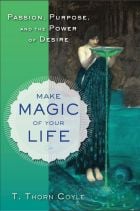 Because of being in this sludgy place, I leapt at the chance to read T. Thorn Coyle's newest book, Make Magic of Your Life: Purpose, Passion, and the Power of Desire (Weiser Books, 2013). A few pages in, I felt as if the book had been written specifically for me in this moment of my life, and that feeling remained throughout the entire manuscript. What a gift!
This elegant book is built around four principals: To Know, To Will, To Dare, and To Keep Silence. Coyle classifies these concepts as the four aspects of the Sphinx, drawing on mystical knowledge from Kabala and other structures in a way that is easily understood by any spiritual seeker, regardless of background or training.
In the first section, the reader is introduced to the idea that "Desire connects us to ourselves and to the flow of life" (pg. 29). When desire is understood not as something selfish, but rather as a connective force, it becomes easier for some people to allow themselves to explore desire. "To Know" encourages soul seeking, and the chapters in this section are built around the idea of each individual reader recognizing her own desire and learning to listen to the wants of her soul. The guided journal questions and activities are excellent for reconnecting with desire, and as I worked through this section of the book, I felt empowered to move forward. Knowing what you want is a magical thing, and the first step toward manifesting your desires.
"To Will", the second section of this book, builds on the desires that the reader identified in the first part of the manuscript. Persistence, resistance, and the power of showing up form the core of this section. Reading about Coyle's own struggles to commit to her soul-work helped me to look openly at the things that I have allowed to feel like obstacles. The most liberating moment in this section came for me when Coyle reminds the reader that "Practice is about practicing. It is called practice because it is not meant to be perfect" (pg. 92). For someone who frequently feels the weight of failure if I don't get it right the first time, this statement was powerfully resonant.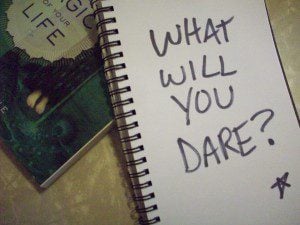 With my resistance turning from a negative force to a positive force, I was positively bouncing on my toes as I entered the third section of the book, "To Dare." Although the entire book is powerful and transformative, this section shattered some of my self-imposed barriers and brought me to a really wonderful realization. In the midst of remembering how to dare, working through this section helped me realize that now is a perfect time to take a leap I've been both dreading and dreaming of for years. More on that at a later time; the power "to dare" is life-changing, liberating, and terrifying.
The fourth component of the Sphinx, "To Keep Silence", is meditative, restorative, and deeply spiritual. I generally struggle with silence and stillness; I feel like I must be in constant motion if I am ever going to accomplish anything. But silence is not weakness. In fact, silence and stillness are actually very powerful pieces of any spiritual work. As Coyle says, "The mat and the meditation bench are altars. I become both the offering to the Gods and the offering to my own divine nature" (pg. 155). This new way of looking at silence is helping me to reshape not only my meditative practice, but my day to day life, as well. I do not have to be a perpetual motion machine; there is strength in stillness.
Whether you are feeling blocked like I was, or you are simply seeking a way to know yourself better, this is book is an excellent place to start. Read it slowly, savoring the information and exercises, and don't be surprised if you find yourself transformed by the time you reach the last page. Coyle has, once again, produced a piece of soul-work that will nourish others, and I am so thankful this book came across my path this month. It was exactly what I didn't know I needed, and those kinds of unexpected blessings can bring the most bliss!
---
Watch an author video with T. Thorn Coyle and read more responses to Make Magic of Your Life at the Patheos Book Club!
The Busy Witch is published on alternate Tuesdays. Follow it via RSS or e-mail!