I recently went to Playa Del Fuego, the East Coast regional "Burn" held over Columbus Day / Indigenous Peoples' Day weekend each year. (They also do a spring version each Memorial Day.) It was a cold, wet, and muddy festival… rather like this year's Free Spirit Gathering in that respect.
Though PDF is a larger event with a lot more techno music and a lot less drumming, and more flaming art and less ritual, there are some similarities with large Pagan festivals like FSG and Starwood. Also some overlap in attendees — every night at PDF I ran into a few people who I knew from one of those Pagan festivals. While PDF does not consider itself a religious event, in some sense it represents the same sort of pilgrimage to a temporary community that religious festivals have embodied for thousands of years.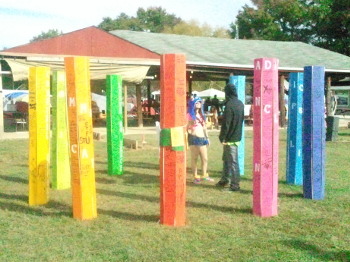 The Princip-Poles
I haven't been to Burning Man (yet — if you have an established camp and would like to invite me to come give a talk, I think that would count as business travel for tax purposes, contact me…), but PDF is an "official" regional Burn and operates according to the "Ten Principals" that Burning Man Founder Larry Harvey wrote in 2004. Indeed these formed the basis of my favorite piece of art at PDF this year, the "Princip-Poles", which invited attendees to write their thoughts on a pole for each of the principals before they were all burned.
I don't think we're going to set Patheos on fire here, but I thought I might take that idea and run with it a bit, with a little Pagan-ish refection on the Ten Principles based on my experience at a few PDFs and discussions with Burners. Do we perhaps see some parallel evolution here with Pagan festivals? Could a Pagan event be built upon the Ten Principles?
(If you've never been to a Burn, my friend Matt Muirhead (recently named Baltimore's Best Artist in the City Paper reader's poll) put together a short film of our PDF experience a few years ago which will give you a hint of it.)
Radical Inclusion
Anyone may be a part of Burning Man. We welcome and respect the stranger. No prerequisites exist for participation in our community.
While I've been referring to these events as "Pagan festivals", you certainly don't need to identify as "Pagan" to attend. FSG explictly welcomes "people walking all kinds of paths — Wiccans, Druids, Heathens, Pagans, Vodouisants, Santeras, Polytheists, Monotheists, Pantheists, Atheists, [and] Animists" (and I happen to know that its attendees have also included folks who identify as Buddhist, Christian, and Jewish), while Starwood proclaims itself "a celebration of diversity and alternatives in belief systems, lifestyles, and spirituality" with "a community of explorers fresh from their many journeys through realms both alien and familiar". All are welcome.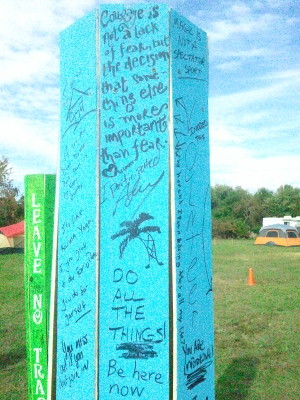 Gifting
Burning Man is devoted to acts of gift giving. The value of a gift is unconditional. Gifting does not contemplate a return or an exchange for something of equal value.
How many times has a bottle of something fine been shared as a gift around the fire? My good friend Joe Galitsky used to lay out breakfast for everyone at dawn at Bonfire Night at Starwood, and I've made it a habit the past few years to go around handing out wine and chocolate. (Remember, strangers have the best candy.) I have a number of small treasures that were freely gifted to me at festivals for no apparent reason other than the generosity of the giver. Gifting may not be as explicit at Pagan events as at Burns but it's certainly part of the culture,
Decommodification
In order to preserve the spirit of gifting, our community seeks to create social environments that are unmediated by commercial sponsorships, transactions, or advertising. We stand ready to protect our culture from such exploitation. We resist the substitution of consumption for participatory experience.
Now here we have a difference, at least on the surface. While any sort of commerce is frowned upon at 10 Principles events, Pagan events not only have vendors selling stuff but often allow them to advertize in the program guide or otherwise help sponsor the event. Festival presenters and performers are often paid, or at least "comped" on admission. (Disclosure: I've been comped or paid as a presenter, performer, or staff member at several Pagan or Pagan-ish events. )
On the other hand, we're not talking big-ticket sponsorship by multi-national corporations here, but rather the sort of very small businesses that anti-corporate "buy local" activists like to support, who are sometimes lucky to break even on their appearance at events. An FSG vendor once told me a joke about a doctor, a lawyer, and a Pagan festival vendor splitting a big lottery jackpot. Asked what they're going to do with their winnings, the doctor talks about endowing a hospital, the lawyer wants to found a free legal clinic, and the vendor says, "Well, I guess I'll just keep doing what I'm doing until the money runs out."
If we compare this with the commodification that has come to surround Burning Man in practice — such as concierge service to set up camps — it may be that the formal acceptance of some small level of commerce at Pagan events has in practice been a better defense against commodification. Or perhaps Burning Man has just suffered more from proximity to Silicon Valley and its concentration of wealthy but hollow people who like to adopt a veneer of spirituality and bohemianism; East Coast regional Burns like PDF seem reasonably safe from commodification for the moment.

Burning Man encourages the individual to discover, exercise and rely on his or her inner resources.
Radical Self-reliance
When the weather's good and everyone you're camped with is on the ball and everything is going well, it's possible to go to a festival or a Burn and not be challenged at all.
That's why the best stories are about the times when things didn't go well. That FSG where you danced around the fire in driving rain. That cold and wet Starwood where everyone ducked under a pavilion for shelter and an impromptu karaoke and liquor drinking session broke out. The mud burn at PDF where you managed to help your friend in the wheelchair get across camp without sinking into a pit.
Those times, in other words, when you were challenged to discover and exercise your inner resources, to grow to meet a challenge.
Radical Self-expression
Radical self-expression arises from the unique gifts of the individual. No one other than the individual or a collaborating group can determine its content. It is offered as a gift to others. In this spirit, the giver should respect the rights and liberties of the recipient.
For the past few years I've run the Bardic Circle at FSG, and I've often performed in the Bardic Concert at Starwood. We do love our bards, don't we? These Bardics are more than opens mics, they're invocations of the creative and expressive spirit that encourage everyone to find and share their gifts. And I mean everyone — I've lost count of the number of people who have performed in public for the first time at the FSG Bardic.
Communal Effort
Our community values creative cooperation and collaboration. We strive to produce, promote and protect social networks, public spaces, works of art, and methods of communication that support such interaction.
Events like FSG and Starwood are certainly community efforts. Yes, there is an "official" staff that puts them together, but everyone is encouraged (even expected) to collaborate through volunteering. The Free Spirit Alliance (the groups that puts on FSG) is a member organization that was founded to provide a social network in the days before that meant Facebook.
Civic Responsibility
We value civil society. Community members who organize events should assume responsibility for public welfare and endeavor to communicate civic responsibilities to participants. They must also assume responsibility for conducting events in accordance with local, state and federal laws.
Festivals and Burns are temporary autonomous zones, but they take place within a larger community. FSG has often had a canned goods drive, and more recently the Free Spirit Alliance has been looking for ways to work with charities in the "off season".
Leaving No Trace
Our community respects the environment. We are committed to leaving no physical trace of our activities wherever we gather. We clean up after ourselves and endeavor, whenever possible, to leave such places in a better state than when we found them.
We are, most of us would say, a "nature religion". Respecting the environment is at the core of Paganism. Wisteria, the campground where Starwood is held and a Pagan community in its own right, is dedicated to restoring a former strip mine site (and doing a fantastic job). FSG and Starwood have both featured workshops on permaculture farming and other topics related to sustainable living.
Participation
Our community is committed to a radically participatory ethic. We believe that transformative change, whether in the individual or in society, can occur only through the medium of deeply personal participation. We achieve being through doing. Everyone is invited to work. Everyone is invited to play. We make the world real through actions that open the heart.
Magic, I have often said, is not a spectator sport. The fire circles that are the heart of FSG and Starwood invite the participation of all, to drum or dance or sing — or to serve, helping maintain the space, make sure celebrants have food and water to keep them going, and the like. An expectation for everyone to do a volunteer or "community service" shift to help with the operation of the festival also encourages participation.
Immediacy
Immediate experience is, in many ways, the most important touchstone of value in our culture. We seek to overcome barriers that stand between us and a recognition of our inner selves, the reality of those around us, participation in society, and contact with a natural world exceeding human powers. No idea can substitute for this experience.
As I discussed in Why Buddha Touched the Earth, the Pagan movement emerges in part from a desire to make religion an immediate experience again, to get back to the direct mystical experience of shamanistic practice rather than something moderated by a priestly middleman.
So all in all, there seems to be quite a bit of overlap between the values and ideals of the community around Burning Man and similar events, and the festival Pagan community. A more conscious and deliberate attempt to share ideas could be fruitful.
---
You might be interested in joining a Facebook group on "Zen Paganism" I've set up. And don't forget to "like" Patheos Pagan over there, too.
And you can subscribe to The Zen Pagan via RSS or e-mail.