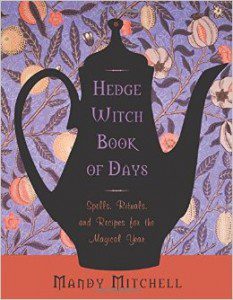 Happy New Year! I'm excited to be starting 2015 off with a review of Hedgewitch Book of Days by Mandy Mitchell, published last fall from Weiser Books. Since y'all know I love simple magic, I was eager to get my hands on this book, and Mitchell didn't disappoint. Arranged by month, this is a wonderful hodge-podge of recipes, spells, and rituals that can easily be incorporated into everyday life. I can't wait for an opportunity to sample some of the recipes; kitchen magic is one of my favorite ways to play, and this book includes delicious looking dishes like Edenflower Pancakes, Rose Petal Jam, and Sweet Lammas No-Kneed Bread.
This book has a no-nonsense tone, and it's easy to imagine sharing a cup of tea and scone with the author while picking her brain about her magical practice. One thing I wish it would have included is either a list of works consulted, or perhaps a recommended reading list; Mitchell packs a lot of information into this volume, and there was much that I'd like to know more about. Overall, however, this book is a nice collection of various ways to infuse magic into every day. If you're looking for a way to integrate your magical practice into your daily life, Mitchell's book will offer plenty of fun ideas!
What books have you already discovered this year?
---
The Busy Witch is published on alternate Tuesdays. Follow it via RSS or e-mail!