In her Introduction to Container Magic: Spellcraft Using Sachets, Bottles, Poppets & Jars author Charity L. Bedell writes:
The material in this book comes from both Conjure work and modern witchcraft. Witchcraft and Conjure come from two different cultures. The witchcraft I'm familiar with is mostly based on European folk magic and folklore. Conjure as a magical tradition was created during slavery by enslaved people to survive and preserve what they could of their ancestral heritage. (p. 4)
This squat little jug of a book has a lot of things going for it. I was particularly interested to see how the author approaches the practices of Hoodoo and Conjure, both of which employ at least some Biblical elements in magic-making. Bedell's treatment of this material is thorough and thoughtful, showing deference to the sources of Hoodoo and Conjure practices while frankly acknowledging some of America's painful and difficult history with honesty and deep respect.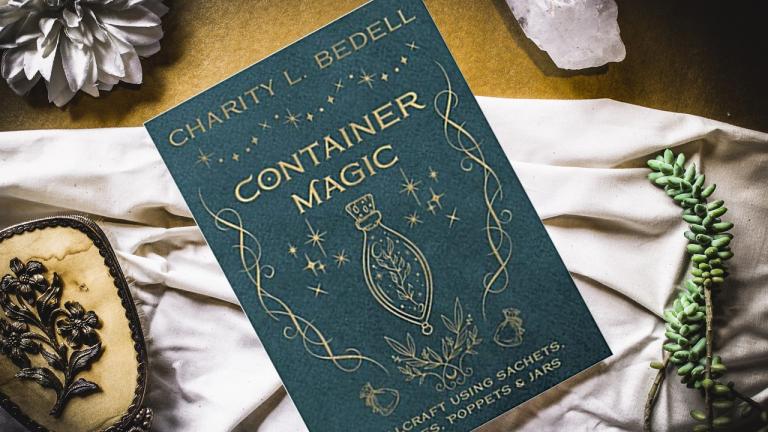 The bulk of the book is devoted to magic spells using a wide array of containers: packets, poppets, balls, jars, boxes, charm bags, and bottles. Bedell walks the reader through such basics as how to decide which container will work best for a particular spell, preparation of magical containers, and the materials to include in your spellwork. She's also included a handy compendium of herbal and root correspondences as well as crystal, metal, and mineral correspondences in the back of the book.
In these pages readers will find a guide to the magical properties of location-specific dirt (for instance, dirt from an army or military base can be used in protection spells), correspondences for curios such as eggshells, fire ants, shed snake's skin and the like, and incense and oil recipes. The Appendices are particularly helpful if you want to locate a particular spell either by need or by specific container.
Bedell has packed this book full of well-researched information. Clearly written in unfussy, accessible language, Container Magic is a nuts-and-bolts text of powerful, practical magic-making. The book is available through online booksellers – and remember, you can always ask your local metaphysical shop to carry it so that your dollars can further support our communities.