The holidays were always a rough time for me growing up. Of course, I did not have the smoothest childhood and some of those pain points come out during the holidays. I do not always get along with family. Given the reality of our current social/political environment, I would assume this is probably true for many of you as well. As witches, shamans, magicians, witchdoctors and pagans, we can all do something about stress and tension we have leading up to the holidays. The next two entries will be about deconstructing the "holiday hostility" as I call it, or perhaps better called "holiday healing", that we put off.
We tell ourselves, spending time with family should be a great time, but old wounds and scars usually remain. Let's admit it, our family are the ones who best know how to get under our skin. We can, however, decide to change that. After all, we have magic.
Food is a very powerful way that we all connect and everyone's got to eat. Food also has a long history of being used in some facets of European witchcraft, and certainly in Conjure, which I know a lot about. Those of you kitchen witches, well you know. You can weave enchantments into the food itself. I am going to show you two examples on how to weave the magic into the food potpourri. Some of you are very skilled in the kitchen, and quite possibly better than I, so feel free to use your own recipes. Share them in the comments!
For the holidays, I find three strong guiding principles for the magical work always work best.
Peace. Cleansing/Clearing. Healing.
If you work herb magic of any tradition, you know that herbs can be very powerful tools if used properly. You might also know that different systems have wildly different uses for the same herbs and wholly different ways to work with herbs. You can find tons of correspondences from using Google, but that does not help you connect with the herbs.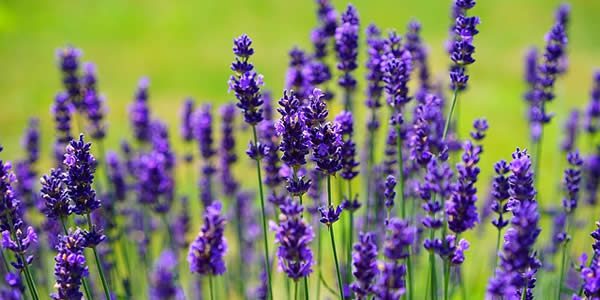 So before we go any further, here is a recipe I like for Lavender cookies that come from Maryeileen Corcoran. This recipe uses a combination of lavender, lemon, mint and sugar. Each of these can be used independently as magical ingredients. Usually, when I am looking to do magical work with food, I tend to focus on one herb that acts as the focus for the magic and possibly the main flavor of the meal or dish itself. For "peaceful (anything)" magic, I use lavender. I have a really great relationship with the plant. The goal is not just to make blessed lavender cookies, but to understand the process so you can make any food a magical enchantment.
Before we get into the recipe (and how I would enchant the cookies), I have to say a few things about using herbs in general in food recipes. You have to make sure the herbs are edible and you have to make sure the herbs in the food taste right. I usually start with one herb I know I want to use and find recipes that include that herb. You can even modify how an herb works with other herbs and even take traditionally negative herbs and cajole them into working in a positive way. This magic requires the food to smell and taste good, else the best magic won't get into the person.
Ingredients for Maryeileen's Lavender Cookie:
1 1/2 cups butter, softened
2/3 cup white sugar
1/4 cup sifted confectioners' sugar
2 tablespoons finely chopped fresh lavender
1 tablespoon chopped fresh mint leaves
1 teaspoon grated lemon zest
2 1/2 cups all-purpose flour
1/2 cup cornstarch
1/4 teaspoon salt
Each of the ingredients in most meals could have its own mojo, but let's start with the lavender as "peaceful mind" is probably the single most important quality around difficult family.
Hold the lavender in your hand. Center and clear your head. Meditate and let your energy flow back and forth into the lavender. Usually, when I am first teaching people how to work with herbs, I remind them that you are not commanding the herbs, you are dancing or negotiating with them. Dancing is more fun of a thought. Just sit and take in the herb. Breathe deeply and let your whole focus gravitate to the lavender. Notice any body sensations that come over you. Lavender has a peaceful and clear-headed vibe to me. Each person may get a different vibe from the plant, but usually this one is pretty consistent.
Start to pray to the spirit of the herb to come into the space and really bless the herb. Keep praying and letting your focus stay on the lavender until you notice it really starts to become enlivened. Keep in mind, dried herbs will be a little less responsive but if you work on it a little longer, you can get it to the place you need to be at with the herb. Ask the plant spirit to bring the most peaceful elements into the plant. This might take 20 minutes, or longer.
Similarly, lemon has multiple aspects depending on what you are working with. Lemon is often used to break people up because it is sour, but it is also considered an energy cleansing agent. In particular, we are using the lemon zest (shredded lemon peels) which is particularly associated with cleansers. Sit with the lemon, focus on it, and meditate. Let the sensations wash over you and dive deeper into the meditation. Ask the spirit of the lemon tree to come into the space and to empower the lemon with beneficial qualities particularly to clear and cleanse negative energies. Keep praying until you notice a shift in how the lemon feels.
For these cookies, you would repeat the process with the mint. Personally, I am a huge fan of mint. Cleansing, clearing and peppy. I use an all-natural and blessed mint soap to get me going in the morning, every day.
This recipe has other components as well. You can choose to empower those ingredients as well, and it is useful to use energy to cleanse and clear everything. What you choose to really empower, affects the nature of the enchantment within the food. So let's say there are some herbs such as red peppers which typically have negative uses, you might simply choose to not "turn-on" those herbs. If you need some help with cleansing and empowering herbs, see my first book Hands on Chaos Magic.
For cookies and sweets, I would take a page out of old time Conjure and make a sweetener jar out of the sugar. A sweetener spell really changes how you feel about the family and how the family feels about you. This is a powerful way in itself, to help with your family relationships.
Use Sugar to Sweeten More Than Just the Cookies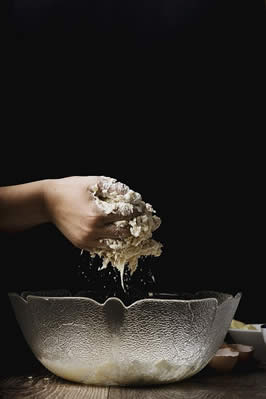 In old time conjure, you would use Christian prayers and psalms for your sweeteners and there are multiple ways to do this. This method is more generalized for everyone and is the method I would use for holiday cookies. Think about a family member who is coming who you may have difficulties with. Really remember them using all five senses. As you get those sensations of them, write down their name 9 times on the paper. Imagine almost as if the pen channels the essence of that person right into the paper as you write. Make sure it is a small paper.
Turn the paper clockwise, and write your name 9 times over the first person. Connect to yourself, and really center. Then write as if your essence flows over the other person. Place the paper in a jar. The paper should feel as if it is connected to you and to the other person involved.
Do this for each person in your family that you think you might have a little trouble from.
Put the paper into a jar set aside for this purpose. Pour sugar into the jar with the paper. Put some sugar on your tongue, and pray over the sugar for your relationships in your family to be sweetened and better. Keep praying to the forces you work with until you can think about the difficult family members and it just feels ok. Turn the jar over slowly and methodically (or turn it in a clockwise direction).
You can use the sugar you make in this way, for all of your holiday sweets or for their coffee. Have issues with co-workers? Get suckered into the office holiday potluck? This type of magic will also help.
Making Magic: Let's Make Something New
We are blessing and bringing the power of the herbs together.
In the original directions, it states:
"In a medium bowl, cream together the butter, white sugar and confectioners' sugar until light and fluffy. Mix in the lavender, mint and lemon zest. Combine the flour, cornstarch and salt; mix into the batter until well blended. Divide dough into two balls, wrap in plastic wrap and flatten to about 1inch thick. Refrigerate until firm, about 1hour."
To make tasty cookies, this is certainly good advice. To bring in peace and sweetness to family dynamics, we need to add a few steps. Each time you do a step in the food preparation, you need to stay centered, pray and really push energy into the materials. In this step, many of the materials were spiritually activated. When you bring them together, you keep praying over them for your family to have peace, tranquility and sweetness while feeling them come together. I have a fair bit of musical training and this sounds and feels a lot like the different notes coming together to make a chord. The important thing is to conceive of the things mixing together and making a new magic that is greater than the parts. Keep praying over the mixture while you mix and it should just feel "GOOD" and different than any one ingredient. You should start to feel really peaceful and happy even as you mix the materials. People around the house should start getting peaceful as the mixture seems to beam out throughout the house.
It is helpful to write out a verbal prayer that you can keep repeating through this process. You could also use a sigilized mantra for family peace and tranquility as described in Hands on Chaos Magic.
I can admit, when I am cooking, I use the refrigeration time to do other cooking, which for the holidays is often different enchantments.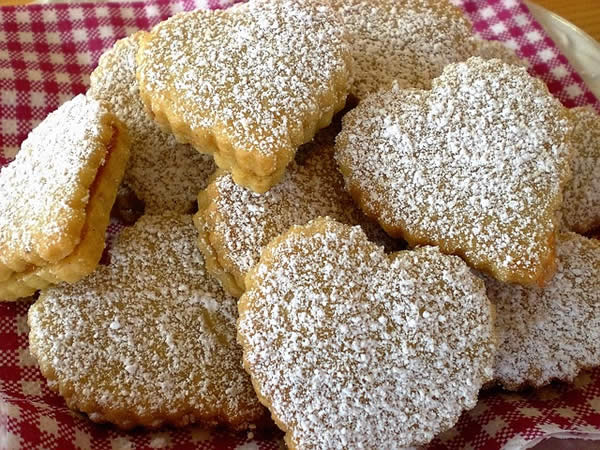 Cooking and Praying
The original instructions continue:
Preheat the oven to 325 degrees F (165 degrees C).
On a lightly floured surface, roll the dough out to 1/4 inch thickness. Cut into shapes with cookie cutters. Cookie stamps will work well on these too. Place on cookie sheets.
Bake for 18 to 20 minutes in the preheated oven, just until cookies begin to brown at the edges. Cool for a few minutes on the baking sheets then transfer to wire racks to cool completely.
Even when you cut into the shapes, pray and push that positive peaceful energy into each future cookie. Let your body be overwhelmed by those sensations and memories of peace, happiness, sweetness and tranquility. Overwhelmed. Be completely in that zone. Conceive of each cookie as a spell for peace, sweetness and tranquility and as a living spell. Watch the cookie raise and cook, really becoming something new. Really focus on all the cookies and keep praying. Use the mantra or prayer that you created for the last step and keep going. It is not enough to just pray, you must enliven the prayer with all of your senses and energy. Need help with enlivening the prayers? I cover this rather extensively in my shapehifting course or I can get you really up to speed in a coaching session.
Lavender cookies are my trick towards a more peaceful holiday season, but you can use the general ideas in the blog to make any meal an enchantment to better your life and your family's life in any arena you choose. The general process of turning on the herbs and then blessing the new thing (the combined food) as a thing in itself is the same across meals. Feel free to leave some of your recipes in the comments!.
May your holidays be blessed, peaceful and fun!
---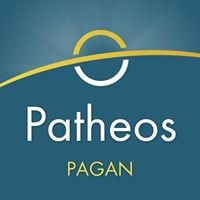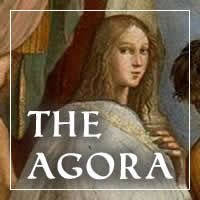 Full Frontal Magic is published on alternate Sundays here on the Agora. Subscribe via RSS or e-mail!
Please use the links to the right to keep on top of activities here on the Agora as well as across the entire Patheos Pagan channel.