Sometimes we take a road to a pre-determined destination, and sometimes we get a surprise.
I find that the more I try to set my own path, and do what I want to do, Hekate lets me know She has other plans. Yesterday was a beautiful day, unseasonably warm, about 55 degrees, sunny with a clear blue sky. I hadn't been out hiking in a week, and thought, I need to get out, get some exercise and fresh air.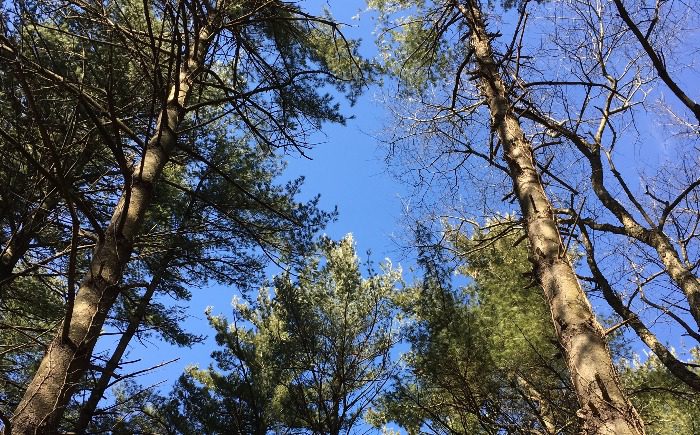 A week before, I had been snowshoeing at Blackhawk Ridge, fairly close to where I live. The last few days the weather had been really warm, I had the time, so I set out to hike the same trails as before. A lot of snow had melted, but there were still icy spots out there. Well, I'm going to hike to the top again! So I thought…surprise!
I started out on a different trail, but knowing that this trail led into the trail going up to the top of the ridge, my destination. I had hiked it before, but not for awhile. Because of the icy spots, I was taking it a bit slow. No problem, I'll just get to the top, hike around for an hour or so, and come back to the van.
Right away, this hike turned into a walk. I heard sandhill cranes along the backwaters of the Wisconsin River. They had just returned. I heard squirrels, crows, and the rustling of branches as I walked along. It dawned on me then that She wanted me to just commune with Gaia. I was all by myself out there, just Her, me and all the beauty of pre-spring nature. The fragrant smell of the pines, the musty scent of decaying leaves, deer, raccoon, and squirrel tracks in the mud, green grass starting to appear, and all set against a bright blue sky. Yes, spring is coming.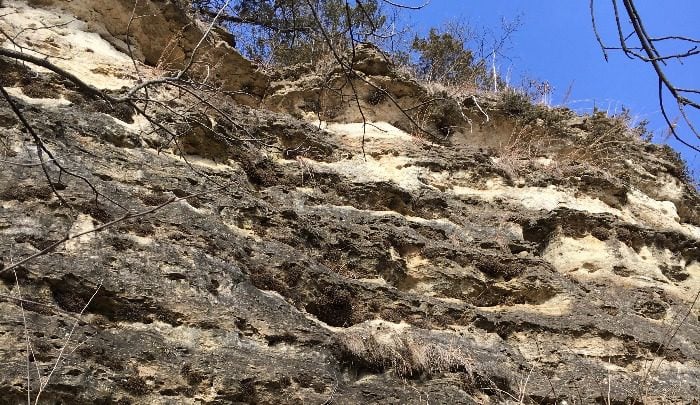 A short walk later, I came to where the trail merged into the one going to the top of the ridge. So up I started. About 75 yards in, all of a sudden a grouse, without warning, calmly walked across the trail, taking its sweet time. Now I knew for sure I had a companion. Hekate was walking with me. There wasn't anyone else on the trail, nice and quiet, just the sounds of nature. At the top of the first part going up, I was prepared to turn right. No, without thinking I turned left onto an abandoned, almost unseen farm road covered with down trees and brush.
I had kind of noticed it before, but there were always no trespassing signs, private property, on the tree nearest the trail. This time, no signs, so I took it. I thought it was my intuition, but it was Hekate's guidance leading me toward something much different from before. New path, new journey. I saw views I hadn't seen before, through the trees I saw farm buildings, fields, and livestock in the barnyard. Quite a long ways away. I kept on going down this old road, and suddenly stopped. The road had veered left a bit, and I was standing on the edge of a steep ravine. I heard water rushing, along with the branches rustling overhead. There was spring melt, coming down the ravine like a little creek. To fill up little natural reservoirs along the way. Natural dams, small, but effectively slowing the flow of the water.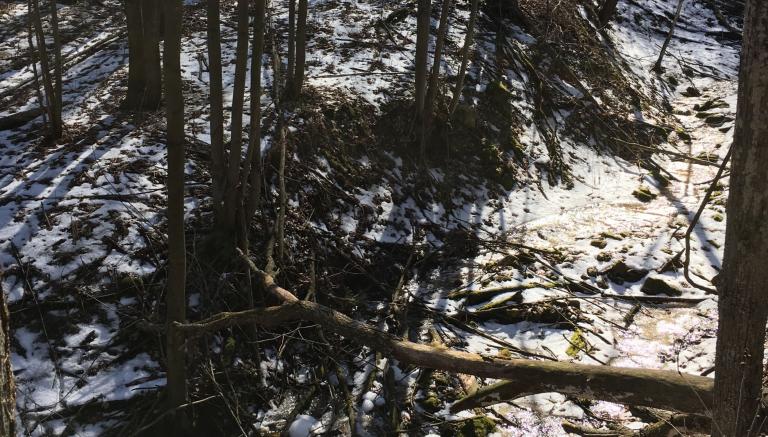 Coming back to the main trail, I was determined to go to the top. Nope, it was not to be. Ahead was a lot of ice that hadn't melted. I didn't feel like risking it, and slipping. So, shrugging my shoulders, I went back down to where I had started up. Again, another crossroads. No snow on the lateral trail, except for really small patches of ice. I still wanted to be outside, so off I went. This trail went up and down gradually, so I stopped to listen along the way. It was refreshing to take my time to really commune with Her and Gaia. Going slow, I was able to see lots of things I normally don't see.
As the trail started to go up, I saw a pock marked sandstone bluff. I had seen it before, but had I really SEEN it. No. I was taking the time to notice little things I had rushed by before. The afternoon sun was shining right on the bluff, and I was seeing details that I had never noticed. Almost pure white sand. I stopped, and right ahead of me I saw what appeared to be a path up to the bottom of the bluff, off to the right. So, taking my time, I carefully went through the brambles and brush. As I went around a fallen tree, the little path opened up, and She pointed me to the very bottom of the bluff. A narrow natural path that was where the sand stopped and acted as a buffer against the deeper part below the bluff.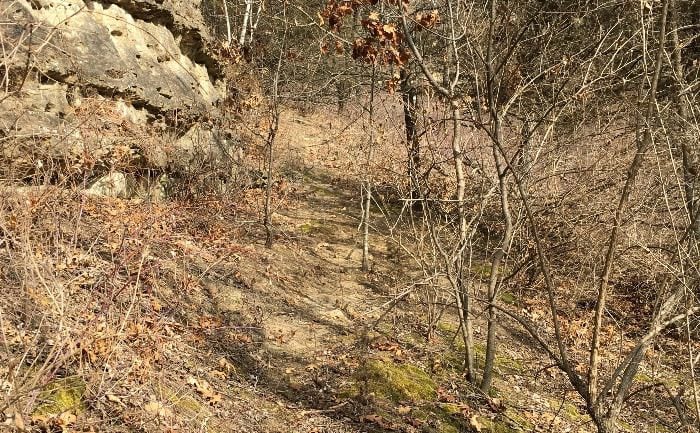 Wow…no more brambles, and what a view. I had thought it might have been a deer trail, but it ended abruptly at a large rock. Well, that made me stop and observe what was there. Since this bluff was sandstone, nature had eroded parts of it away over the years, leaving small pockets where birds could nest. I saw small, shallow caves where small animals could find protection from the elements. A couple I couldn't get to, but they seemed to go into the bluff quite a ways. Gaia really does take care of her charges. I took a few photos with my Phone to share this wonder on Instagram so others could see what I had seen.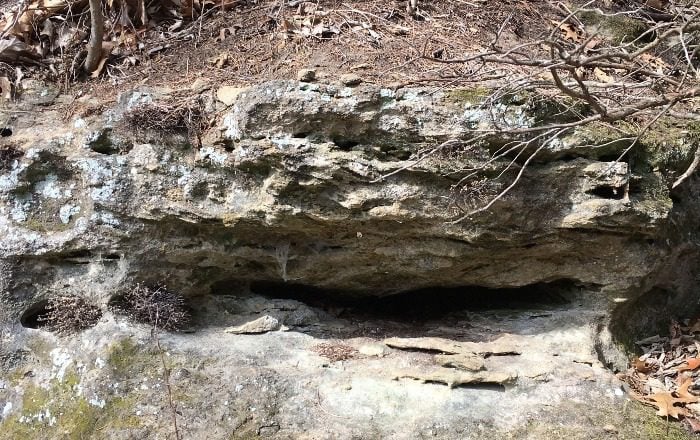 I stayed at the bluff quite some time, trying not to miss anything. Finally, on the way out to the van, with Her by my side, I started to reflect on the not quite a year that She has been with me. I really took my time going back, meditating, and reflecting on how Blessed I've been on this wonderful journey I'm on. Taking this time, all by myself, made me realize how precious all life is. I saw how we all need to sometimes stop rushing so much, and take the time to really SEE how Gaia makes it all come together."
Poco a Poco a friend once told me. Little by little, we have to move forward, slowly now for me!
Mighty Hekate, Queen of the Witches,
Blessed am I,
To call myself one of Your chosen.

(Above used with permission
from Cyndi Brannen
..with many thanks and love)