Transgender Day of Remembrance (TDOR) is an annual observance on November 20 that honors the memory of those whose lives were lost in acts of anti-transgender violence.
As a Pagan Transwoman my journey is hard enough. But not nearly as hard as some of us. I have been blessed with great medical care, have enough to eat, good clothes, and a nice apartment. But too many of us haven't been so lucky. Many of us are homeless after coming out to family and friends; losing jobs when outed by others who didn't like or understand people like us. Many have committed suicide, or attempted it because their gender dysphoria got too hard to handle. Too hard to hide what we are from others, and abandoned by our society.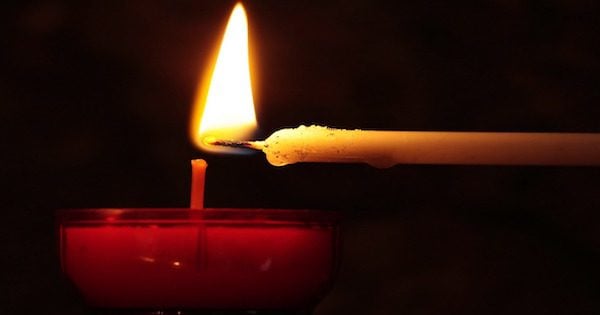 And way too many of us get violently murdered each year, just for being who and what we are. That's why the Transgender Day of Remembrance (TDOR) is so important to me and others like me. To remember until we all get accepted for just being us, human beings, the 20th of November each year is a very solemn reminder of that.
What is the Transgender Day of Remembrance?
The Transgender Day of Remembrance (TDOR) was started in 1999 by transgender advocate Gwendolyn Ann Smith as a vigil to honor the memory of Rita Hester, a transgender woman who was killed in 1998. The vigil commemorated all the transgender people lost to violence since Rita Hester's death, and began an important tradition that has become the annual Transgender Day of Remembrance. This year is the 20th anniversary of TDOR.
"The Transgender Day of Remembrance seeks to highlight the losses we face due to anti-transgender bigotry and violence. I am no stranger to the need to fight for our rights, and the right to simply exist is first and foremost. With so many seeking to erase transgender people — sometimes in the most brutal ways possible — it is vitally important that those we lose are remembered, and that we continue to fight for justice."
– Transgender Day of Remembrance founder Gwendolyn Ann Smith
The data below is collected from the first day of October to the last day of September each year. That way the data is accurate for the vigil on November 20th of each year. 
This reporting period, there were 418 reported deaths of transgender people worldwide. Only the deaths that are reported are used. There are many, many more that go unreported each year.
Worldwide Transgender Deaths via TDOR
Australia: 1 
Bangladesh: 1  
Bolivia: 2  
Brazil: 185  
Canada: 1    
Chile: 2
China: 1  
Columbia: 2  
Dominican Republic: 2  
Ecuador: 1  
El Salvador:7
Fiji: 1   
France: 2   
Guatemala: 4   
Honduras: 3   
India: 7   
Ireland: 1   
Italy: 5        
Mexico: 73   
New Zealand: 1   
Nicaragua:1   
Pakistan: 3   
Peru: 2    
      
The Phillipines: 2   
Portugal: 1 
Puerto Rico: 1   
South Africa: 3  
Spain: 3
Thailand: 1   
Trinidad & Tobago: 1   
Turkey: 9  
United Kingdom: 5
Venezuela: 6
Range October 1, 2017 – September 30, 2018
I'm very fortunate to not have my name on this list. I only hope that next year we have no transgender deaths by violenc anywhere in the world.
14 Sep 2018
Nikki Janelle Enriquez
Laredo, Texas
shot
8 Sep 2018
Londonn Moore Kinard
Port Charlotte, Florida
shot
5 Sep 2018
Shantee Tucker
Philadelphia, Pennsylvania
shot
30 Aug 2018
Dejanay Stanton
Chicago, Illinois
shot
30 Aug 2018
Vontashia Bell
Shreveport, Louisiana
shot
23 Aug 2018
Jamel Pierce
Denver, Colorado
suicide
Aug 2018
Casey Hoke
Pomona, California
suicide
19 Jul 2018
Sasha Garden
Orlando, Florida
not reported
2 Jul 2018
Daine Grey
San Francisco, California
suicide
27 Jun 2018
Dr Laura Mas
San Diego, California
suicide
24 Jun 2018
Cathalina Christina James
Jacksonville, Florida
shot
24 Jun 2018
Keisha Wells
Cleveland, Ohio
shot
19 Jun 2018
Chloe Sagal
Portland, Oregon
suicide
18 Jun 2018
Diamond Stephens
Meridian, Mississippi
shot
1 Jun 2018
Antash'a English
Jacksonville, Florida
shot
21 May 2018
Gigi Pierce
Portland, Oregon
shot
13 May 2018
Nino Fortson
Atlanta, Georgia
shot
13 May 2018
Roxana Hernández
Milan, New Mexico
died in custody
12 May 201
Name Unknown
Dallas, Texas
not reported
9 May 2018
Karla Patricia Flores-Pavon
Dallas, Texas
strangled
28 Apr 2018
Grayson
Columbia, South Carolina
suicide
1 Apr 2018
Sasha Wall
Chesterfield County, South Carolina
shot
31 Mar 2018
Chance Houle
Bismark, North Dakota
suicide
26 Mar 2018
Amia Tyrae Berryman
Baton Rouge, Louisiana
shot
6 Mar 2018
Hope Verbeeck
Tampa, Florida
suicide
23 Feb 2018
Phylicia Mitchell
Cleveland, Ohio
shot
19 Feb 2018
E. Carrell Ray
Albuquerque, New Mexico
beaten
19 Feb 201
Zakaria Fry
Albuquerque, New Mexico
beaten
6 Feb 2018
Tonya Harvey ("Kita")
Buffalo, New York
shot
4 Feb 2018
Celine Walker
Jacksonville, Florida
shot
10 Jan 2018
Viccky Gutierrez
Los Angeles, California
burned
5 Jan 2018
Christa Leigh Steele-Knudslien
North Adams, Massachusetts
beaten and stabbed
16 Dec 2017
Rhiannon Layendecker
Englewood, Florida
shot
13 Dec 2017
Brandi Seals
Houston, Texas
shot
27 Nov 2017
Brooklyn BreYanna Stevenson
Oklahoma City
shot
Nov 2017
Natalie Nguyen
Seattle, Washington
suicide
28 Oct 2017
Candace Towns
Macon, Georgia
shot
21 Oct 2017
Stephanie Montez
Corpus Christi, Texas
shot
Please join the transgender community and their allies for Transgender Day of Remembrance. On November 20 Selena Fox & Nature Folk will be hosting a special live show/podcast on Pagan's Tonight Radio Network. We'll be remembering the those lives lost due to transgender hatred and prejudice, and discussing issues of inclusion, support, rights, and social justice endeavours. Transwoman Brianne Ravenwolf (your humble author) will be co-facilitating this special program with Circle's Selena Fox.
So until next time, sometime in the future!