As the Veil is thinning, it's time for me to visit with the dead again. But this year it's going to be my visit with my matriarchal ancestors. As many of you know I left New York State in 1961 and vowed never to return. You may remember this article I wrote about that.
But all of that went out the window when I moved back to my ancestral motherland on May 1st. Beltane. The start of my search to know more about my mother's family. As it turned out, those ancestors, except for my parents, are all buried in an old cemetery within easy walking distance from the apartment that I share with my sister.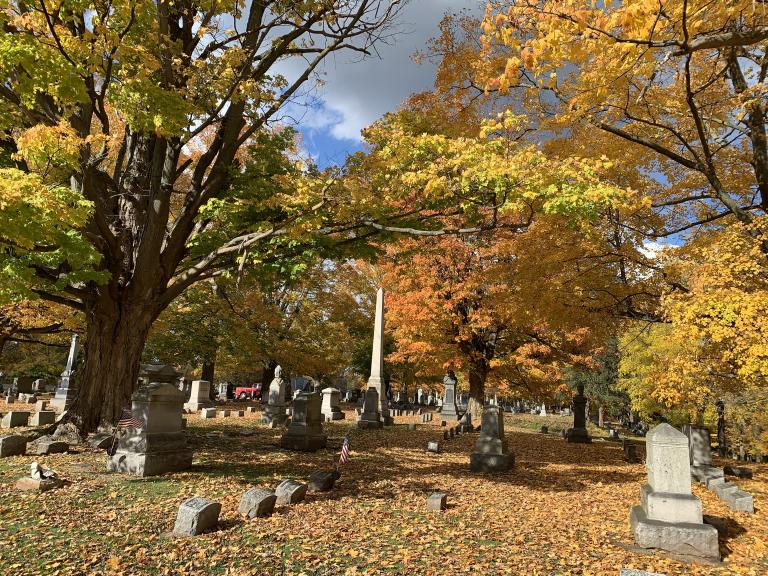 I started visiting those graves right after I moved back here. I hadn't been to my grandparents' and great-grandparents' graves for about 40 years. And I hadn't taken a lot of time to visit with the dead years ago, or when I first moved back here, except to see the grave sites. Until today.
What was I waiting for, you might ask. I was waiting until everything came into place and the season of Samhain began. I do Half Moon workings from time to time, and since the day I visited was a waxing Half Moon in Aquarius it seemed appropriate for me to start then. The Sun was in Scorpio, which is the sign I was born under. Gaia wanted to help me by giving me a beautiful day after several cold days with on and off rain. The day I visited, it was 80 degrees and sunny! I knew that was another sign I'd been waiting for.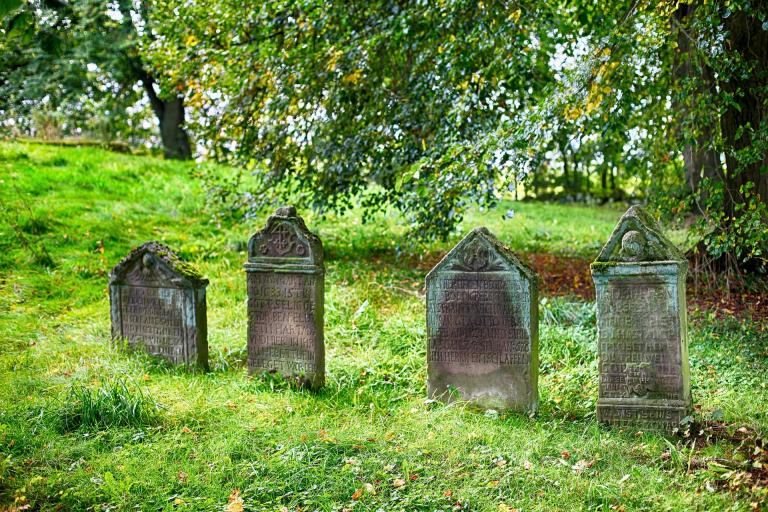 So off I went to the cemetery to visit with the dead. It helped that I already knew where my ancestors were buried. I brought offerings of mugwort, stones from Wisconsin and lit small candles on select graves, including my great-grandmother's grave. I've had some interesting meditations with her before. Including when I was watching my younger self talk to her in the living room where I used to live at our family farm. The last time was during a meditation in February at PantheaCon. That was the start of my journey to return here.
I've been doing a lot of research on Ancestry.com to find out what I didn't know about my matriarchal ancestors. I only knew my great-grandmother's maiden name. When I had first visited the cemetery this past spring I noticed a lot of graves in front of a family plot I hadn't noticed before. They were really old and a lot smaller than the other family gravestones. And facing away from those other graves.
When I first saw those small grave markers I thought, who are you? The dates on the graves seemed to indicate they might have been my great-grandmother's parents and siblings. I searched all the names on Ancestry.com and discovered those grave stones were indeed my great-great grandparents and their children. Wow, all these years later to find out who they were.
My parents had never told me, and none of my siblings knew. But my father didn't exactly like his father-in-law, so nothing was ever said to me. When I was younger talking to my great-grandmother, I hadn't thought to ask her. She was born during the Civil War and I loved history. So most of my questions were about her life. She didn't tell me much about her husband, my great-grandfather, either. I only knew his name, and that was it.
A lot of my two-hour visit at the cemetery, besides honoring the ancestors, was talking to my great-great-grandfather. I had a hint of who his mother was from Ancestry.com but I wasn't sure. All I knew was that it may have been Drusilla. And it wasn't my great-grandmother's mother, just her father's. I found out that divorces happened way back in the 1800's too. But my mission when I visited was to see if I could find Drusilla's grave. It was supposed to be somewhere in the cemetery, but the location wasn't on any records kept by the cemetery.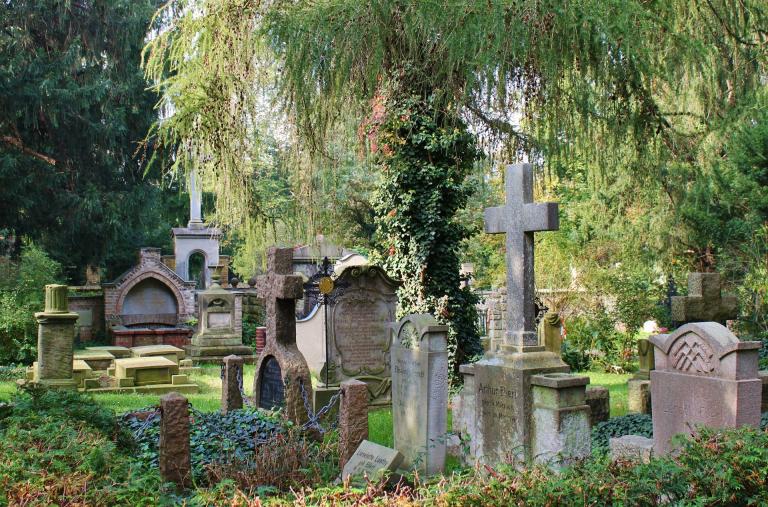 I asked for my great-great grandfather's help. I knew her grave had to be in an older section of the cemetery. I literally was "guided" to it by my intuition and, I believe, his help from the spirit world. I had seen a bad photo of it from the hints on my matriarchal search. I almost tripped over another possible ancestor's stone that was laying down covered with leaves. I looked up, and saw what I think is her grave stone.
I'll have to go back and visit again. This time with water and a brush to clean off the old stones there. I knew when I moved back here that there was another reason for me to be here. Besides helping my younger sister who has some disabilities. One of the reasons was to find out who I'm related to. But I also have vibes that there's also another reason as well. At least that's what the Tarot cards are telling me.
Stay tuned for another chapter of exploring my matriarchal ancestors…in the future…