How to celebrate Beltane in times of Covid-19? And since I'm fully vaccinated? By traveling almost 700 miles to celebrate Beltane in person with a good friend who is also fully vaccinated!
My witchy friend Carla lives in the middle of Illinois. I live in western New York State. We both had our Covid vaccinations the same days at the same times. Both of us have commiserated about missing Sabbats like we're used to attending. And online Sabbats in Zoom are not the same!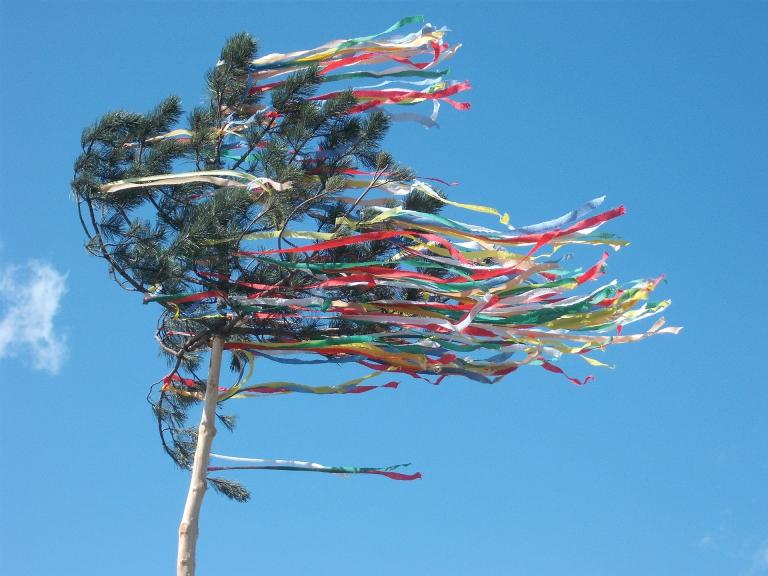 When we first realized that we were getting vaccinated with the same vaccine, on the same days, we decided to do a real Beltane. In person. Just the two of us. And I for one was ready to travel again. And do so as safely as possible.
I had first met Carla in person at Pagan Spirit Gathering (PSG) 2019. Before that we had only met virtually on Facebook. It was me who welcomed her there, and smiled when she rang the bell. A virgin!
We were able to chat a little over the week we were both there. Being her very first PSG she was very busy taking as many workshops as she could fit in. Right away I felt that we had a lot in common. And we do.
Towards the end of PSG, and after a week-long croning class, I was very blessed to attend her croning Rite of Passage. It was a joyous event and was a rather large croning class that year. I remember her smiling ear to ear afterwards. I was very proud of her accomplishment.
We went our separate ways after PSG, but stayed in touch through Facebook, and occasionally on the phone. We both had been planning on attending PSG 2020 which would have been PSG's 40th anniversary. As we all know, the Covid-19 pandemic was to cancel almost all pagan events. Circle Sanctuary was able to creatively transform the 2020 Gathering to a virtual online event (PSG will again be held as a virtual online event in 2021).
Thanks to social media a lot of Sabbats went online. Facebook and YouTube at first, then some on Zoom. The pagan community really figured out we needed our events to survive being cloistered and quarantined in our homes. But, woefully, it's not the same.
Carla and I kept chatting online, but more and more, especially this year, we communicated on the phone. It was nice to hear each others voices, and when we found out we would be fully vaccinated right before Beltane we started making plans. For a two-pagan Beltane in person.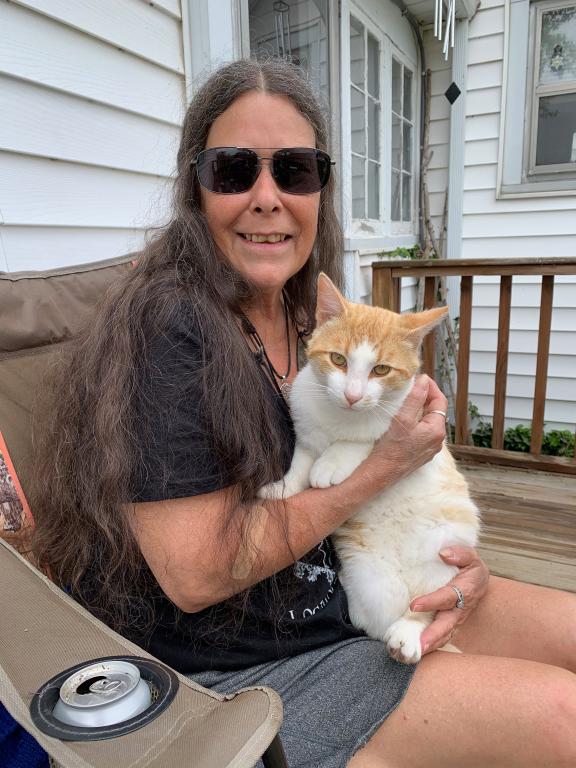 I left my home a couple of days before my visit with Carla. Since it was a long drive, I split my journey in half and stayed overnight one night each way. It was so wonderful when I arrived at her house. We had a nice long hug. So nice to receive what we both were missing!
She calls herself a "crazy cat crone". After meeting her four inside cats and two outside cats I'm a believer! And what friendly cats. They seemed to welcome me into their collective home as much as Carla did. It was a great way to start our weekend off right.
The day before Beltane Carla decided to take me to see a covered bridge and go for a hike. It was hard for me to fathom a covered bridge in the middle of farming country. There had been an old covered bridge there about a century ago. Through some innovative fundraising, a new and safer bridge was built. What a treat!
Later that day and into the evening we got to know each other a lot better and started planning our Beltane Ritual for the following day. Carla had originally planned on burning a very dry brush pile but the element of air and Gaia had other plans. I knew where she lives gets a lot of wind, but this was crazy windy. So we decided on a plan B.
She had purchased a small Weber type grill to take to PSG 2020. But of course, what else, it too had been cancelled. We figured that it would be a nice cauldron for our Beltane fire. So on Beltane she took it out to her deck and I built a small bonfire in it. It worked very nicely.
Together we called the quarters opening our small Circle. Just the two of us. The wood for the fire was very dry as it came from her brush pile. But a bonfire just the same, albeit quite a bit smaller. At least with the wind blowing so hard we didn't burn her house down!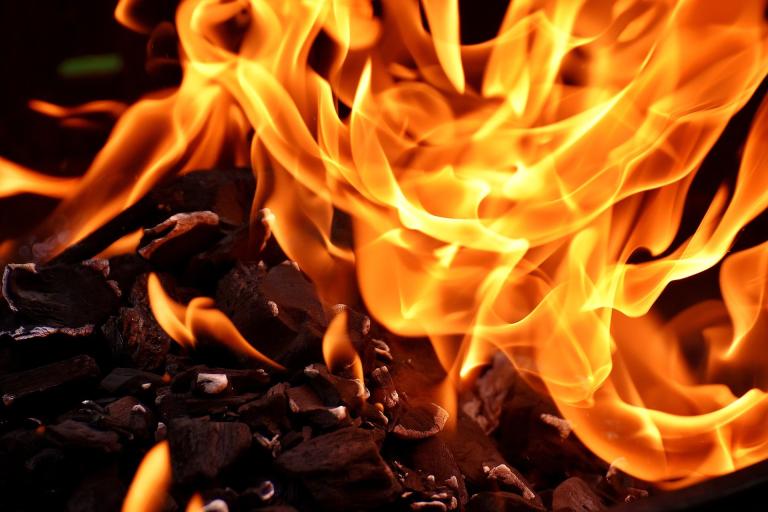 We did our own customized Beltane Ritual. It was a very powerful ritual, just what we both needed. We took our time with it, and just being able to commune with the elements on a nice sunny afternoon was very spiritually uplifting. Even if it was on her deck.
After we closed the circle, we sat outside for quite a long time just chatting and thanking The Universe and our Goddesses for being able to fulfill what we had planned on. Of course some cakes and ale (mead), followed our ritual. We were still full of energy that night and into Sunday.
Was it a Covid-19 pandemic Beltane to remember? Yes, it sure was thanks to both of us having been fully vaccinated. And Carla, and her cats, were perfect hosts, making me feel totally welcomed, taking me places I would not have dreamed of, and caring for my needs.
I left Carla's house early on Monday, thinking about what we had experienced all the way home to New York State. Will we get together again sometime for another Sabbat? Or maybe just meet halfway to tour a witchy museum? I think we just may do that…sometime in the future!