In the Introduction to this very practical book, Constantino writes that "much of this book is channeled. It is designed to bring healing to all who read it, to assist you on the paths of awareness and manifestation, and to help bridge a stronger connection with your inner being or higher self, between you and the greater aspect of you, and with your own intuition." (p. 2)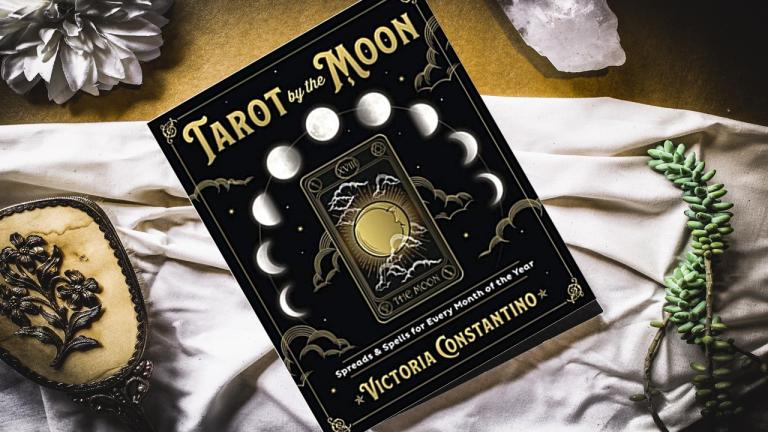 The chapters of Tarot by the Moon, as you may expect, are arranged by month beginning with January and ending with a chapter covering the Blue Moon. Each chapter includes spells, rituals, and tips to round out the multiple spreads Victoria has created. Each spread is illustrated and includes suggestions for questions the seeker may want to consider. The material in each chapter is specific to the energies of a particular month's moon in each of its phases.
For example, Chapter Three (March: The Worm Moon) includes spreads, spells, and rituals centering around planting new seeds and energetically preparing for new growth. Thus, this chapter's spreads address questions about preparing a foundation for growth, sowing seeds, discerning what is getting ready to emerge, and several other questions framed in an Earth-based point of view. The rituals in Chapter Three expand upon the same theme. It should be noted that the monthly themes line up with the seasons as they are experienced in the northern hemisphere, and in North America specifically.
This is a more flexible text than one might first imagine. Constantino writes that readers "can reference this book month by month, working with the spreads and performing the rituals with the corresponding moon phases as you move throughout the year, or you can use this book according to subject, depending on what you are working on and the guidance you are seeking at the moment." (p. 4) The Introduction is packed with solid, well-researched information about tarot suits, symbolic correspondences, court cards, the energies associated with each day of the week, and the influences of each moon phase. Three Appendices at the end of the book offer grounding meditations, a ritual to amplify your intentions, and a brief presentation touching on ba guas.
I want to give a shout-out to Cover Designer Kevin R. Brown—divination is a dance of subtleties, an act of trying to discern what is hidden from us that very often is like trying to peer through a mist of clouds and darkness in search of glimmering potentials. The mostly black cover of Tarot by the Moon has a matte finish, which absorbs more light than it reflects. This makes the shiny dark gold embellishments—the title, the author's name, the lines suggesting clouds—really pop. Centered on the cover is a shiny Moon tarot card that is very reminiscent of The Tarot Gold and Black Edition (2020), with a moon illustration that is simply riveting.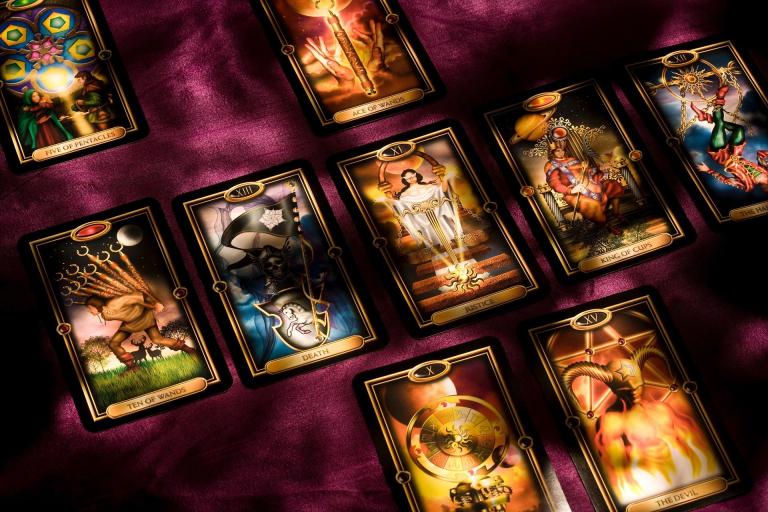 Many of the spreads in Tarot by the Moon feature illustrations that visually supplement the placement of the cards as well as the themes the spreads address. As I read through the pages it occurred to me that what Victoria has done here is to offer an additional opportunity to connect to your reading and intuition—it's worth taking a few minutes to recreate some of these drawings on a large piece of paper that you could then use as a mat upon which you could lay the cards you've drawn.
For instance, in the September: The Harvest Moon chapter she presents a Welcoming the Harvest spread. The illustration shows the cards laid out on a spoked wheel, which many readers might associate with the old-fashioned wagon wheels that might have been in use during this time of year when farmers were loading up their wagons with their harvests. Recreating her spread illustrations—particularly the spirals, vines, and antlers—and using them to underlay your cards can add a significant layer of connectedness to the energies of your spreads.
Victoria writes that the book "draws on Native American, Wiccan, and other Pagan ideologies and lore, and on concepts like feng shui. It is written from the belief that we are all one, that there is truth to be found everywhere—in every culture and belief system—and that we share more similarities than differences." (pp. 6-7) That said, I would strongly urge readers who are considering incorporating feng shui and/or ba gua to their practices to please take a few minutes to learn more about Taoism and its history before doing so.
Tarot by the Moon may be purchased at Amazon, and Barnes & Noble.
You can hear more of The Corner Crone during her Moments For Meditation on KPPR Pure Pagan Radio on TuneIn or on YouTube. Follow her on Twitter and on Instagram.