As we enter the NEW MOON phase (Monday, October 12th @ 8:06 PM ET), it's a good time to prepare for what we can learn from the LIBRA moon. Note that it isn't time to make your wishes or do your abundance check, it's simply time to look at ways in your life that you can make changes, and how you might be able to start again with new beginnings so that you can improve your life.
This is the Higher Intuitions Oracle. The back of the cards are the same–but choose the card which you are most drawn to……..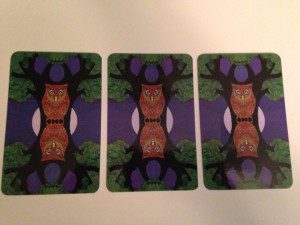 Which card did you choose? The REVEAL is below: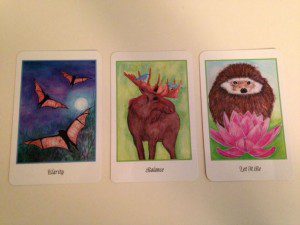 THE REVEAL:
If you chose the far left, you chose BATS and CLARITY. Bat offers you the clarity to see around you what may be hidden. Now is the time to look at your life subjectively and see where you can add positive and passionate changes. You might sign up for a class or start a new creative project (or finish one you started way back when). It is also that you quite possibly have been neglecting communication with those that love you, and you aren't aware of it. Call your friends and plan a fun night out or if you've been upset or in an argument with a friend or loved one, it is now time to talk about it with them or just let it go. Bat also shows that there are fears and anxieties that you have that may truly not have substance to them.
If you chose the middle you chose MOOSE and BALANCE. Moose tells you that it is time to realign your purpose. By looking within and what you are doing outwardly, you will begin to see where you need to re-calibrate your life. Balance is key to enjoying your life, but many times it is lacking. You may feel as if you are on a teeter totter; sometimes your moods are up and sometimes your moods are down. Don't allow a brief moment in time to destroy your balance or allow another to control your mood. You may need some time in nature – take a walk in the woods, go collect leaves, go to a Cider Mill – get back to the basics.
If you chose the far right you chose HEDGEHOG and LET IT BE. Sometimes when you give your issue breathing room, it corrects itself. When we experience fear or frustration, we immediately tense up our body, mind and spirit which hinders the flow of what we do want to come to us, and we begin to visualize everything that we don't want instead of what we do. Shift your thoughts to what you want, not what you don't. There is a lesson in every life test, even though it can be painful. By being grateful, instead of angry, the weight of the emotion will begin to gently heal and release itself from your grip.
____________________________
New Moons help to usher in new beginnings, and I wish you beautiful new beginnings.
Believe,
Kristy
www.kristyrobinett.com
 
Kristy Robinett is an intuitive, life coach and author of several books. She is a mom and wife who loves farmhouses, front porches, iced tea and old cemeteries. Find Kristy at www.kristyrobinett.com.