As a child I always loved picking up rocks. My mom would often get upset because I would forget to remove the stones from my pockets before washing. Not much has changed, but now it's my husband who complains that I never take my crystals out of my pockets before the wash.
Crystals help to shift energy and is helpful for emotional, physical and spiritual blockages, and when I took a tumble off my porch last week, I grabbed several crystals to aid in the healing (Pyrite, Selenite and Fluorite, to be specific).
Below are 5 crystals, each with its own unique energy. Choose the crystal that you are most drawn to and below I will give you the crystal clear message in relation to your chosen stone.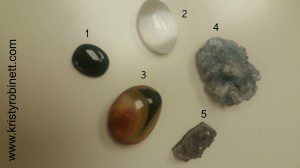 Crystal #1 – Snowflake Obsidian – A very grounding and protective stone, if you chose the first crystal, you might be feeling out of sort, particularly with your life path and career.  The lack of stability and security with finances (or just worry about the lack of) has been consuming you. It's time to look at why you are feeling this way and what you can do in order to get back on track.
This stone may be telling you that you have a crowd of psychic vampires around you rather than supporters. It's hard to see the sunshine through the fog, so step away from the fog.
Tension in your back and shoulders, and/or joint issues may also be a pesky problem. Get up and stretch and take time to do something that will help you re-ground yourself.
Crystal #2 – Selenite – This crystal helps to heal a broken heart. It clears the residue of negative and sad energy, cleans and repairs the aura and brings happiness and inner truth. So often we lie to ourselves, but we create blockages and barriers and hide from what is true or real. As difficult as it can be to clean up the past, selenite gently assists in that, but also helps you see that there is a light at the end.  There IS a light at the end, and know that there are people here and on the Other Side who want to help you. 
Selenite brings clarity and helps to open your soul up to possibilities.
Crystal #3 – Mookaite Jasper  – If you chose the third stone, you chose Mookaite Jasper, which is an earthy, gypsy, animal energy and Bohemian energy type stone. Connected to increasing self-confidence, self-worth, and realizing one's true potential, it's time to look at what you've been putting off and focus on a goal (or two, or three) and put it into action. You've been feeling impatient and a bit off, but part of it is your own doing. Watch for digestive and tummy issues in the upcoming year. The past has made worry and insecurity settle around you, but there's so much excitement that is about to happen if you just step on the path. Shoes, optional.
Crystal #4 – Celestite – Celestite is a beautiful blue color and is an angelic stone. It offers a direct channel to your guides and angels, and is especially useful if you have been spending a lot of time worrying. This stone is telling you to give over those worries to those on the Other Side so they can assist. Celestite can relieve stress, anxiety and obsessive behaviors. Celestite helps balance the throat chakra and tells you that it is time for you to speak up for yourself. Feelings may be hurt, but haven't your feelings been hurt as well by simply keeping quiet? This stone is a perfect piece to carry for those in the creative field, and if you are wanting to expand into the creative field, it helps you have the courage to do that too. As much as this stone helps you dream in the daytime, it helps you sleep and dream in the nighttime, especially lucid dreams, which can be beneficial for psychic and angel messages. Keep a piece on your nightstand!
Crystal #5 – Amethyst – If you chose Amethyst, you are being asked to embrace your intuitiveness and trust your gut. Lately, you've been obsessing over small things (remember, don't sweat the small stuff!). You are super creative and you may be wondering how to fit that into your life routine, but you are being drawn to nonetheless. You may have a business idea, or a book idea or have been wanting to pick up the camera – whatever it is, you are being urged to stop looking at allt he reasons why you can't, and look at the reasons why you can. Amethyst is a known stone to help those with destructive habits and so this stone is asking you to look at what you might be doing to yourself that is sabotaging you from the very best you. 
If you enjoyed this, check out H.I. Bundles.  Start each month with good energy and receive higher inner vision, or an IntuVisions.
 
The H.I. bundle will be snail mailed to you and will include:
Power Word for the Month
Power Affirmation of the Month
Energy Scope for the Month for all 12 Astrological Signs
The Month's New Moon + Full Moon Energy Information
1-3 Crystals/Stones for the Month
Candle for the Month
Monthly Angel Meditation
Special Gift
 
The H.I. bundle will be mailed out between the 20th – 26th of each month (before) so that you can prepare for the upcoming energy. (i.e. - a November H.I. will be due by October 15th). Every month themed according to the energy, so you can request a particular month bundle or all twelve months! They make great birthday gifts too!
Believe,
Kristy
www.kristyrobinett.com
 
Kristy Robinett is an intuitive, life coach and author of several books. She is a mom and wife who loves farmhouses, front porches, iced tea and old cemeteries. Find Kristy at www.kristyrobinett.com.