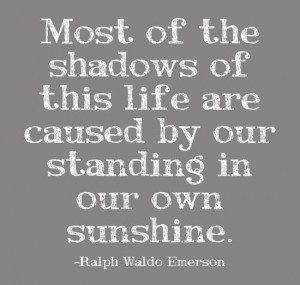 "How will Santa bring presents? There isn't a fireplace," my six year old son asked looking around the tiny duplex, his gray eyes sad and scared. It wasn't just about Christmas and Santa, but about the transition as a whole.
"I think he has a key," Micaela, his older sister, answered, looking at me for confirmation.
"Yes, a key," I sighed. "Santa has a master key to all the houses and apartments that don't have a fireplace." I tried to sound upbeat and reassuring, but I wasn't feeling it in my heart. My Christmas cheer had certainly been replaced with Christmas gloom.
The breakup had been hard on me, but I was worried more about the kids. And I felt horribly guilty. How could I have believed and trusted in love after being hurt so badly by their father? How could I have been so stupid?
"Well, I think that's it," the mover said, softly smiling at me.
He had moved us from a beautiful suburb and a beautiful house to a dump of a neighborhood and duplex that was about the size of the living room that I just left. I wasn't materialistic, but I did feel like a total failure.
"Thanks for all your help. I'm sure I will be seeing you in a few months when I get a permanent home," I smiled back at the dark haired man. He had kept the move upbeat, and even played with the kids in between loads. I grabbed a white envelope out of my purse that contained a tip for him and his partner. It wasn't much, but I was raised to tip no matter what. It wasn't their fault that I was broke.
"Absolutely not," he said pushing the envelope away. He looked over my shoulder at the kids who were sitting on the beige carpeting, petting Guinness, our Australian Shepherd, and feeding Ginger, our long haired rabbit. "No, you take whatever you have in there and go Christmas shopping for them. Or buy a tree."
"I can't," I said trying to hold back the tears. "I won't be a charity case."
"You aren't a charity case. I like you. In fact, did you want to go to dinner next weekend?"
I laughed. He was probably ten plus years younger than I was, and I had taken a vow of no men. At least until I worked on healing.
"No offense to you, and believe me, I am flattered, but I know you also just broke up with someone, who I think you will get back together with soon and marry. Plus I'm not ready to date."
"How…?" he looked at me baffled.
"I'm kind of psychic," I laughed
"Well, here's my card. Call me if you change your mind. And go Christmas shopping," he instructed.
It was a couple weeks before Thanksgiving and I hadn't gotten one gift, which was so unusual for me, but I wasn't sure what I was going to do. The year before the kids received extravagant gifts from the ex's family. What a difference a few months made. I was grateful for the extra money.
The mover said his goodbye to the kids, picked up his mats and gave me one final smile, but this time it felt like pity and sadness, stirring the depression again in me.
The kids and I spent the next couple days unpacking some. I was bound and determined to make this temporary until I could come up with the money for a house, but we were in a recession and houses were expensive and far and in between. The timing couldn't have been worse. So instead, I found myself renting a two bedroom duplex that was about 400 square feet, but it did include a basement and they were making an exception and allowing me to have Guinness and Ginger there. Instead of paying for cable, I had decided we would watch movies on the VCR, and play games. It would be okay. At least I kept telling myself that.
It was their father's turn to have them for Thanksgiving, which set tangled in blue.
"I'll see you in a few days," I said hugging the kids, and trying not to cry.
"Where will Santa put the presents, mommy?" Connor asked me. I called him The Wizard because he was always curious, and would regurgitate the information given at appropriate, but frustrating times.
"Oh, he'll find a place."
I had purchased a table top tree from CVS, but hadn't put it together yet.
I watched as the kids ran out the doorway towards their father's car, and I avoided any eye contact with him, but I knew without looking that he thought I was a failure as a mom, and I knew that I certainly felt like that failure.
The day was gloomy. Thanksgiving was the next day, but my parents were going to take me out to eat, so I didn't have anything to prepare. I always cooked Thanksgiving dinner, and looked forward to it, even if it was so much trouble – hours of prepping and cooking and taking mere minutes to devour it. I laid down on the sofa and stared up at the ceiling. "God, if you have any kind of suggestion or sign for me, I would love it right now."
As if on cue, the sun broke through the small windows and Guinness, who had been lying on the love seat, groaned, jumped down and laid in the small streak of sunbeams that danced along the floor. Although shadows surrounded the little bit of sun streaks, he curled his body up so that it covered him completely. Message received.
My first sunbeam that I noticed after that sign was the man I now call my husband. We had been set up on a blind date just the week before. I wasn't going to go, but I decided that I would take my chances. I was worried and scared about being hurt and putting the kids in another chaotic situation. But I looked to the sunbeams. The second sunbeam was a freelance writing project. It was enough to put a down payment on a home. Albeit not my dream home, it added another 500 square feet to what we were living in for several months, and more windows for Guinness to catch even more sunbeams. But what I mostly discovered during that small blip of time in my life that I thought at first was so horrible, was that it was more wonderful if I stopped and saw the sunbeams instead of the shadows.  Message received.
I wrote this blog several years ago and forgot about it until I offered a 'look for your sunbeam' message to someone recently going through losses. That same night I was sitting on my couch in the living room and saw a shadow out of the corner of my eye. Instead of fear, I felt a sense of comfort. I glanced at my window and in the reflection I saw a woman – my mom. My mom passed January 2006. She smiled at me and walked towards our kitchen. I didn't bother getting up, I knew she had gone downstairs to sit with my dad, who's been feeling sad.
I shared on Facebook that I've been seeing more and more spirits in mirrors and reflections of windows over the past couple weeks-and asked if anyone else had been. Almost one hundred people replied via the status and private message that not only are they seeing shadows out of the corner of their eye, reflections of spirits, but also more smells.<
It is often spoken that the veil thins between this world and the other during October, but I believe that we always have a direct link, we just don't always notice it. Could it be that our loved ones are trying to warn us? Could they be protecting us? Or is it the holiday season that is drawing them near? I believe maybe all of the above.
We grow wise from learning from mistakes and side steps in our past. We grow frustrated and depressed by beating ourselves up for past mistakes and things that didn't go as planned. It all comes with a learning curve and wisdom. So if you are seeing shadows, sensing or smelling that which isn't here in the physical, perhaps they are trying to remind you to see your sunbeams too – even if you don't see it!
I believe in YOU!
Kristy Robinett
www.kristyrobinett.com