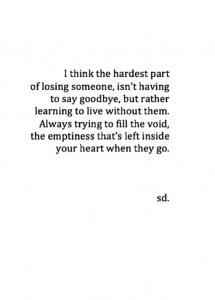 I typically have a couple restless nights after every gallery session that I do. I keep the veil open to the other side to continue to pass along messages. Sometimes they are from those in attendance and sometimes not – I simply give them a voice. Gallery sessions, or audience readings, to me are a  lot like flipping through the television stations at a rapid pace, and so are my nighttime visits. They are at the drive-in-window, so to speak, and sharing their information with me as quick as can be until by guides yell out "Next" and move them along allowing the next person to come through. Since moving to our new home my nighttime visits haven't been so busy. I don't know if it's because I'm more relaxed and at peace here, or if my guides are starting to understand that sleep is important – or both!
A couple weeks back I had a gallery session at the Hamlin Pub and the night I got home was busy with visitors. I always write them down, or record them into my phone, as they come through but didn't have time to transcribe them until now since I just had a new book release and had promotions to do for that.
These were my visitors and their very quick messages:
Ernistine (something like that) – She spoke another language (Greek/Italian?) and had a perpetual smile on her face. She was quite active in her senior years, but she said she ached everywhere and had stomach problems. She tried to not complain, though, she said. Her husband was buy her side (maybe started with an A like Alfred) and a son.
Ken – He said he passed with his kids by his side in the physical and his wife on the other side. He loved playing cards and singing. He loved golfing and gardening, and his family.
Brenda – She looked to be in her late 50's and passed from cancer. She had short brown hair with red highlights and said she had three kids. She fought hard and never believed she was going to pass, living to live, not living to die.
Janet – She had fought for a couple years of fighting various medical issues, and each time she fought through. She ended up getting an infection and it took over and she passed quickly. She had short brown hair and glasses and was in her early 60's. She was the glue that held the family together, and I don't believe she's been gone more than 3 years.
Dylan – He was in his late teens/early 20's and passed in a car accident. He said he was careless and had been following the wrong people for awhile. It was his fault and he was so sorry that his family had to not just suffer with his loss, but the community that blamed them.
Agatha – A feisty 80-something year old who said it like it was. She had cancer when she was younger, but beat it. When I asked what she passed from, she sort of rolled her eyes and said 'old age' as if I was dumb to not figure that out. She had a sarcastic edge to her, but would do anything for you.
Sam – He wanted to tell his family that he loved them, especially his wife who he said wasn't his wife anymore. The years they had together had been more special than he ever let her know and he was sorry for any heartache. He was worried about his mom and said his dad was with him (and they may have had the same name  or one that was similar).
Barbara – A beautiful lady with the most amazing colored eyes – almost periwinkle. She was surrounded by a crew of family members on the other side and said it was nice to finally feel clear headed again.
Tony (Anthony/Antonia/Antonio?) – He had a calm and peaceful energy and said when he passed it was his family and his faith that helped him cross over. June was either a birthdate month or a passing month.
Mark – He said he passed unexpectedly and July was a birth or passing month – he just kept showing me that it was important. He was full of life in the physical and on the other side. He had an intensity about him, especially when he was talking about his love, kids, family and friends. He felt a terrible that he didn't get a goodbye.
William – Passed around a holiday. He wanted his wife to know he was with her often. He showed me boxes, which is my sign to get moving. It could be to clean things up, or just enjoy life.
William – another one – He passed from cancer and loved bowling. He showed me a bunch of keys on him that felt more symbolic than anything. He said he'd been gone almost 15 years.
Lisa – She passed suddenly and had long hair. Her smile and energy was beautiful. She said she missed her family, though, and there was going to be a new addition to the family. She wanted to be a grandma on earth, but would be watching over the baby.
Christine – She showed me a rosary and said she met her husband on the other side, and her brother and sister. She was proud of her kids, grandkids and great grandkids. She also had a small dog with her.
We all receive Heaven hellos from our loved ones, but life happens and we become consumed by it, missing what may come in a subtle way. My hope is that by becoming aware of the different signs I outline in my newest book out August 8th – "Messages from a Wonderful Afterlife" that you can find your signs. Then the visiting hours with your loved ones on the Other Side will become more frequent and clearer each time.
Heaven isn't some faraway place where you will only meet your loved ones when you pass away. Everyone has a direct line to heaven you just have to learn the right number.
Learn more about the afterlife and how to clear up your connection. Order Messages from a Wonderful Afterlife. 
If you are interested in attending a gallery session, visit here. If interested in a private session (phone or in office) visit here.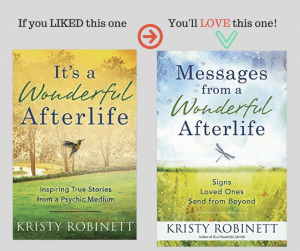 Believe,
Kristy
www.kristyrobinett.com