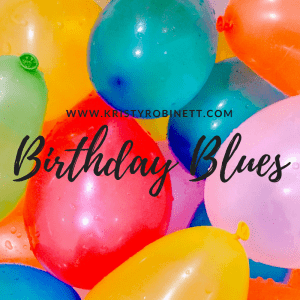 November 13th was my birthday and I woke up in tears. I've done the same every year on my birthday for a decade and some. Each year my husband holds me and does what he always does – he tries to make me laugh. Sometimes it works. Most times it doesn't. Yesterday I cracked a smile for a second as I snuggled against his chest and let my tears turn into sobs and released the shower of grief.
Whether it be my birthday or the pending holidays, I look back on my journal entries from this time of year and see a similar type of blue mood.
"It's because your mom isn't here and birthdays are met with a connection between mother and child," one friend suggested after receiving my honest response on how my birthday was going.
Could be, I thought. It was never about the number, the wrinkles, or the more frequent joint pains. But then I thought back to my 16th birthday and how I sobbed on that day, and mom was there. So maybe it was expectations. Not that I wanted a certain gift or made up magic. Yet there is some kind of pressure to make a birthday amazing. Even Seinfeld says there's no such thing as a happy birthday.
I received emails, texts, calls, and cards. My husband gifted me a cute sweatshirt and leggings despite me telling him not to get me anything (and meaning it). Nothing terrible happened on my birthday (well, dad did make me take him to the Secretary of State to get his license renewed). And I'm almost always just fine on the 14th of November, as I was today. Yesterday I cried on my birthday, but today I'm celebrating another year and a year ahead. Back to my cheery, happy, get stuff done self.
So do you get depressed on your birthday? Or do you have a certain ritual so that you don't? Share below – I'd love to hear!
Believe,
Kristy Robinett