New Moons are about new beginnings and sometimes we need a bit of help from our guides to let us know what we need to work on to help with those new beginnings. Here are 5 Oracle cards from Nature's Whispers Oracle Card deck, by Angela Hartfield artwork by Josephine Wall. The backs are all the same, but by using your intuition, choose one of the cards that calls most to you. Take a deep breathe in and out. Don't second guess yourself – just choose.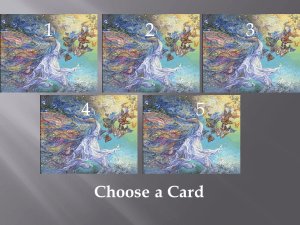 You might hear the number being said. One card may look brighter or sharper to you. Or you just feel that one card feels better than another. Whatever way you feel guided, which card feels right?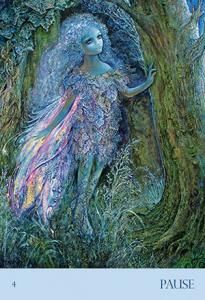 If you chose #1 – PAUSE: You are most certainly in need of some peace, which comes from taking time in the pause. Take some time to take some deep breathes, learn how to meditate, or possibly take up Yoga.
Has their been turmoil in or around you? Trust that your angels and guides don't want you to worry. With pause often comes solutions. Often over analyzing brings more fear and more anxiety.  This card is reminding you to find your faith and know that God and the are working in the background.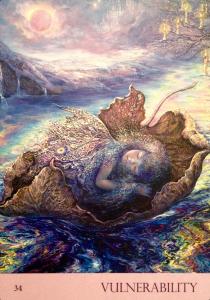 If you chose #2 – VULNERABILITY: You may be feeling like you should withdraw. This is an opportunity to wait and regroup. You are in need of some rest and relaxation. You might even be feeling overwhelmed. Take some much needed downtime. Take in your surroundings. Notice the season and the changes that are taking place out in nature. Things are continually evolving. Think about the clouds you see in the sky. They are constantly moving, changing and reshaping themselves. Allow yourself to connect with Mother Earth and nature in a deeper way. Align your rhythm with the heartbeat of the Earth and slow your thoughts and emotions down. Trust that everything will work out. The signs that things work themselves out are all around you. Take notice.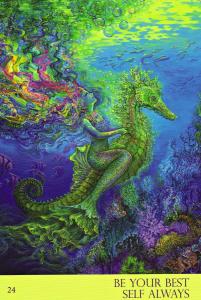 If you chose #3 – BE YOUR BEST SELF ALWAYS: Check in with yourself – how you are feeling at this moment? Are you being the person you aspire to be? Remember that you determine how you feel. You are constantly choosing to feel the way you feel. It is understandable we are all human and there are times that we don't feel 100%. This card appeared today as a reminder to access the highest level of emotions now. Don't settle for less than you deserve. Do your utmost to achieve more, love more, and to be your best.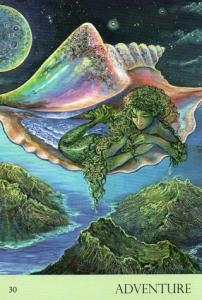 If you chose #4 –
ADVENTURE
: This card indicates a need to see your life as an adventure. No one knows what will happen tomorrow, so why not make the most of today? By drawing this card, you are being encouraged to step out of the rut of your everyday life to experience exciting new things. It does not have to be anything dramatic; just a couple of minor adjustments can add a little adventure and zing.
This is a time to be inquisitive and daring. You might want to rearrange your furniture or experiment with new styles of clothing. Perhaps you could eat a different type of food, take up a new hobby, or go on an overseas voyage. Sometimes a new version of something familiar is enough to shake things up. Even a random act of kindness can be adventure in itself.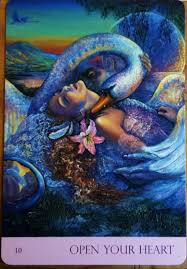 If you chose #5 – OPEN YOUR HEART: The angels are encouraging you to open your heart at this time. Because of the emotional ties and let downs of your past you have created barriers surrounding your heart energy that will stop people coming into your life and stand in the way of loving experiences. It is important for you to realize that the past no longer exists and the only place where you are powerful is the present. Your heart may be feeling broken, but it is completely whole and all you have to do is remember that ultimately you are love.
There are opportunities for you to love and be loved at this time. This card brings positive, loving and even romantic experiences into your life so you can feel whole again. You are an old romantic at heart and it is the small things that count to you. By taking this opportunity to open your heart and let love in, you will allow yourself to settle, be romanced and have a positive, balanced relationship. The Angels want you to know it is safe to love and trust any new relationships in your life at this time.
If not about romance, it is about love from friends and family, letting go of any past disagreements and allow yourself to re-build relationships. If you are holding on to past hurts it is now time to decide to move on. Ask our angels for the best possible outcome and then let your angels take care of it. Listen to your heart and your intuition as this is how your guides and angels communicate with you.
***
You deserve the best, now think it, feel it, see it and believe it.
I believe in you!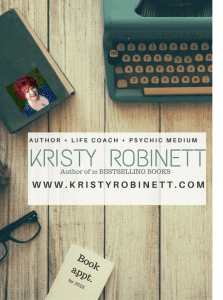 Kristy Robinett