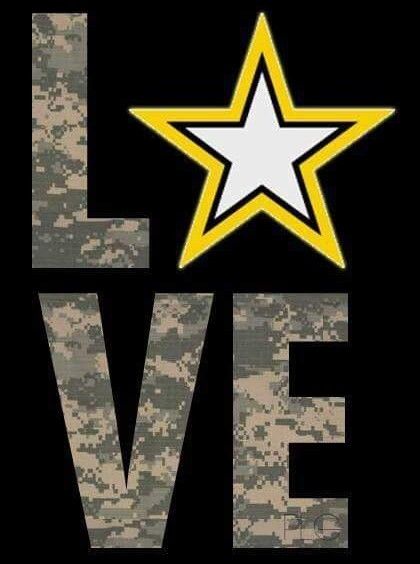 Last month my only son left for boot camp with the United States Army. When he enlisted into the Michigan National Guard I told him that I loved him, but I didn't like his decision – it was his life, though and I would support him no matter. I think he took that honesty to mean that I didn't want to be apart of his swearing in, because it was Facebook where I found his photos from his recruiter. "I didn't know that was what I was doing that day when the recruiter had me come down" was his reply and I believed him, but I cried myself to sleep anyhow. I was angry at his recruiter, not him – okay, maybe a bit at him too.
My dad spent many years in the Army. My son-in-law was a Marine, and yet I wouldn't classify myself as patriotic. Sure, I love my country. I stand for the National Anthem and I know all the words to God Bless America, but patriotic? Nah. Going to the many concerts and sporting events, often they would bring out the military or have them stand for recognition, and I wouldn't hardly pay attention besides for a couple claps. After all, why should I give them extra kudos – they chose the life, right? And in return they get pretty good benefits for it. The military, in my mind at the time, was all about guns and boys who didn't grow up and still wanted to play War. I was very mistaken.
I was confused when Connor told me he was joining. It was weird, really, because the typical thought of military personality was not my son's personality. He wasn't the rough and tumble kid, although he wrestled in school and played soccer, football, softball, and even volleyball, he didn't like to get his hands dirty, but he was a hard worker. He wasn't the fighter, he was the mediator. He was the calm in the storm, not the one causing the storm. So how could he possibly trade his civilian life for the military?
And he's smart. Wasn't most of those in the military those who couldn't make it into college? Not so much at all. My son always gotten exceptional grades, had his choice of school all with a nice scholarship attached. In fact he was going to be graduating early from the University this year. It felt like yesterday when I was crying after dropping him off for pre-school, then college, and now I had to drop him off for boot camp. It's the growing up process, I know, but it doesn't make it any easier.
I became a single mom when my kids were just toddlers. It was horribly hard in so many ways at the time, but now I treasure that time with them – only wishing I hadn't stressed, mourned, and worked as much as I did and had to do. I didn't, however, have to share them in the way you do when you're married and co-parenting. I had them all to myself and maybe that is why we were all so close. Or maybe it was our soul connection. Or both.
When Chuck and I met I made it loud and clear that I wasn't a typical mom – that I actually liked my kids. He liked his too and we both fell in love with one another all the while falling in love with one another's kids as well. He didn't judge me when I cried when they went to their dad's house, or when they went off to college, or got married, or moved across the country. He hugged me and let me cry. Now he probably rolled his eyes a few times, but I couldn't see that through my watery eyes.
As he signed his paperwork, his Sergeant gave me some advice as a military personnel and an Army mom herself.
– You'll cry. You'll cry a lot and don't let anyone tell you not to cry.
– Your kid isn't away at summer camp. This isn't college. This is way different and it will feel different and nobody will understand that unless they've been there.
– Keep your phone with you all the time because he might get permission to call you at any time.
– Don't count on a call, though. You may not hear from him until the end of his journey. No news is good news.
– Write and send letters constantly. He needs to feel home around him to keep him going.
– Stalk the pictures on the private groups although you may need a magnified glass.
– And it's the best hug ever when you get to see him.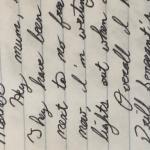 It's now been more than a month since I dropped my son off for his 10 plus week journey and Sunday I received my first phone call – a short 6 minutes of wonderful. I didn't cry and I tried to stay as positive as I could, reassuring him that we'd be there at his graduation. It felt like I had gone into the past when I had to reassure him at 3 years of age that I would be there at the end of his school day to pick him up. He sounded tired. He sounded a bit defeated. He was hot and done with people. I could tell he missed home, but didn't speak it and when we hung up he quickly texted me a 'I love you'. And then my waterworks started, but not before excusing myself for the bathroom (as we were out with friends) to cry my eyes out. Because I couldn't just pick him up and I couldn't make it better. I had to wait until the Army said all was good. One day closer, is the way I sign my letters to him. I don't think in our 21 years that we went more than a couple days without any communication, even if just for a 'thinking of you'. It's a huge change for us all. The worry is always there – is he sleeping? Because I'm not. Is he eating? Because I'm either not eating or I'm over-eating out of nerves. Is he staying healthy? I pray he doesn't get injured and be recycled back to the beginning. I hope he isn't worrying about us, especially his grandpa. I hope he keeps focused. There's a lot of praying, hoping, and going between being distracted and staying distracted. And there's proud. Heck, I tried to go back to Yoga a few weeks ago and couldn't stick with it. And there's being patriotic.
I talk to many of the other Army moms and wives and we comfort one another. We write letters to one another's sons and daughters, offering them support and love. We grieve, and then feel guilty for grieving because we know some moms are truly grieving from the loss of their child. We keep busy, with phones on and nearby at all times. We squint at the pictures sure that chin or eyebrow looks familiar, and for a brief moment we feel relieved. We pack 4 weeks early, almost like nesting for that newborn baby. And being patriotic takes on a whole new meaning because it's our sons and daughters. They aren't playing war like I originally thought. They aren't gun loving, fighting, problem children (well, most of them), can't do anything else with their lives – they are so much more.
My son has always wanted to help others and that is why he chose this path. He's proud of his country and wants to make a difference. Next month I get to have the best hug and this year I get to see him graduate early from Michigan State University and then leave for his advanced training, which will be much longer than this. There might be a deployment. There is a lot of unknowns and through this I've learned how to be (mostly) patient. I can't be Momma Bear anymore, as much as I'd like to be, but I can be a proud mom, wait for letters from him, hope for another quick phone call, and pray. And now when the National Anthem plays, I cry for all of the sacrifices from those living and those passed. I cry when the military are brought out on stage at the summer concerts and ballgames. Yep, I cry a lot, but I do have a whole new understanding that not everybody will nor will want to.
Happy 4th of July.
Kristy