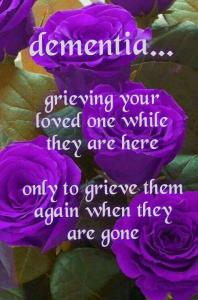 My Mother-In-Law's brain is dying. There's no patch or repair. There's no medicine or vitamins, CBD oil, or prayers that can fix it. It's irreparable, and it's a horrible thing to witness. I'm sure it's also a horrible thing to go through.
Mary Lou was a strong and independent woman, always fearless until the imaginary men in the basement began to threaten her and she begged strangers to help her. To her they were real. To us, they were just as frightening because it meant the beginning of the end of the disease.
Some days are better than others, but each day gets worse than the one before. It's a roller coaster filled with many dips and curves. One minute she knows who we are and will talk about the past, and the next she is afraid of who we are – total strangers, and not wanting to talk at all. She reaches for what isn't there, and she talks to her family who has already crossed into heaven. She laughs. She cries. Most times her eyes are shut. She won't eat, yet she talks about food. We are told it's her last form of control.
Last week she went into the hospital as her body was growing weak. We hoped for a hopeful answer but was told that it was a matter of time. Time which could be hours, days, weeks, or months. They call dementia the long goodbye for a reason. We sat vigil for a week; hours and hours by her bedside, being told by the nurses it was probably the end soon. And we waited. Always hard headed, a Taurus after all, Mary Lou will go when she's done and ready and not a moment beforehand. In the mean time we treasure the seconds of clarity we receive. We give her sips of her favorite drinks – buttermilk or Pepsi. We aren't pushing her to eat if she doesn't want to. We watch as she dresses and undresses a baby doll, and talks to a stuffed bear. We watch as she reaches for invisible items, puts on invisible makeup, and we pretend to watch the snow she sees falling and hear the people she hears talking. We don't question, just comfort. And inside we cry, but never to her. We'll have enough time to do that after she's gone.
Believe,
Kristy Robinett
www.kristyrobinett.com