Since I was a child I've been visited by spirits that share glimpses of their stories, their unfinished business, or simply a heaven hello. I do gallery readings to offer these glimpses, but I'm often left sad afterwards because not everyone gets a reading. I feel awful that participants leave sad because they didn't get a message. Yes, I forewarn everyone that will happen, but it makes me sad nonetheless. Then there's the lack of sleep for several nights after as if the spirits sense my vulnerability to people pleasing and take advantage of that by standing in line for a roll call. I much prefer one-on-one sessions, but I do gallery sessions to help give a taste of heaven. It's never for entertainment only purposes, although the spirit world does want us to laugh, I take my connection to the spirit world extremely serious. During the gallery sessions I allow myself to be guided by the spirits. It's as if they grab my hand and take all of my attention. I hardly pay attention to the people who are there (sorry) and afterwards I'm often depleted, leaving pieces of myself somewhere in between this and that world. Here are my visitors. I have no other information than what I share below. These are some of my most recent visits:
Sylvester – He said he went by another name (nickname or middle name), but that Sylvester was his given name. He showed me that he was met by two women and then winked at me playfully. One was his wife. One could've been a second wife or a special friend/significant other. He worked in the auto industry, but work was never his priority. He told me he comes to his family on this side by giving them birds – all sorts of birds.
Sophie/Sophia – Just recently passed away, she said she was still making her journey to her new home. Classy and sharp witted, she said she took good care of herself and lived a long life. She had a large reunion of family members who met with her as she crossed, and she thanked her family for making her comfortable the last few years of her life.
Pam – She said she fought as hard as she could, but the cancer finally won over. A beautiful smile, younger (she laughed when she told me that) in age (in her 40's) she is concerned her children are having problems living day to day without her. She mentioned twins, but I wasn't sure if that was her or if she had twins. She could manage anything, whether a project at work or a last minute school project the kids needed – and she's dealing just like that on the other side, but she misses her normal day to day, more than she ever thought she would.
Sue – She told me to call her Suzie. Quick laughter, even through the treatments, she also tried hard to survive. She was grateful for her family and the medical staff, and even her ex – she felt she was able to let a lot of angst go from the past before passing. Her heaven is filled with friends she's made, palm trees and salt water oceans.
Jack – He reminded me of Dick Purtan for some reason. His demeanor and his physical looks. He showed me a military background and loved planes.
Shirley and William – They came together as a couple. They said they were very proud of their son, dad's namesake. Dad (William) had been gone longer than mom. She kept the family together after his passing. A large family with lots of grandkids and greats. He loved that they all knew who they both were and that the traditions were being kept alive.
Francis – He loved his family more than anything. He lost his family when he was younger and valued the family he built with his lovely bride. He showed me northern Michigan and sandy beaches. He was valiant until the end, fighting to survive so that his family didn't have to suffer. His reunion with his father in heaven was beautiful, he told me. He'd missed him. He was watching over everyone from the other side, most of all his grandchildren.
Ursula – Her parents were born in Germany, and she could speak fluently herself. A bright smile, blonde hair (before it turned gray, she told me), and a happy attitude. Life was heavy in her childhood and then Detroit became her new home. She had a strong faith and was so happy to reunite with her husband. She said she'd wished she had more children. She was a hard worker but didn't get to do the work she wished she could and on the Other Side she was teaching small children, loving them until their parents got there to take over.
Tony – He loved fishing and hunting. He worked a trade for his whole life and was proud of the life he created for his family. He was met by a child he lost years before. And he said he missed his dog.
Dennis – He said he passed from injuries of a car crash. It was sudden and he said obviously the family was still shaken. His wife went numb afterwards, and he didn't even get a funeral because they just didn't have the funds. She talks to his ashes and that makes him sad. He is so sorry that he left that way and that he changed the family dynamic from happy to just getting by.
Connor – He was a child, but with an old soul. Hardly communicative, with disabilities, in the earthly plane, he was whole again in heaven. He loved to play and he loved his family and all the sacrifices they made for him. He's good, he kept saying. Tell them all that I'm good. I won't want you to cry anymore, he said. I want you to just keep talking to me.
Roman – He was a very astute man. Not very communicative at all, maybe even a little suspicious of me. He showed me a faith base which looked either Catholic or Greek Orthodox. He had an ordinary childhood, but it was his wife who lit up his world. He wished he'd told her that more when he was alive. He wished he'd been a better dad to his kids and not just a paycheck and food on the table. He wished he'd played more, he told me.
***
I have more that I still need to type out – some include from: Lorna, Mabel, John, Dave, Lisa, Donna, and Chester – but I have even MORE and will share in time.
To attend a Supper with the Spirits – I have a January event coming up, but there's not many tickets available. Purchase here.
Each one of us have the opportunity to make the connection, we just have to see the signs all around.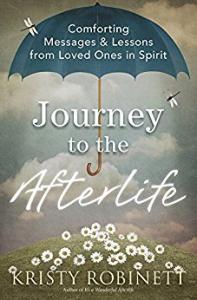 I love my job, but I don't always love what I see or hear. There's so much pain in this world and I do my best to help through the connections I make, but there are no magic wands to make it all better. Every one has to take their own baby steps and trust that even if they fall they can get back up. My days and nights are often long and I do miss spending time at home, but to those who schedule appointments or attend my events – thank you for allowing me the opportunity to spend the time with you and your loved ones on the other side. I believe in you all.
Believe,
Kristy
www.kristyrobinett.com