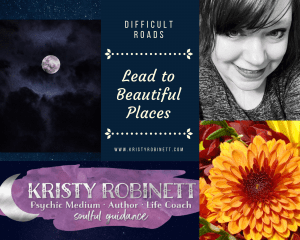 The sign read "Road Closed Ahead", but my husband rarely paid attention to signs.
"They are probably lying and the road was fixed," he told me.
Now, we've been married long enough for me to know not to argue with him, but sure enough we were stopped at the large construction barrels with another six people, who also didn't pay attention to signs, turning around. We've also been married long enough for me to not add a "told you so" to the sideway look I typically give him. For some odd reason, this road closure left him feeling defeated.
"I don't want to turn around and I don't want to take the detour," he sighed, still stopped at the closure.
"There's a street that way, let's take that and see where it leads," I pointed to the right.
"But we don't know where it's going to lead and the GPS isn't working."
I shrugged. "Try it anyway. If all else fails, we'll end up back here and make another decision."
And as you might've guessed, we took the detour and found ourselves looking at the most beautiful landscape that was just a couple miles away from our home. We slowed down to yell out "Cow" and "Horse", as if they needed to be reminded what they were. We marveled at the cascading trees that darkened the road, only to open up to a beautiful lake with swans happily swimming. The road led us right to the street that led us to our home.
Scary detours and difficult roads can lead us to beautiful places if we stop allowing fear to take over. Nothing changes unless something changes. We could've driven the familiar detour, but instead had an experience and learned again that we don't always know where we're heading but we don't always have to have it figured out.
Wed, Sep 2nd @ 1:23 am ET we welcome the Full Corn Moon. This full moon will take on the astrological sign of Pisces. The next few days you will find yourself wanting to purge the past and ready yourself for the future. The week begins with a nesting urge to prep yourself into more self care, self awareness, and self development. That box of crafts in the corner? You'll feel motivated to pitch or start doing. That book you've been wanting to write? You'll begin character development or say goodbye to the characters. You might even pull out your finances to balance, plot, and plan – nothing can stop you now that we are in Virgo season, with dreamy Pisces driving the spiritual car. Expect September to be a busy one full of positive energy and enlightening changes. It's about time we can feel excited for something, don't you think? And maybe take that detour.
I believe in you,
Kristy