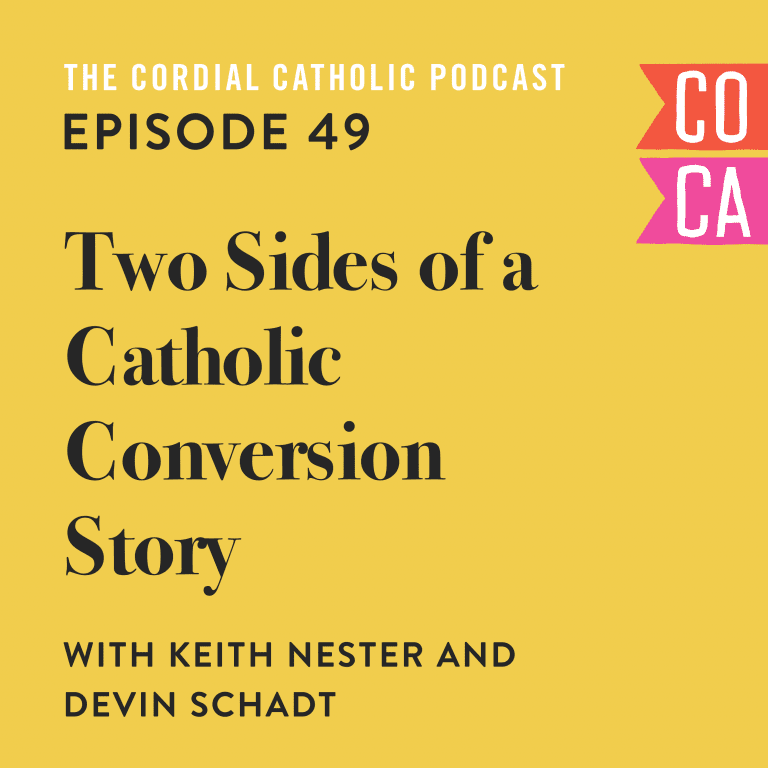 In this episode of The Cordial Catholic, I'm joined by former Protestant pastor Keith Nester and author and speaker Devin Schadt to discuss the process of Catholic conversion from two sides of the same story.
In a first for this podcast we unfold the narrative of a Catholic conversion–Keith's conversion, in this case–from two different perspectives; from the perspective of the Catholic loving and practising and sharing their faith, and from the side of the skeptical Protestant doing the exact same thing on the other end. You'll hear how these two friends journeyed together, how they used apologetics, how they argued and debated and nearly got arrested one time, but how the Holy Spirit ultimately used Devin's witness, and their friendship, to convince Keith of the truth of the ancient Catholic faith.
It is an incredible story and a real privilege to share it with you.
For more from Keith Nester visit his website and check out his fantastic new book, A Convert's Guide to Roman Catholicism: Your First Year in the Church.
For more from Devin, visit his website at The Father's of St. Joseph.
For more, visit The Cordial Catholic. Send your feedback to cordialcatholic@gmail.com.
This show is sponsored by Select International Tours. To learn more about their pilgrimages and tours, especially during their trips to Ireland, please visit their website and help to support this show.
For more information about sponsoring the show, keeping this podcast going, and helping me to continue to deliver quality content please visit the Patreon page.
Even $1 or $2 a month can go a long way to helping make this podcast sustainable and will give you access to a special Patron-Only podcast featuring behind-the-scenes content and early access to upcoming material.
If you can give $5/mo or more you'll also be entered into monthly draws for fantastic books hand-picked by me.
If you'd like to give a one-time donation to The Cordial Catholic, you can visit the PayPal page.
Thank you to those already supporting the show!
To listen to this episode click here, or listen below.