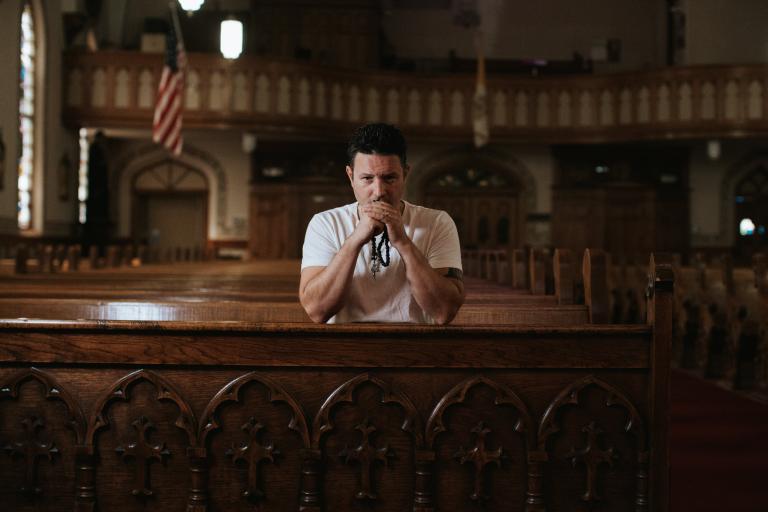 "He had more statues than the Vatican," Keith relates. "I thought maybe it was his grandmother's house."
Keith Nester and Devin Schadt laugh as they relate the story of how they first met, a crucial, God-guided meeting, that would eventually led a Protestant pastor of twenty-two years into communion with the Catholic Church.
At the time, Keith was a youth pastor, just starting out, and in need of a logo for his growing youth group. A few phone calls led Keith to the doorstep of Devin, a talented graphic designer and, as it turned out, a devout Catholic as well.
"At the time," says Nester in an earlier interview, "my view of Roman Catholicism was really to not have a view." He wasn't anti-Catholic, he simply had never been exposed to it. So when Keith approached Devin's house, when he saw the statues and paintings of, as Keith calls them, "Catholic looking people," he didn't know what to think.
But he couldn't stay quiet.
As they wrapped up their conversation about the logos Keith piped up, "You're a Catholic, don't you believe in Jesus?"
It was an opening that Devin couldn't resist, and the beginning of a lifetime friendship centred around their mutual struggle over the Catholic faith and, as it deepened, a genuine love for the Lord and a fidelity to go where He beckoned.
That fifteen minute conversation, says Devin, quickly grew into an hour.
"It was full throttle," he says, and that night was just the beginning.
It was, as the pair relate, Keith's 1st wedding anniversary and as the heated conversation dragged on it was Devin's wife who called from upstairs, "Keith has to go, it's his wedding anniversary!" Later, as they relate the story of nearly being arrested for a spirited debate over the Eucharist in the streets of Medjugorje I realize that passion for the faith, and getting in trouble over it, was a theme in their long friendship.
That night, as Keith went to go, Devin handed him a VHS tape.
"There was a picture on it," says Keith, "of some guy that looks like my dad shaking hands with the Pope."
The title read: The Scott Hahn Conversion Story.
And it was the beginning of an incredible story of their own.
This week, I was privileged to chat with both Keith and Devin in an incredible interview about their mutual journey. From those early days of Keith's youth ministry, to Devin's struggle with malignant cancer, and Keith's ultimate decision to trust God and make the leap into Catholicism it's a wild ride, and full of beautiful, poignant insights for converts, those converting, and those praying for the conversion of others.
Keith and Devin share insights into what role ego and humility play in apologetics and evangelization from both their perspectives. We learn how their friendship grew, and matured, from wanting to out evangelize the other person to a genuine desire to simply want the best for their friend.
Listen, and learn what led a Protestant pastor of twenty-two years to become Catholic from his perspective, and the perspective of those praying for his ultimate conversion.
It's an incredible interview and I'm grateful to have been a part of this conversation. I hope it's a blessing to you too!
To listen, click here or use the player below. Or, open in Apple Podcasts.
Check out Keith Nester's website and his new book, The Convert's Guide to Roman Catholicism: Your First Year in the Church. And visit Devin Schadt's wonderful apostolate for fathers, The Father of St. Joseph.