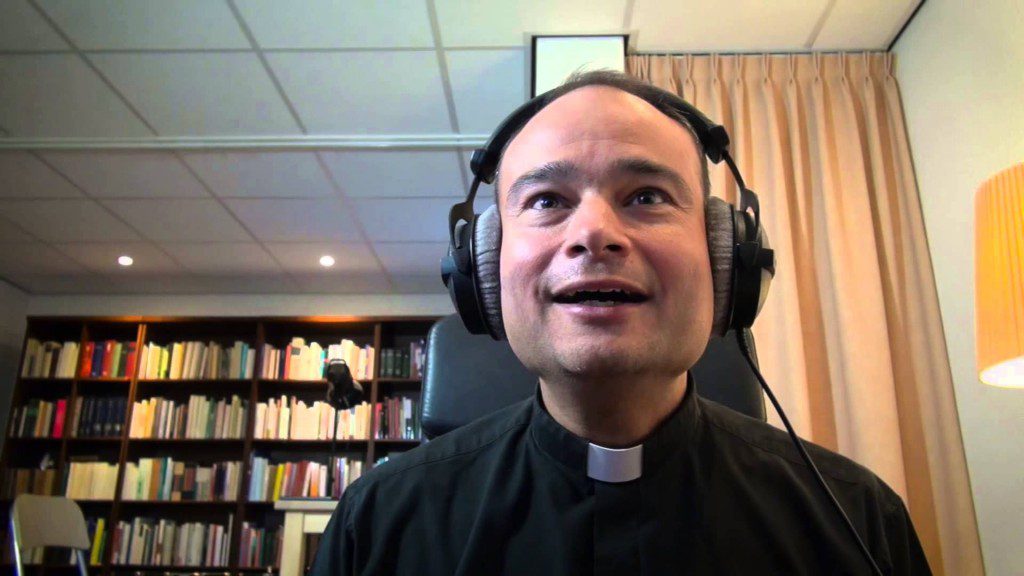 Dutch priest and podcaster Fr. Roderick Vonhogen is about to record his 1,000th episode of The Break and I'd like to offer my most sincere congratulations.
Long-time readers of my blog will know my history with Fr. Roderick and his seminal podcast then called The Daily Breakfast.
It was as a university student, in the earliest days of podcasting, that I stumbled upon a show called The Daily Breakfast. It was listed in a podcast directory, in the days before iTunes, under the "General Interest" category—and it sounded like exactly what I was looking for. A podcast about movies, television shows, and computer games hosted by a bonafide geek.
It's hard to believe how far we've come in 1,000 episodes but, back then, I went about the complicated process of setting up my podcatcher application to run every morning when I turned on my computer and download the latest episode. (Which I then had to manually transfer to my MP3 player.)
At any rate, I was excited to give it a listen that very first morning.
I was working for my Dad, inspecting point-of-sale debit machines as part of a Quality Assurance team between semesters and opening box after box of units was nearly as monotonous as it got. Podcasts would be something new to break the boring pace of things; I'd hoped that The Daily Breakfast would be as interesting as it sounded.
And it was.
I remember being immediately drawn into the conversation and the life of the host of the show. He was dynamic, interesting, and insightful. He was obviously a geek, through and through, and didn't have to fake a thing.
I listened for about a week before I made two utterly shocking realizations.
First, that this host was not an American. In fact, I learned, he was Dutch. (In fact his English is impeccable.)
But not only that, he was a Catholic priest!
That was my first introduction to Father Roderick Vonhogen.
And so I listened intently, and kept downloading The Daily Breakfast every morning.
And this part is so important.
I didn't realize it at the time but then, as a university student, I was on the cusp of what would become a long journey into the Catholic Church and The Daily Breakfast would play a pivotal role.
In the subsequent years I would go on to have incredibly important discussions with my pastors, read some deeply moving and influential books, listen to conversion stories, draw inspiration from the Early Church Fathers, and eventually make my way into the ancient Catholic Church through the RCIA program.
But then, back in the early days of The Daily Breakfast I was just beginning to soak my feet in the river which I'd eventually cross.
Undoubtedly, The Daily Breakfast served as those first few stepping stones.
It was Fr. Roderick's kind and warm demeanour.
His courage to share his daily life with us, struggles and all, and to do it in such a joyful and optimistic way; never faltering.
His complete openness and honesty even when faced with obstacles—even when his peers and superiors didn't understand his work at first. When they couldn't imagine the incredible work he was doing and how it would reach and impact people like me: a Canadian on the other side of the world.
Fr. Roderick then, and now, continues to open up a window into the life of a Catholic priest—the workings of the Catholic Church—that few ever get to see. Not in a scandalous or salacious way like the pretended fantasies of Dan Brown but in an honest and genuine way: here's a real life priest and here's what he does every day.
And it's that glimpse which is so disarming and so intriguing.
Back then, with my feet just getting wet in the Tiber River, I felt unmistakably drawn deeper by this Dutch priest that I'd never met before.
Here was a priest who I could relate to. Who liked the things that I liked, who did the things that I did, and who was, ohmagosh, Catholic.
What drew me in then, what draws so many of us in, and what keeps us coming back, is that we've come to feel like we know Fr. Roderick very deeply. When he sits behind his microphone, or takes us out with him for a walk, we feel like we're chatting with an old friend. Like we've known each other really very long.
And in a sense we have: 1,000 episodes long.
I owe to Fr. Roderick a thank you.
A thank you for the work he began doing way back when the episodes were still in the single-digits. The show felt very different then—it's funny to look back—but we all seemed to grow up and mature and work out the kinks together. At least that's what it felt like, because I was there the whole time, too.
I owe Father a thank you for allowing me a glimpse into the Catholic Church through the eyes of one of her most faithful priests. It was remarkable; it is still.
Congratulations, Fr. Roderick. Godspeed, and all the best.
I cannot ever thank you enough for opening up yourself to the work of the Holy Spirit which allowed me to meet you and through you to meet our Risen Lord in the Eucharist.
A greater gift you could never have given me.
Thank you.
And according to Google Translate: Gefeliciteerd!
You can see Fr. Roderick on his YouTube channel or subscribe to his many podcasts over at SQPN.
Stay in touch! Like The Cordial Catholic on Facebook: