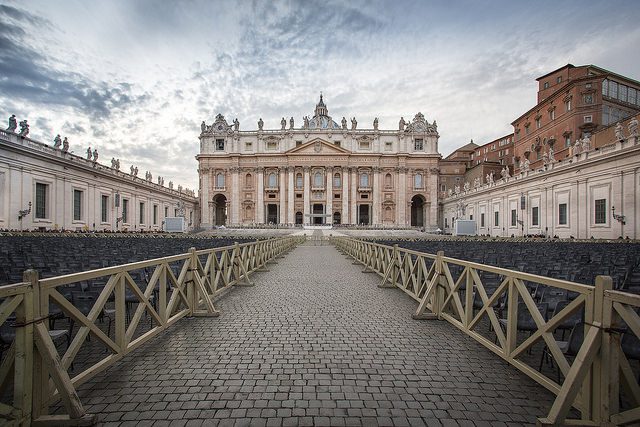 When I began this blog I still felt like I was a ways from becoming a Catholic. It felt like a far-off dream, a fantasy, and even as I began RCIA classes at the sleepy parish a few blocks from our house it still felt rather unreal. When the soft spoken sister who runs the program first stood up to talk to us about what prayer is I—as a devout, prayerful Protestant for more than half my life—felt a lump in my throat, and a nagging feeling, "Is this really the right road to be going down?"
As Easter approaches and I look towards actually, for real, becoming a Catholic, there is no shortage of lingering doubts.
Chief amongst these doubts is the question, which I had from the beginning, "Am I doing the right thing?"
This perennial doubt is swept away by an emotionally and spiritually fulfilling encounter, like my first experience of the ancient Latin Mass or a particularly intellectually rigorous reading—St. Francis de Sales's The Catholic Controversy
has lately been turning over in my brain. But these doubts, on the other hand, swell up again, to overflowing, after a particularly depressing few days or driven by a sense of loneliness or despair for a difficult situation.
And I ask myself, "Am I doing the right thing?"
My other perennial doubt is one surely wrestled with by every ancient and modern Protestant convert to Catholicism: What if no one else believes?
What if I'm, forever, the lone Catholic.
What if this incredible thing that I've found, this Church founded by Jesus Christ Himself and passed on from generation to generation, appeals to no one else—calls in no one else to believe—except for me. What if I'm the only one?
These are my lingering doubts on the road to Rome.
Am I Doing the Right Thing?
From the beginning of my journey I've harboured this particularly difficult doubt.
As many of you might know I've largely read my way into the Catholic Church. Spurred on by the question a Protestant pastor once asked me I began a journey into Catholicism. A journey which didn't see me darken the door of a Catholic Church until, really, quite recently. And the experience was life-changing. But I began this journey by reading.
On paper, the Catholic Church, from her most prized authors and scholars, sounds like a field of dreams.
Famous converts like John Henry Cardinal Newman, G.K. Chesterton, Louis Bouyer, and contemporaries like Scott Hahn and Stephen Ray paint a picture of the Catholic Church that leaves the would-be convert like me ready to storm the altar—if only to receive Jesus Christ in actual flesh.
The reality, of course, is slightly more grim.
The reality is that it's challenging, at least where we live, to find a Catholic community. It's challenging to find a parish that feels welcoming, bright, and vibrant. My wife and I, in our Protestant community, have got a great thing going. We've got a great group of friends, a phenomenal pastoral team, and a larger community of genuinely committed Christians. I've struggled, mightily, to find that in the Catholic parishes in our area.
Sure, I've certainly seen glimpses, and I've been greatly buoyed when I've attended other Catholic churches while travelling. But, locally, there have been times of despair.
I know, on paper, and intellectually, that the Catholic Church is all that she says she is. It makes cold, hard sense. But one of these lingering doubts, as my ship finally ports in the Eternal City of Rome, is "Am I doing the right thing?"
"Will I ever find a place that fits?"
Is it better, in the end, to stick with what we know—because what we know is great. And what I've seen, so far, amongst the Catholic parishes I've visited, are communities that pale in comparison to what we've already got.
What If No One Else Believes
My second lingering doubt is naturally related to the first and, naturally, is a doubt that I'm certain has been shared with all the aforementioned Catholic converts before me.
"What if I'm the only one that believes?"
"What if I'm the lone Catholic?"
Friends, the last thing I'm trying to throw here is a pity party, I hope I can make that clear, if nothing else. This journey is something I'm going on, that I've chosen (depending on your theology), and I'm fully aware, as difficult as it may be, of the risks and rewards.
That said, it can certainly be lonely.
The lingering doubt in my mind is that maybe, somehow, I've got it all wrong. Maybe I'm crazy.
And maybe I am.
Because when you begin, and end, a journey like this. When you discover what seems, to you, to be this incredible hidden treasure of the Catholic Church, you begin to wonder. You begin to ask questions.
"How come nobody else sees what I see?"
"What's going on?"
It seems to you that the truth is plain as day and you can't figure out why, once you begin to build the bandwagon, the masses don't come storming down your door for a place in the parade. Yet, there's that bandwagon built and assembled and now collecting dust in the driveway.
And it leaves you scratching your head.
But I think of all those Catholic converts. I think, especially, of someone like John Henry Cardinal Newman, who left his high position in the Church of England—who left all his close friends and colleagues to become a Catholic. And, sure, lots followed him and it was, for him, an incredibly gratifying experience. But lots didn't follow—lots rejected what he espoused as the historical truth—and I'm sure that ate him up inside.
And I think of those contemporaries, giants in Catholic scholarship like Scott Hahn who, along with his wife, left a lineage of devout Protestant pastors and ministers. Scott Hahn, whose wife Kimberley dreamed of being the wife of a Protestant pastor and ministering together, as a team. And I think, how do you follow your convictions and the guidance of the Holy Spirit and make a break from that? From a life so deeply entrenched in Protestantism. And what does that feel like when no one else follows you? When your father and mother and sisters and brothers and your close relations remain Protestant.
Do you ask yourself, "What's going on?"
Do you think, "Am I crazy?"
What Remains of the Road to Rome
I don't know the answers.
When it comes down to it, I really don't know.
But I do know this. I do know that this journey has been undoubtedly driven by the Holy Spirit. There have been times of devastating and difficult lows, but times of great highs. There have been challenging experiences but, equally, edifying encounters. I've felt down trodden but I've also felt incredibly uplifted. And God has been there, throughout in signs and miracles and an overwhelming peace.
I still don't know how we'll find some place that feels right. A Catholic community that could rival the great thing we've got going on now in our Protestant home. It's going to be difficult, but it's clear to me that God has placed me on this journey, and there's no turning back. At the bottom of everything, this is where the rubber meets that road—this is where I must surrender, and ultimately trust God to get us through the rest of it.
Likewise, I think I'll go on feeling crazy for, truly, God knows how long. Maybe forever. Because, ultimately, it's God who has to lead His people back home. I, as an instrument, can do little more of write, and live. I feel that, truly, like Rome is Home. Like all of this has unfolded with unbelievable beauty and clarity. I feel that in the Catholic Church I've found an unparalleled theology that encompasses everything. A completely coherent worldview that I found nowhere else—nowhere at all. I've found, in Catholicism, a faith that, I've said before, is intellectually, historically, spiritually, and aesthetically compelling.
And I'm ever so compelled.
But I can compel no one else, not on my own.
In desperate times I come to God in prayer. I pray more often than I used to—more often by a long shot—but still not enough. But, in desperate times, many of us (at least the kind of folks who would read something like this) are driven to the very feet of our Lord. Lately, I'm driven to the Rosary in those times and it's been a source of unspeakable power and peace. I can't begin to say, truly.
And this prayer too, an ancient Catholic one befitting of this Passion Week, "Lord Jesus Christ, crucified, have mercy on me."
As these doubts linger, and linger they do, that is my prayer. For mercy. For peace.
For the journey.
For God knows what comes next.