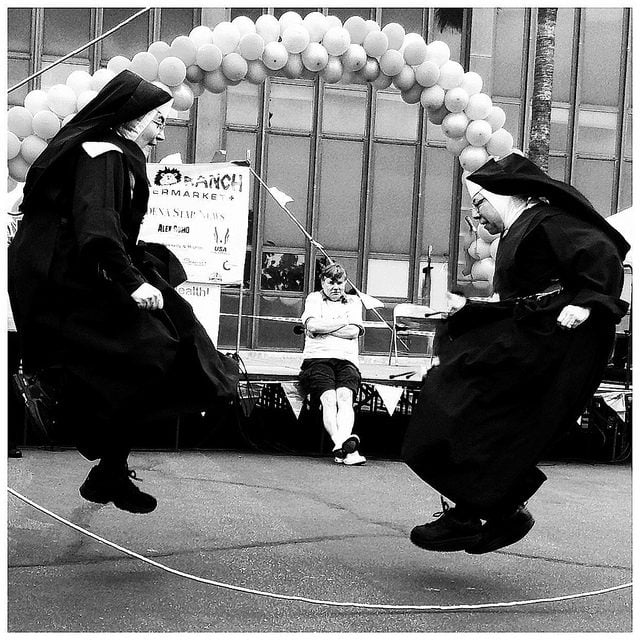 I recently heard a shocking statistic out of the United States: only about 39 percent of Catholics attend weekly Mass.
It wasn't a new statistic and, frankly, it wasn't a very surprising statistic for those that follow these kinds of things but it resonated when I heard it and I've been thinking about it ever since. Put another way, in a room of 10 Catholics only 4 of them will have attended Mass that week. Less than half. If you'd like, picture the nave at your own parish… now picture it only 4/10th's full.
Row upon row of pews, ready for the Catholic faithful, sitting empty.
Does an empty pew sit? I don't know… that's deep, guys.
At any rate, the statistic stuck with me and I've been thinking about its reality. This was, as a young Evangelical, exactly the sort of thing which made us so critical of Catholics.
"They aren't real Christians," we'd say. "They only go to church at Christmas and Easter."
We heaped this criticism on top of others: Catholics didn't know their faith, didn't have a personal relationship with Jesus, never read their Bibles.
In all honesty I don't think I blame us. For the majority of so-called Catholics, we were right.
I mean, 39%.
That number is low.
The reasons behind such poor church attendance are about as complicated as they get but sociologists and concerned Catholic researchers and writers can make at least a few generalizations. Culturally, we're living in post-Christendom. It isn't assumed that everyone in North America goes to church on a Sunday like we used to and, so, many don't. Additionally, some of the missed place confusion following the Second Vatican Council resulted, without excuse, in some pretty poor formation of Catholics.
Much like a kind of generational trauma, poor teaching and learning is then passed on and passed on again and results, sadly, in generations of poorly formed Catholics.
Catholics who don't know or truly value their faith.
The sad reality is that Catholics who don't know their faith are passing on that poorly-learnt faith to their children and on and on and on. And, living largely in a post-Christian world, those positive and faithful examples that might have been had by our religious family friends or neighbours are increasingly vanishing.
Instead of living in a family environment that integrates and champions Catholic faithfulness, in a community that reinforces belief and practice, we're increasingly existing in isolated islands of Catholicism.
That is, the 39% of us who are practising the faith.
So what about the rest?
We could lament, criticize, or make excuses all day long for those genuinely baptised Catholics who just aren't living a sacramental life—but what would be the point? The reasons why, I said, are complicated, nuanced, and different in every case even if we can make some generalizations. Instead, we should move forward in hope, and faith.
Focus on how we can bring those unevangelized, non-practising Catholics back into a life of discipleship. Back into a relationship with Christ.
Years ago, my wife and I had dinner with a few others couples from our non-denominational church. At the time, becoming Catholic couldn't have been further from our minds. As we went around the table sharing our different faith testimonies we nodded and agreed as one friend told the story of his escape from the Catholic church.
"I never had a personal relationship with Jesus," I remember him saying. "That wasn't something I found until I became a Protestant. And now, that's the most important thing to me."
Of course, I thought, Catholics don't have a personal relationship with Christ. Not like we had.
As Evangelicals we sang thirty minutes of worship music during a Sunday morning church service—directed at thanking and praising and talking to God.
As Evangelicals we didn't pray written down, rote prayers from the Middle Ages but genuine prayers that we spoke, off the cuff, from our hearts.
As Evangelicals we didn't sit and stand and kneel in with no rhyme, reason, or rationale.
We practised relationship, not religion.
(In hindsight, of course, I had no idea what Catholics actually believed, or practiced.)
As a Catholic, I speak earnestly to Jesus in my personal prayers but also pray the Divine Office, an ancient Christian liturgical prayer which unites me with the entire, global Catholic Church through all space and time. I have the app on my phone.
As a Catholic, I worship God by getting on my knees and repeating words right out of Scripture which talk about how holy and good He is; how unworthy I am. We sing the songs of the angels right from the words of Revelation (always off-key because that is the Catholic way).
As a Catholic I believe that I literally consume Jesus Christ—body, blood, and divinity—every single time I go to Mass. A belief that's been held by Catholic Christians for two thousand years (a belief that all Christians held until 500 years ago). And, if I wanted to, I could go to Mass every single day.
What kind of closer relationship could there be than that?
What's missing, I believe, in the evangelism towards the whopping 60 percent of Catholics who don't actually go to church is a deeper understanding of that. That yes, you do have a relationship with Christ by virtue of your baptism and it's the most valuable, treasured thing that you've got.
The pearl of great price.
Thankfully, even in my short time as a Catholic I've seen movement in a promising direction. More and more parishes and programs are reaching out to those Catholics who aren't in the pews on Sunday; to educate and evangelize Catholics who just don't know their faith. And this is part of our job, our mandate, as baptized Catholics: to help out and hold up one another in charity and love. There are, certainly, plenty of "bad Catholics." The statistics are clear. But we become worse when we castigate or criticize or push these non-practising Catholics further away.
How do turn the tide? We run programs of outreach and education, we target the non-attending, we do all of these things but we also, in the course of our daily lives, pray. We pray for opportunities to invite those fallen away neighbours, our hairdressers, our colleagues at work to join us at Mass. And we step out in faith.
Two thousand years ago Jesus stood on a hill over Jerusalem and lamented, "how often I have longed to gather your children together, as a hen gathers her chicks under her wings?" (Matt 23:27). I doubt He feels any differently today.