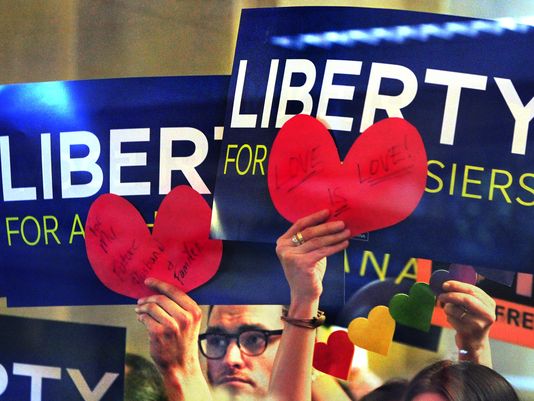 John 13:12-15

After washing their feet, he put on his robe again and sat down and asked, "Do you understand what I was doing?  You call me 'Teacher' and 'Lord,' and you are right, because that's what I am. And since I, your Lord and Teacher, have washed your feet, you ought to wash each other's feet. I have given you an example to follow. Do as I have done to you.
There are moments when you see something that causes you to stop and pray.
And you navigate through your day, finding yourself continuously thinking about that thing. You take pause and talk to God because that thing disquiets your spirit.
That thing…that disquieting, disruptive thing that I've been in prayer on throughout my day is the passage of the state of Indiana's Religious Freedom Restoration Act (RFRA). According to NPR "the legislation, approved by Indiana's GOP-controlled House and Senate, prevents state and local governments from "substantially burdening" a person's exercise of religion unless a compelling governmental interest can be proved. "
Said more plainly, people in the state of Indiana now have the ability to deny services to someone, with no true governmental or legal interventions, on the basis of protecting their religious freedom.
This means a baker could refuse service to a same-sex couple citing religious beliefs. Or an anesthesiologist could deny to put someone under for an abortion stating that it violates their religion.
There are so many things wrong with this on many levels but my biggest issue is that it's people who profess to believe in Christ who are the backers of this legislation. They are holding up the Christian faith and using it as a crutch to prop up their discriminatory practices.
Where does the Word of God say to refuse to lend your gifts to people who are requesting them, or who may desperately need them, because of Jesus?
What is the scriptural reference that points to living one's life in such a way that you limit contact with someone you presume lives a life that falls outside of your religious values? I say presume because other than the assumptions and snap judgements you make about an individual (*cough* prejudice *cough*), you know little to absolutely nothing about their lifestyle or personhood if you are not in relationship with them.
But the question that stands above any other I can think of is this:
How does holding on so tightly to your sense of religious freedom that you deny someone what God gave you reflect Christ?
Your business, your talents, everything that you consider yourself fortunate to have is a gift from God. "Every good gift and every perfect gift is from above, coming down from the Father of lights…" (James 1:17).  And " as each has received a gift, use it to serve one another, as good stewards of God's varied grace" (1 Peter 4:10).
We were not given what we have to dole it out for who we felt deserved it. We are given so that we can impart all those good and perfect things given from above to others as an extension of God's love for them.
A pastor I admire, John Pavlovitz said the following: "If Jesus avoided serving those he found moral faults with, he would have skipped the planet altogether".
So if Christ, being divine, would humble himself to the point of literally washing the nasty dust and dung off of the feet of others to demonstrate what it means to serve, I wonder if those who support RFRA can find it in their hearts to serve someone they disagree with.
My sincerest prayer is that we remember that it is not the law but Christ who has set us free. And in reflecting on the words of Galatians 5: 13, " [we] use [our] freedom to serve one another in love."