Confession time.  Spiritual discipline is not my strong suit.  I left the Mormon church when I realized that I lacked and always would lack the discipline to live the Mormon lifestyle.  Why did I lack the discipline?  Because deep down I lacked the desire.  Sure I wanted to be a good Mormon.  But did I want to do all of my church duties?  Did I want to refrain from watching rated-R movies?  Did I want to avoid reading anything that caused me to question my faith?  No.  No.  No.  And at the heart of it all was a fundamental doubt that doing these things really made me a "good" person anyway.
A Mormon would likely look at my exit from the LDS Church as an illustration of a fatal lack of willpower. Actually, I would have to agree.  I came to believe, though, that the whole concept of "willpower" is bankrupt.  It presumes that one part of our selves should exercise dominion over other parts.  The a-ha moment came when I was reading, not Jung, but Paul Tillich:
"Freedom is the possibility of a total and centered act of personality, and act in which all the drives and influences which constitute the destiny of man are brought into the centered unity of a decision."
— Paul Tillich, Systematic Theology
Contrast this with a quote by another person named Paul:
"For we know that the law is spiritual: but I am carnal, sold under sin. For that which I do I allow not: for what I would, that do I not; but what I hate, that do I. If then I do that which I would not, I consent unto the law that it is good. Now then it is no more I that do it, but sin that dwelleth in me. For I know that in me (that is, in my flesh,) dwelleth no good thing: for to will is present with me; but how to perform that which is good I find not. For the good that I would I do not: but the evil which I would not, that I do. Now if I do that I would not, it is no more I that do it, but sin that dwelleth in me.
"I find then a law, that, when I would do good, evil is present with me. For I delight in the law of God after the inward man: But I see another law in my members, warring against the law of my mind, and bringing me into captivity to the law of sin which is in my members. O wretched man that I am! who shall deliver me from the body of this death? I thank God through Jesus Christ our Lord. So then with the mind I myself serve the law of God; but with the flesh the law of sin."
— Epistle to the Romans, Chapter 7 (KJV)
I can relate to Paul in this moment of self-disclosure.  I wonder what "sin" was it that haunted Paul so?
Anyway, I left Mormonism specifically, and Christianity generally, precisely because I wished to leave behind the kind of spiritual schizophrenia that plagued Paul.  I wished to find a more "interesting idea of goodness " (to borrow a phrase from Anne Rice), an idea of goodness based not on some abstract ideal divorced from human experience, but based instead on the notion of wholeness.  I came to believe that the key to personal power lay not in the divide-and-conquer strategy of the "ethical monotheisms", but in Tillich's vision of a "totally centered act of personality".
A few months ago, in the "Spirit Circle" discussion group at my local Unitarian church, someone asked us to share the one belief we could not do without.  It was really interesting listening to everyone's responses.  My answer came easily.  It was a quote from John Middleton Murry that I have posted before:
It is better to be whole than to be good.
Wholeness came to be my guiding light.
My father is a case study in repression.  If he ever decided to write a creed, I would not be surprised if it consisted of this simple statement:
I believe in strength and weakness.
For my father, everything falls into one of those categories.  And most everything in the world falls into the latter category.  All need of any kind is weakness.  Need for food.  Need for sex.  Need for other human contact.   Even physical pleasure is, to him, a weakness.  Not to mention all forms of religion.  His morality is so rigorous, I can't help but admire him though.  He is easily the most self-controlled person I know.  And he is also one of the most repressed, out-of-touch people I know.
I have to admit though, my father is an extreme case.  Consider my wife, who is one of the most integral persons I have ever known.  But she very strongly believes in the principal that you work until you feel it.  And she very much fears that, if she were to "work with her motivation", she would never get out of bed.  She may be right, at least about herself.
For me, I've gotten along pretty well by working with my motivation.  But I am still left with a practical dilemma.  What do I do at 9 p.m., when I want to go to sleep, but I have not conducted my nightly devotional?  In more general terms, do I practice my religion when I don't feel like it?  For ethical monotheists, the answer is simple and obvious — but not so much for a Neopagan like myself.
If I skip the ritual (and I do frequently), I risk the eventual disenchantment of life.  If I "force myself" to do the ritual, I risk the ritual form becoming empty of meaning.  Either way, I risk the loss of meaning.  Incidentally, the "disenchantment" I speak of is a loss of the"mystic spiritual tone that Oliver Wendell Holmes speaks of in the quote below:
"Life is a roar of bargain and battle, but in the very heart of it there rises a mystic spiritual tone that gives meaning to the whole. It transmutes the dull details into romance. It reminds us that our only but wholly adequate significance is as parts of the unimaginable whole. It suggests that even while we think that we are egotists we are living to ends outside ourselves."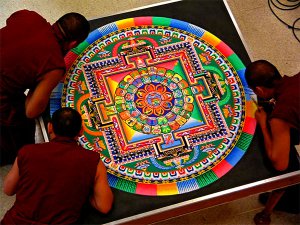 Not all Pagans are laissez-faire about spiritual practice.  T. Thorn Coyle is a Pagan who I greatly admire who strongly advocates regular spiritual practice as a discipline.  And her words on the subject resonate with my own experience.
"Effective people all have some daily touchstone. If your life is not as you wish, or you are foundering spiritually, running from epiphany to being stuck, it is likely that daily practice is missing from your life."

— T. Thorn Coyle
I admit that my experience has been mostly of neglecting my spiritual practice and consequently experiencing a disenchantment of my life.  And the notion that forced ritual becomes empty ritual is largely theoretical for me.  But at the heart of by reluctance to embrace spiritual discipline is my earlier experience of "spiritual schizophrenia" and my fear that "discipline" is the equivalent to "dominion".
It just occurred to me that the John Middleton Murray quote I post above was not the entire quote.  The full quote is:
"[T]he task of maintaining himself as a locus for the free resolution of conflicting responses will make a far greater demand upon a man's 'moral' energy than any that has been made before. For the good man to realize that it is better to be whole than to be good is to enter on a strait and narrow path compared to which his previous rectitude was flowery license."
— John Middleton Murry, God: An Introduction to the Science of Metabiology (1929)
Thus, my a-ha moment realization about wholeness  is not an invitation to antinomianism.  According to Murry, we should expect even greater rectitude, albeit of a different character, from those who have departed from the moral path of the ethical monotheists.  So Murray has laid down a challenge for me.
I honestly still do not know how to reconcile these values. So I don't have a nice little bow to tie up this post with.
It occurs to me though, that perhaps I can find a compromise.  When I am exhausted and want nothing more than to crawl into bed, perhaps in lieu of my full evening devotional, I can perform a truncated version of the ritual.  Perhaps even a simple one-line prayer would be better than nothing.  If I can do something, perhaps anything would be better than nothing.  We'll see.  I let you know how it goes.  In the meantime, let me know if you "work with your [spiritual] motivation" or if you are a "spiritual disciplinarian".