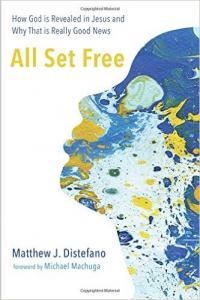 I'm an unabashed Girardian (RIP, M. Girard) so Matthew Distefano's book contained few, if any, surprises. "All Set Free" is a lucid and sometimes "chatty" read: it never pretends to be an obfuscatory theological tome. And that's a Darn Good Thing.
This is not to say that this slim volume lacks any power, precision or weight. Distefano tackles tough questions which have exercised thinking minds for centuries: Is God violent? Did God demand "satisfaction" or retribution by sending Jesus to the cross? Is "salvation" universal or only for the lucky minority? (Distefano doesn't use the word "lucky" but his deconstruction of Calvinistic election expertly lights up serious flaws in Neo-Fundamentalist arguments.)
The position of "All Set Free" is present in the title: Distefano has no doubt – nor do I – that the living God is non-violent, peace-loving and -seeking and the active practitioner of reconciliation and restorative justice, not the monstrous creation of human minds who traffic in blood, violence and retribution, subsequently projecting our horror onto the Creator.
My only quibble is with Distefano's treatment of God's justice, which seems to defy the assertion that God is non-violent. However, in the context of proposing an alternative but equally-valid view of Mediaeval (but non-scriptural) notions of hell, Distefano rehearses the arguments against annihilation and, specifically, eternal conscious torment with great aplomb and insight.
In short, Distefano knows his stuff and does an excellent job of distilling it into a clear and readable form. Nor should the book's slimness cause anyone to think that it is "slight": it is much harder to achieve such disciplined modulation than to fling wide the theological dictionary and pour out thousands upon thousands of words. Both kinds of writing have their place. "All Set Free" is an excellent place to begin, which is not "damning with faint praise"!
Many will in any case find the book challenging. My hope is that those who are beginning truly to love the living God with all their mind will find in Matthew Distefano's work exactly the hope that I believe Jesus came to offer humankind.