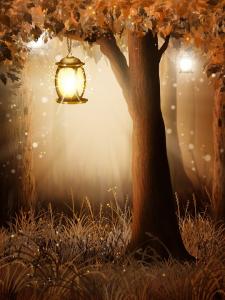 "Children are sometimes told fictional adventure stories with the delightful ending: 'And they all lived happily ever after.' We call that kind of story a fairy tale. Universalism is exactly that."
I ran across this quote on John Piper's "Desiring God" website and dare I say, completely agree with it—well, not completely, as I do not believe "Universalism" is fictional, but a reality.
Because the author, Robert Peterson, likened Universalism to a "fairy tale," and thus, a story, my intention in this piece is to talk about stories and why they can help us think about God, the universe, humanity, existence, and all the big topics of life. Humanity is made in God's image and human beings enjoy a good story so I think God does too. At least, that is my hope.
Before I dig into the meat of what I have to say, I feel I must address something first, which is, that I am not sure how the phrase "and they all lived happily ever after" is supposed to be a slight against those who, like myself, hold to the doctrine of universal reconciliation. Are we supposed to hope that most of the people that Jesus himself loved and calls us to love are going to be one day lost forever, either done away with or worse yet, suffer for all eternity? If we were authoring a story, or even reading one, should we hope for a brutal and horrific ending for most of the characters? Dare we even hope for such an ending for the villains of the story? I would think not.
Dare we hope that all men be saved?
We dare hope.
Nevertheless, since hoping, or worse yet, believing that all will live "happily ever after" is akin to believing a "fictional fairy tale" according to what seems like the great majority of Christians, let me explain why believing in fairy tales is actually a good thing. Then I will discuss what a fairy tale ending says about both the characters in the story, as well as the one authoring it.
First, and this is purely anecdotal, the doctrine of universal reconciliation has been astoundingly healing to myself and others close to me. Prior to ever discovering this eschatological view, I was an agnostic . . . uncomfortably so. But now, my faith is so grounded in the faith of Jesus, believing that salvation is by grace alone and that all are offered it, I will never see myself as anything but a follower of the risen Lord. Putting my faith in a story that ends with good news for all of the characters involved turned out to be the best decision I ever made.
Now, on to the characters in this drama . . .
Even in most fairy tales, the villains of the story do not live happily ever after. Gaston, the villain in Beauty and the Beast, falls to his death at the end of the film. In Tangled, Mother Gothel falls from Rapunzel's tower and discovers a similar fate as Gaston. So, to be honest, Universalism is a greater story than that of mere fairy tales. In this story, Jesus is the Savior of all. He is the hero of all. Even those who pierced him are reconciled back into the kingdom, where Jesus is given the name above all names (Philippians 2:9).
What a banquet table this will one day be!
Imagine for a moment, former enemies sitting across from each other, breaking bread and drinking wine. Everyone who has ever existed in perpetual awe of just how gracious the Lord has always been and will forever remain. Somehow, someway, the cross was enough! The blood of Jesus ends up truly taking away the sins of the world, as John 1:29 states.
The characters in this story, then, are all children of God. They all have eternal value and even their bodily death cannot thwart God's everlasting desire for mercy, as Psalm 136:1 tells us. As wicked as some of the characters are throughout the unfolding drama and as heartbreaking their often wretched behavior is, somehow they all eventually see the Author with a clear lens and fall down and worship (Romans 14:11). Because they were created in the very image of the Author, the characters are beloved and enjoy a happy ending.
What does this say about the Author of this story?
First, it says that no matter how disgusting the characters are at times, the Author's grace is so great that it transforms even the worst sin. It says that no matter what the characters do to God, even to go so far as to kill his son Jesus, he will offer peace and forgiveness. It says that his eschatology is shalom. It says that the true Author to this story is not like any of the characters could have imagined. It says that all of the fake gods and goddesses that the characters of the story envisioned, all of the power-hungry, top-down, war-mongering, scapegoating, violent, retributive, wrathful, vengeful, Janus-faced gods and goddesses were all mere projections of the various characters.
And in spite of that, the True Character, we call him Jesus of Nazareth, who was the very image of the Author, forgives and offers shalom. This apocalypse reveals to the characters a most-gracious Author!
So, to those who don't believe in a "fairy tale" ending, as some mockingly put it, why should the story you offer be called "good news?" I don't believe any story that fails to have a fairy tale ending, where even the villains are reconciled, is worthy of being called good news. It certainly is not good news for all of the characters involved, so I can hardly believe it would be good news for the very Author of the story.
Again, I say, let us hope for a fairy tale ending where we all live happily ever after.