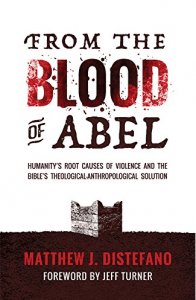 In this marvelous follow-up to All Set Free, Matthew Distefano synthesizes Girard's 'mimetic theory' and Becker's 'death anxiety' to diagnose the causes of human violence right to the roots. He then faithfully applies the Christ-solution as our effectual, life-giving remedy. It is especially striking that the author moves easily from theology and theory into real-life scenarios and testimonies. He recounts the excruciating reality of violence and exclusion–but does so to spotlight the power of the beautiful gospel.
Brad Jersak, Editor at CWR Magazine, Faculty at Westminster Theological Centre, and author of A More Christlike God: A More Beautiful Gospel
Humanity has a problem, and that problem has a name. The only problem is that we've been largely unable to name this unseeable issue that seems to plague us from the moment we first throw a punch at our siblings for taking away our favorite toy. In many ways, the modern surge toward understanding our personal anthropology, and specifically that which is in relation to our own spirituality as well, has been not unlike a pressure-cooker, whistling and gaining volume until someone finally blows the lid off and releases the pressure. What comes out has such force its best to step back and watch from a distance. What is this problem? War, but more to the point, it is in our propensity toward war as a default response to social dissonance. Whether that is a war against metaphorical icons like terror or drugs, or war against other humans, we wage it whenever given the chance. In From the Blood of Abel, Matthew Distefano shows this in force, while making the necessary, important connection between the deity we worship, the theology we espouse, and the wars we wage in the temporal—all while remaining faithful to those serious students of Girardian philosophy and theology. Whether or not we will ever be free of the cancer that is human violence remains to be seen, but the more we have voices like Matthew's, flooding the scene with this truth, the greater hope I have for that end.
Caleb Miller, author of The Divine Reversal: Recovering the Vision of Jesus Christ as the Last Adam and Saving God: Freeing Abba from the Captivity of Religion.
"Matthew Distefano's From the Blood of Abel is the book that our country and our world needs right now. In a day where Christians are known for our violent rhetoric, persecution complex, and scapegoating of all those who don't fit within our theological paradigm, Distefano powerfully speaks the truth of the Gospel of peace in an accessible and deeply moving way that will shatter the false images of God so many of us have been taught to believe in. In place of the false images, Distefano unveils that the face of God is revealed in Christ, a face that has the power to truly redeem our world. This book is a must read!"
Brandan Robertson, author of "Nomad: A Spirituality For Travelling Light"