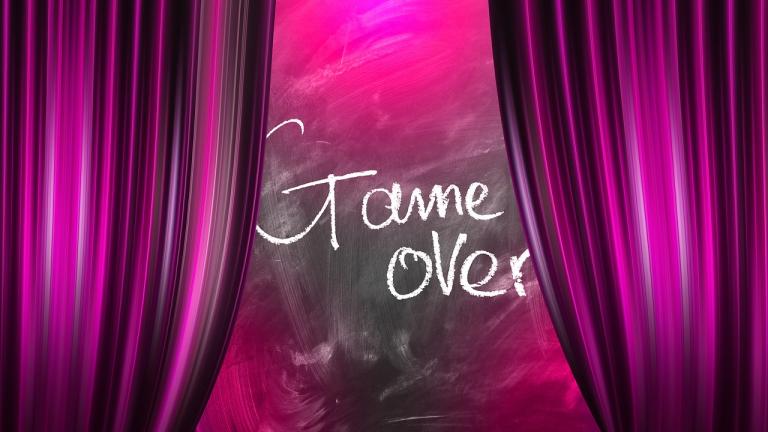 This will be the final installment of "The Myth of a Violent Jesus" series. Parts 1 and 2 can be found by clicking these links:
In this final entry, we are going to discuss the mother of them all: The Return of Christ. We'll conclude with a discussion about Jesus' return because, well, a large number of Christians believe that if Jesus is violent at all, it will be on its fullest display when he comes back to kick ass and take—or, rather, leave off—names.
The most caricaturized interpretation of Jesus' return comes from the director of the International House of Prayer, Mike Bickle. He chillingly envisions the following future scenario:
"Jesus is actually on the earth marching up to Jerusalem from Egypt, and then from the south through Jordan. He is killing his enemies . . . he actually kills millions of people. The time it takes to actually kill them takes time. He marches up through the land. It is a thirty-day process where he marches up from Egypt."
Without a doubt, Bickle and those like him get this imaginative, and might I say grotesque, eschatological worldview directly from the book of Revelation. Indeed, we can all probably understand why. The language here, at times, is brutal, the imagery stark. And not only that, but all of the horror that is said to be coming is attributed to "the Lamb," or in other words, Christ Jesus himself (Revelation 6:16). It's a scary picture of God indeed!
However, as serious as we should take the warnings contained in this apocalyptic piece of literature, we shouldn't be too fixated on drawing our theological conclusions from it. Why? Because it's not the Gospel of Peace, as Paul called it (Ephesians 6:15). Hence, it needs to be read in light of the Gospel, not the Gospel read in light of our interpretation of this sometimes confusing-as-hell book (pardon the pun).
Remember, the true apocalypse of God is revealed by the first-century figure named Jesus of Nazareth, the figure whom God worked through to "reconcile all things" by freely offering forgiveness from the cross (Colossians 1:15–20; Luke 23:43), and by speaking the word of peace and mercy after it (John 20:19–23, 26; Hebrews 12:24). So, it is not as if in some future age this will fail to be. Of course not! For, as the writer to the Hebrews put it: "Jesus Chris is the same yesterday and today and forever" (Hebrews 13:8). That is to say, our God is an eternal God (Genesis 21:33; Psalm 90:1–4).
Furthermore, if all this murderously retributive judgment stuff that Bickle talks about is indeed what Jesus is going to someday be all about, then the Bible is chalk-full of theological, anthropological, and ethical contradictions. And I don't think the inerrantists even want to go there, do they?
First off, if Jesus is coming back to put Rambo's body count to shame, then his whole Sermon on the Mount stuff is rubbish, a case of "do as I say, not as I'm going to do." Bless those who curse you? Love your enemies? Be merciful as your heavenly Father is merciful?
(But don't worry, someday I'm going to slaughter the hell out of mine?!)
Puh-lease!
On top of that, if bad-ass Jesus is coming to judge the world by kicking its collective ass, then his second judgment is completely unlike his first. How? John 12:31–33 tells us:
"'Now is the judgment of this world; now the ruler of this world will be driven out. And I, when I am lifted up from the earth, will draw all people to myself.' He said this to indicate the kind of death he was to die."
So, when is the judgment of this world? In the first century, when Jesus is lifted up on the cross. And what happened there? Jesus forgave those who were murdering him. To that end, Jesus doesn't draw all people to himself so he can go all ISIS on them, he doesn't bring people in close so he can ram his rusty sword through their abdomens, he draws them all to himself so he can offer forgiveness and mercy and grace and compassion and love.
I guess the ultimate question then is this: How do we explain all this violence and wrath talk that the writer of Revelation attributes to "the Lamb?" Well, I think we begin with Revelation 5.
Here, John is having a vision of "the end." At first, things aren't going so well because there is this scroll that must be opened, yet no one can open it. Tragic. Oh, but wait, then all of a sudden, this ferocious lion swoops in and tears it open with his giant paws, saving the day. Only that isn't how the story goes. John doesn't see a lion. He expects one, but it's not to be. What does he see instead? A lamb, as if slain. That is to say, Christ crucified.
What a revelation this is! Sure, as lions are wont to do, Christ has conquered, but he has done so by behaving as a slain lamb.
Now, when we come to all the "wrath of the Lamb" talk in the following chapter, we must bear this in mind. Wrath, here, like in Paul's letter to the Romans, is a very specific and nuanced wrath (cf. Romans 2:5). It is the giving over to the natural consequences of a humanity that refuses to care for the "least of these," for one example (Matthew 25:31 – 46). Brad Jersak puts it like this:
"'The wrath of the Lamb' is a metaphor for God's consent ('giving over') to the intrinsic self-destructive consequences (natural and supernatural) of humankind's rebellion. It is wrath because we experience these consequences in ultraviolent ways—as if God were angry—but the Lamb is only indirectly complicit because, he operates by Lamb-like consent rather than coercive intervention."
This "giving over" is seen, most strikingly, all throughout Revelation 6. And, as Jersak notes, the calamity that takes place after the Lamb opens the seals is purely anthropological. It is humanity and her persistence toward violence, for example, that empowers the four riders: the white rider conquers with a bow, the red rider takes peace with a sword, the black rider's economic scales are imbalanced, and the pale green rider, whose name was Death and Hades, kills with sword, famine, pestilence, and beasts of the earth. Then, after this doom befalls the world, the martyrs, like Abel long, long ago, cry out for vengeance (Genesis 4:10; Revelation 6:10).
Yet, none will come, for the blood of Jesus speaks a better word than Abel (Hebrews 12:24). Any vengeance that is coming, then, is only that which we have stored up for ourselves by our hard and impenitent hearts, as Paul once put it (Romans 2:5).
To that end, and as I said in the two previous posts, we must always remember to interpret these supposed "violence texts" through the lens of Jesus' entire ministry, not the other way around. We mustn't assume Jesus is going to one day drop back down to earth and contradict the Sermon on the Mount by murdering millions of people, as Bickle so disgustingly states, simply because someone had a vision about the so-called "end of the world" and we fail to understand the metaphors and allegories contained therein. That is not at all the point of Revelation, so please stop trying to say it is. In fact, like the incident in the Temple, and like the stories about Jesus and swords, the point of this book is quite the opposite.
If you want to dig much deeper into this topic, I have a book entitled Heretic! An LGBTQ-Affirming, Divine-Violence Denying Christian Universalist's Responses to Some of Evangelical Christianity's Most Pressing Concerns that is coming out April 1, 2018 (no, that is not an April fool's joke). You will be able to get it from Amazon, Barnes and Noble, and wherever books are sold. Oh, and for the month of April, the Kindle version will be a mere $0.99, while the royalties from softcover sales will go directly to the Preemptive Love Coalition. Check them out, please. They do a lot of great work.
Peace.