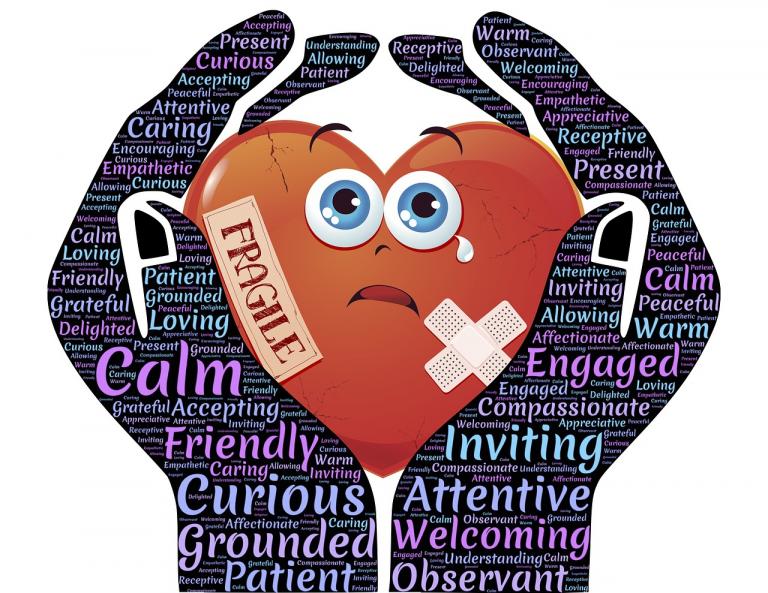 *Note: this is a guest piece by my good friend Danielle Kingstrom, and is a follow-up to my most recent post entitled "Vulnerability and Grace: Two Ingredients for a Successful Relationship."
Vulnerability is the buzz word as of late, at least in my circles of influence and social interactions. Yet, vulnerability is not a new word or phrase. It has often been viewed as either an indifferent experience we don't talk about or it is tied to shame or guilt, or worst yet, weakness.
TedTalks, YouTube videos, and other sponsored videos are surging across social media to remind people how shame is a lie of lack and embracing and demonstrating vulnerability is the new way to find love, joy, peace, acceptance, and, ultimately, God. For some, such as myself, it is utterly refreshing for my normal to be viewed as everyone's normal. By that I mean that it's welcoming and I find comfort in the idea that learning from our mistakes and sharing what makes us fearful and anxious is healing others in the same way I have been healed from it.
Vulnerability is a core requirement for intimacy and love. Only when we are vulnerable, only when we are not disguising ourselves under supposed notions of who we ought to be, can we be open enough to not only give but to receive love in return.
Something I have always likened as my own idealized truth was articulated in a book I am currently reading: Richard Rohr's Immortal Diamond: The Search for Our True Self. He writes, "It is our mistakes that lead us to God. We come to divine union not by doing it right but by doing it wrong, as we all most surely do."
It is through my mistakes—through all the errors of my youth and my adulthood—that I have found myself more closely understanding God and I understand not only myself, but others as well.
I know it's shocking to think that it is errors, not perfections, that bring us closer to God, but consider it for a moment, the idea that our faults make us stronger rather than weaker. It is our wrong doings that make us understand more clearly with direct experience why the consequence of our action is as harmful as it is. It is only by hurting someone we love that we truly understand the breadth of the potential loss of that love that makes us do right by that person. It's that acknowledgement of it all, that (hopefully) encourages us to be mindful in barring that choice to produce a consequence of harm.
For me, it was the cruel act of admitting that I cheated on my husband, nine Septembers ago, while he was deployed in Iraq and I was here in Minnesota. Not only that, but I had to confess to the other instances of my infidelity that had transpired before we were married. Nine years ago, all of my shame was exposed, I was at the most vulnerable time of my life. I had been married 9 months and I was an adulterer. Not only that, but surprise, surprise, in the following nine months, I would have a daily reminder of my adultery. Everything was exposed. I was utterly naked. The vows were broken and so was I.
My husband took all of my shame, kissed it all over, embraced it, and forgave me. At that moment, I saw for the first time in a long time, what Jesus Christ came to reveal. THAT forgiveness, that mercy, that vulnerability—that is from God. That was demonstrated by the one person that I hurt more than anyone else in my life. That one person took my shame and turned it all into joy for me, by forgiving me.
That is what the radical love of God looks like.
What happened after all of that was monumental to my life. The love and forgiveness doesn't erase the pain and the hurt, however, but it transformed each of us. We knew we had a lot of trust issues and external baggage clogging up all the flow of the love beforehand, but after that event it altered how we dealt with any problem. We knew we were clinging too tightly to one another beforehand. We knew that we claimed to trust each other, but our faith in one another wavered. We are approaching our ten-year anniversary this January, and I would be lying if I said it has all been smooth sailing since then, because we have been through hell with one another, and given each other more hell than most couples ever will since then. My jail perks card has been stamped several times. There have been more broken coffee cups since that traumatic day in September, for certain. But, it's the mistakes we make that brings us closer to each other, just as the mistakes we make in life bring us closer to God.
It's when we can take that ultimate risk of standing naked and exposed—being totally vulnerable in every regard—that we can find the true love and meaning in our lives.
Vulnerability allows us to be authentically real. Vulnerability is what helped me learn that I could trust another human being even if in the past, I had been taught to trust no one but myself. Vulnerability is the first step toward love. It's that moment when we feel free enough to let go of any hesitation, put all faith in being caught, and allow ourselves to fall deeply into an intimate closeness with another. That's what loving God is like. If not, it can only be better than that.
The grace my husband offered is what I expect of God. Not that I demand anything from God, per se; it's just that if one individual is capable of extending that kind of forgiveness, I can only imagine God giving so much more than that. It reminds me of Matthew 7:11, where Jesus is sermonizing on the Mount, "If you, then, though you are evil, know how to give good gifts to your children, how much more will your Father in Heaven give good gifts to those who ask him." I ask you to consider then, if my husband offers these good gifts of forgiveness and mercy to me now, for what I did to him (and not considering all I have not done to him but to others), how much more will God give to me of these good gifts of mercy and forgiveness? It's not a stretch to suggest no human is more merciful or forgiving than God. It isn't heretical to suggest God will forgive an adulterer if my husband will. It's factual. And, I would like to point out, that Jesus wasn't one to condemn adulterers; John 8:1-11 gives record of this.
My point is, we have got to remember that any goodness, any mercy, any forgiveness extended, that comes from God. Those are attributes of a radically loving God, God who is love and all that love is. There is ultimate vulnerability in that kind of compassion and love, is there not? I know it is a strikingly daring supposition; God is vulnerable, but, love requires vulnerability and if God is love, that must mean God is vulnerable. How could God be otherwise? Think of the risk God takes every day with every creation. Think of the freedom God has granted us to choose or reject Him/Her. Think of all that God gives freely and all that we fail to return. That is vulnerability in its most polished and perfect form.
Vulnerability is essential to all relationships. It's essential to living. Vulnerability is a demonstration of faith. It's a course of action that allows us to let go of a need for certainty. If we can expose our authentic selves think of the peace we can offer others. Think of the peace we can find within ourselves.