Today, we at the Heretic Happy Hour podcast begin a series on the "clobber passages," beginning with the passages Christians use to clobber the LGBTQ+ community. In it, we discuss Genesis 19, Romans 1, and the Corinthian letter. Plus, we talk to theologian Alexander John Shaia.
To listen to the episode, click the logo!!!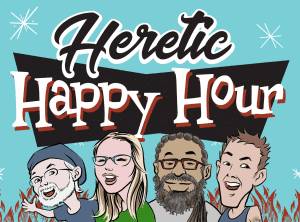 ---
If you wanna get to know me better, please follow me on social media. I'm pretty active on all platforms:
Also, if you've been digging my work on here, and want to see me be able to continue writing as close to full-time as humanly possible, please take a look at my Patreon page at www.patreon.com/mjdistefano. Even $1 a month helps bigly!!!