Here are some good recipes for helping to recover from those long summer day fasts this Ramadan.
These came from Cooking Fanatic Nyela G. in Mississauga, Canada. She can be reached via email at maplemasala16@gmail.com
Suhoor (Pre-Dawn Meal): Figs with yogurt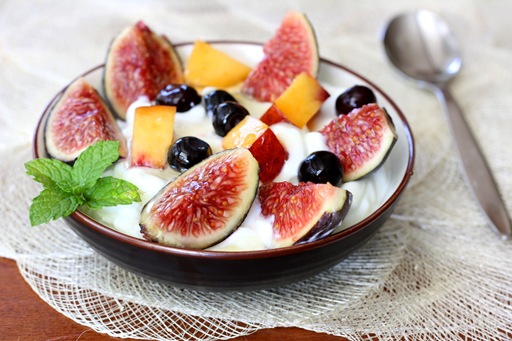 Ingredients
· 1 cup full-fat yogurt
· 1 orange
· 1/2 cup of water
· 2 cinnamon sticks
· 5 whole cloves
· 1/2 teaspoon aniseed
· 9 tablespoons honey
· 1 tablespoon finely chopped mint
· dash orange blossom water
· 12 fresh figs
Directions:
1. Peel and grate the orange skin of the orange. Juice orange and add to pot with water. Add spices and 5 tablespoons of honey. Bring to boil and simmer on medium heat until water thickens. Add the figs.
2. Cover and cook until tender (about 10 to 15 mins).
3. Stir yogurt with 3 tbsp honey, mint, lemon juice and blossom wate.
4. Serve figs with a spoonful of yogurt and a drizzle of honey.
Iftaar (Breaking of the Fast): Moroccan Red Lentil Soup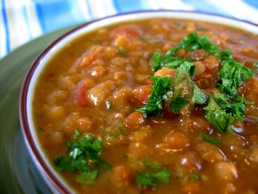 Ingredients:
· 2 large onions
· 4 garlic cloves, minced
· 1/2 cup small red lentils and 1/2 cup small green lentils (soaked)
· 1 can chickpeas
· 1 can diced tomatoes
· 1 cup diced carrots (optional)
· 1 teaspoon ground coriander
· 2 teaspoons paprika
· ¼tsp. ground cinnamon
· 2 teaspoons fresh ground black pepper
· 1/2 teaspoon ground cumin
· 1 tsp. ground turmeric
· 2 Tbsp. chopped fresh cilantro
· salt to taste
· 8 cups water
· 2 tablespoon mild extra virgin olive oil
Directions:
1. In a small pot, cook the lentils for about 30 minutes or until tender. Drain and leave to cool.
2. In the same pot, saute the onions, garlic*, ginger, paprika, turmeric, corriander and cumin approximately 5 minutes in the oil. Add carrots and saute for another 10 mins.
3. Add the water, lentils, chick peas, tomatoes, carrots, black pepper and salt to taste.
4. Bring to a boil and simmer half covered 1 to 1 1/2 hours or longer, until the beans and lentils are soft but not mushy.
5. Garnish with fresh cilantro.
6. Serve with pita/bread or eat as a soup.
After Iftaar: Sweet Potato Kheer
Ingredients:
2 cups grated sweet potatoes
1/2 cup pure honey
1/2 cup fresh grated coconut
1 tsp groud cardamom
4 cups whole milk + 4 cups skim milk
Directions:
1. Peel and grate the sweet potatoes.
2. Put milk in a pot and bring to boil. Add the grated sweet potato and simmer until tender. Then add honey, cardamom powder and coconut and cook for a few minutes.
Serve hot or cold. This kheer looks like vermicelli kheer and tastes excellent.
For Questions, please email: maplemasala16@gmail.com