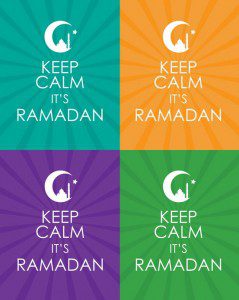 This piece is part of our ongoing series on Ramadan, featuring reflections, stories, and articles from Muslims and non-Muslims on their Ramadan experiences. Keep checking altmuslim for new pieces throughout Ramadan.
By K. Nur
Like much of the world, I am busy with the first week of fasting in Ramadan. It is a time where the energy is wonderful and intense. So many Muslims around the world are praying for a fruitful Ramadan. Great things are happening now!
Ramadan remains deeply spiritual as compared to the more secularized versions of a modern Christmas in the west. The Christmas holiday season is so full of hustling and bustling to stores, parties and other events that there is little time left over to reflect on the reason for the season. My first wish for Ramadan is that all religions will have an opportunity to gather together for a holy effort like we do at Ramadan.
I confess though I am a little skeptical. Not about the generous gift we are offered each Ramadan, but I have made too many New Year's Resolutions to be convinced all my Ramadan dreams will come true. Part of this is setting the bar too high. Rather than read from Quran daily for half an hour, wishful thinking tempts me to read the entire Quran in English, Arabic and Spanish. I also want to read the vast commentary in several Quran interpretations, such as Muhammad Asad's translation, which is filled with so much of his wisdom and knowledge.
It might be more realistic to aim for what I can actually accomplish. Why try to squeeze all my spiritual goals into one holy month? I can save some more to savor during the other eleven months of the year.
So I am wondering what other Muslims do when it comes to their Ramadan dreams and goals? Do they make a "to-do" list? Do they plan ahead, perhaps beginning to look at their Ramadan goals in the two months before Ramadan when Muslims are called to prepare? Do their plans come together during the first week? Or, should Ramadan be a time where we should seek to simplify rather than complicate?
Ramadan dreams can come true. Maybe we just need to pray when we plan. Maybe we should gather in groups to study and discuss all the possible benefits of Ramadan. Mostly, we should not try to leap over the moon. We should look for the little things that we can do daily to soften and open our hearts, grow in compassion and be a true servant of God all the days of the year.
May all your Ramadan dreams come true, insha'Allah. Peace and a Ramadan Kareem to all.
K. Nur is an aspiring writer on topics of spirituality.