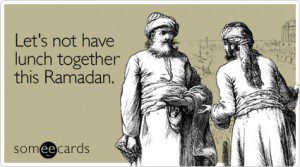 If there is a trending topic in the Muslim world, one that already big and will skyrocket in the weeks to come, it is Ramadan. Muslims around the world are preparing for this holy month of fasting and reflection, partaking in online Ramadan prep classes, making their plans for how to maximize the spiritual benefits of the month, and preparing for the long fasts to come.
The social networks are flooded with Ramadan events, status updates, and tweets, calling people's attention to various posts and articles on how to prepare, how to fast, how to better one's ibadat (worship) – how to make the most of this special time. Here at altmuslim, we know you are probably overloaded by Ramadan information, so instead of pointing you towards good lectures to watch or online classes to take, we want to ask for your help.
Altmuslim was created as a "crucial introspective voice that promotes critical (and self-critical) analysis and commentary on issues regarding the Muslim world." We want to continue in that vein for Ramadan. Starting now and throughout the month, send us your stories, your reflections, your analysis, and your praise and criticisms of what you are seeing and experiencing in Ramadan. Whether it's personal or on a larger scale, we are interested in your voices and your Ramadan thoughts and experiences.
We can't promise to publish everything we receive, but we will do our best to provide a compelling literary Ramadan experience. There is no time like Ramadan for the Muslim Ummah to come together, to focus on our spiritual selves, to cleanse ourselves, and to emerge as better people. By sharing your stories and experiences, Insha'Allah we can learn and grow from each other and have a more meaningful Ramadan, one where the goodness of the month can live beyond 30 days.
If you're not a Muslim, but you have a piece to submit on Ramadan as well (perhaps your interactions with your Muslim neighbors, or something you've learned or experienced), we welcome that, too.
Please send your submissions to Dilshad D. Ali (editor of altmuslim at Patheos) at muslimportal@patheos.com. As a guideline, please try and keep submissions no longer than 800 words. Ramadan Mubarak! Ramadan Kareem! Happy Ramadan!