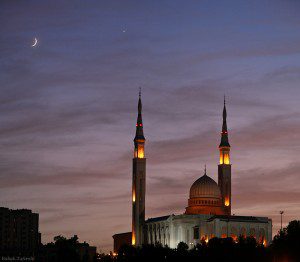 This piece is part of our ongoing series on Ramadan, featuring reflections, stories, and articles from Muslims and non-Muslims on their Ramadan experiences. Keep checking altmuslim for new pieces throughout Ramadan.
By Hind Makki
The Muslim day begins at night. Following a lunar calendar means that we welcome the new day when the sun sets. This year Ramadan, for those who follow calculations, will begin after sunset on Thursday July 19. I plan to welcome the holy month that night by attending Taraweeh, the nightly communal prayers that most Sunni Muslims perform during Ramadan. On Friday, before the sun begins to rise, I will start my fast: abstaining from food and drink – and caffeine – until the sun sets again, some 16 hours later. Ramadan is the spiritual highlight of my year and I'm excited to begin the time-bending cycle of fasting, careful eating and extra praying again this year. You'd be surprised by how quickly the day passes, yet how blessed the hours feel!
This year, my mother – the center of our family and chef extraordinaire – will be out of the country for most of the blessed month. My Ramadan schedule, for the first time in a long time, is mine to develop and maintain. My Ramadan experience this year will take the shape I mold it in, so I have set three Ramadan Resolutions to work on …
Read the entire Quran in Arabic
Eat healthy & stay hydrated
Visit a different mosque for Friday prayers
… and have committed to attending a few iftars, along with attending my nightly Taraweeh ritual prayers.
I've been reflecting on what Ramadan will mean as I break fast, pray and celebrate Eid family-less this year. It's not a feeling of loneliness; rather I feel even more compelled than in years past to reflect the intense divine connection that warms me during Ramadan in my relationships. Especially my relationships with the Holy Quran, with my Ramadan Roommate, my neighbors and my friends.
Muslims believe that Ramadan is the month that the Quran was first revealed to our Prophet Muhammad (peace and blessings be upon him). The holiest night of Islam, the Night of Power is in the last 10 days. To honor this month, Muslims open their hearts wider to welcome the Quran. We open our homes and welcome family, friends and coworkers into their lives for dinner parties. Mosques open all night, welcoming prostrating worshippers sending our prayers heavenward. In Chicago, our Jewish sisters and brothers welcome us for an Iftar in the Synagogue.
I think about Ramadan in three parts. In the first 10 days, Muslims begin to welcome the month in their hearts, welcome the sounds of the Quran being read aloud, welcome their friends and family in their homes and welcome the newness of the holy month. In the second 10 days, new habits start to form, hunger pains recede and Quran and prayer become constant. The last 10 days are often spent in deep prayer and contemplation of the Night of Power, but also in preparation for the Eid holiday.
Fasting is one of the most intimate of ibadat, the religious rituals Muslims are obliged to fulfill; it's not always physically obvious that someone is fasting and it's not necessarily something to be done in a group, such as communal prayers. In the US, this has meant that many Muslim communities have manifested this ibada outward – often in the form of community service. All over the country, Muslims , like the young activists at Muslims Without Borders, welcome interfaith partners to learn about our shared values while building stronger communities together. In this way, we welcome our neighbors to hear and share in our American Muslim narrative.
I will not stay away from my regular social media platforms, or this blog, during Ramadan; rather I will incorporate them into my Ramadan experiences. Along with my regular news updates, I will publish Ramadan Linksies highlighting special Ramadan stories, inspiring personal narratives, tips for staying healthy and interfaith cooperation.
I am looking forward to welcoming Quran recitation into my days, welcoming my friends to my dinner table, welcoming the night with my prostrations. I'm looking forward to welcoming my friends, especially converts to Islam (new and old), recent Chicago transplants and others in my "family-less" boat to share in my Ramadan experience. I am looking forward to welcoming the month of Ramadan and sharing its blessings.
Hind Makki is an American Muslim interfaith activist based in Chicago. She believes in bridging cultural gaps through community service and sharing narratives. She blogs at Hindtrospectives, where this post was originally published.