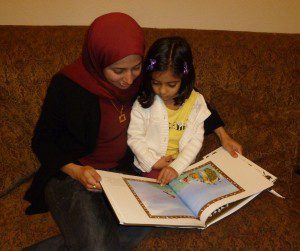 By Shirin Sinnar
Some time ago, I complained to a friend that there were few good children's books on Muslims or Islamic themes. I'm an American-born Muslim woman, and I was looking for books to share with my older daughter Maryam, then three. I wanted lively, upbeat bedtime books that would introduce her to our faith and identity while emphasizing universal values.
My friend, a thoughtful educator at a local Islamic school invited me to visit the school's library. Unfortunately, that visit largely confirmed my dismal view.
The Muslim children's books I saw there, like those I was familiar with, usually failed on all counts – the text was didactic or dry, the illustrations were unappealing and the books failed to reflect the diversity of our community. Some books retold stories of the Prophets with details of conflicts and battles that would scare the youngest readers or portray God as angry and vengeful. In others, all the women and even little girls wore headscarves, presenting portraits of Muslim life that didn't reflect the diversity of Islam.
But now, a year into my quest to find inspiring Muslim children's books, I'm much more hopeful. There are books out there with engaging words and rhythms, vibrant illustrations, and stories that a child will want to read (or have read to them), night after night. There are books out there that present God as merciful and loving and not eager to fling punishments on wayward souls. There are books out there with strong female characters, and books that reflect the diversity of our heritage and community and the values of compassion and serving others.
The books I found most appealing were mostly published in the last decade by mainstream publishers as a response to the broader, post-9/11 public desire for information about Muslims and Islam in America. The books that resonated most with me as a Muslim parent were the very same ones that were intended for a larger audience of all faiths. These books cover certain subjects, like Muslim holidays, particularly well. And, there is a growing selection featuring stories from Muslim cultures and biographies of notable men and women.
We certainly have further to go; some subjects, such as the African American Muslim experience, receive far too little coverage. I've also found fewer well-done books that aim to teach religious practice or core concepts of the faith, as opposed to inspiring young readers. And, compared to the volumes of books and other multi-media materials available to Christian or Jewish children on their faith, Muslims are in the beginning stages of this project. But on the whole, there is a richer library of choices to delight and inspire than I'd thought possible a year ago.
Book Recommendations
Here are my and Maryam's favorites. Although some of these books may be classics for all ages, these recommendations are meant primarily for young children – those in the preschool and younger elementary school years.
(All photos book covers of public domain. Photo of Queen Rania a press photo from her official site.)