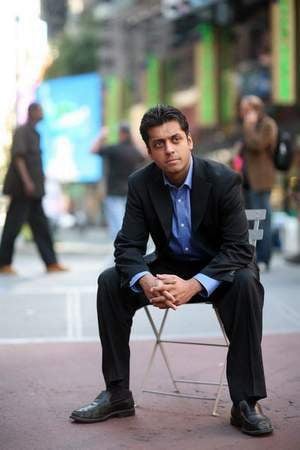 By Stephen Cobbe
As a former Catholic school student, Wajahat Ali has some familiarity with God, Jesus and the Holy Spirit. But for a long time, there was another less-forgiving trinity in his life: "Success," as defined by his Pakistani-American community, was becoming a doctor, engineer, or businessman — three venerated careers that Ali has collectively called "the holy trinity."
"The trinity has no space for artistic inclinations," Ali said. "There's almost no value placed upon these endeavors because in the old country, there was this perception that people who did the arts were either very stupid or just horny and chasing girls."
Ali, a prolific essayist and playwright from the San Francisco Bay Area, matches neither of those descriptions. He is a graduate of UC Berkeley '02 and UC Davis School of Law '07, and a devout Muslim. On the eighth anniversary of the September 11th terrorist attacks, Ali's first play, The Domestic Crusaders, made its premiere off Broadway. The play, which received critical acclaim, explores some of the personal and societal challenges of American Muslims through the lens of a modern Pakistani-American family.
Though he wants to be seen as the writer "who happens to be a Pakistani Muslim," Ali is most well-known for his written work on being a Muslim in America. Growing up in a multicultural environment in Fremont, California, Ali developed a strong sense of self from an early age.
"When I was very young, I unconsciously made the decision to be the way I am," Ali remembered. "I was a dork, and like any dorky kid you want the cutest girl to like you and all of the cool guys to hang out with you. But when I tried being cool, I failed miserably … it was me trying to dance to another person's tune."
Because most of his childhood friends were non-Muslims, Ali quickly became aware of the cultural differences between him and his peers. In preschool, he was surprised to see that "not all kids have lentil stains on their clothes." Over time, his classmates gave him nicknames like "Waj" or "Waji," both of which he preferred to "Waja-the-Hutt."
"I was the token Muslim and token Pakistani throughout my entire youth, and not by virtue of being an activist," Ali recalled. "But I wore it very proudly, not in the sense that I wore it on my sleeve, but it just manifested itself as part of my identity in a very natural and organic way."
A Unique Upbringing
Ali was raised in an unorthodox setting infused with tradition and open-mindedness. He and his family prayed five times a day, went to their local mosque and fasted during Ramadan. Young Ali also attended Quran lessons regularly and listened to stories about the Prophet Mohammad (saw). At the same time, his father was clean shaven and his mother did not wear a hijab; she also liked Pulp Fiction. Both of them allowed Ali to find his own way growing up.
"I was really lucky because my parents knew I was unconventional, and they recognized [that] I had a talent for creativity," he recalled. "They gave me space to mess up, which really allowed me to find my groove and my identity in a very natural way that wasn't suppressed or repressed or victimized or angry or retaliatory."
Ali fully appreciates how fortunate he was to develop the way he did.
"There is tremendous psychological pain and trauma and damage in a lot of Muslim kids here and abroad who are trying to reconcile their 'Western-Muslim' identity because it's taught to them in such a way that both are antagonistic, or that you have to wear different masks around different people," he said.
As he got older, Ali became even more conscious of his "multi-hyphened identity." In his sixth grade world history class, Ali remembers being excited about studying the section in the textbook on Islamic civilization. However, his teacher ended up skipping over it because the curriculum did not mandate it. Instead, "all things brown and Muslim" were left for Ali to explain, as he became an unintentional cultural ambassador to his peers.
"I must have given so many speeches in elementary school and high school," Ali said. "Anytime there was anything to do with Islam, it was like 'Waj talk,' or like Iraq, I'm like 'I'm not Iraqi' and they're like 'Whatever, talk.'"
Not the Only Muslim Around
After he graduated from Bellarmine, his Catholic high school, this paradigm began to change for Ali. At Berkeley, he began to make friends who were also Muslim. Suddenly, there were people outside of his community who knew what he meant by halal or who would pray with him openly during the day. But along with the good, Ali encountered a Salafi-inspired branch of Islam on certain parts of campus that was very different from the religion of his household or the one he had encountered in his travels to Pakistan and Saudi Arabia.
"This type of Islam was worn very proudly on one's sleeve, and it was very political first, spiritual second — maybe spiritual never," Ali recounted. "There was a strong mob mentality surrounding it that was centered around fear instead of love — fear of judgment, fear of hell. While fear is a necessary component for most religious practices, here it was almost all fear — less fear of God and more fear of stern rebuke from a few very loud people that dominated the discourse."
After encountering this unfamiliar kind of Islam, Ali engaged in long spiritual reflection, taking academic classes on Islam, reading widely and questioningly freely in his pursuit of a deeper understanding of his religion. He framed his journey in the context of what the Prophet Mohammad (saw) would have done.
"Suppose we were back in say 615 in Saudi Arabia, and I was just a non-Muslim Meccan dude, I would ask myself if the Prophet Mohammad were to behave like these Muslims behave, and I was a non-Muslim, would I ever become Muslim? And the answer was a resounding no. I would run away from Islam."
Immediately after 9/11, Ali once again became the accidental ambassador for Muslims. In the days following the attacks, he made it his priority as board member of Berkeley's Muslim Student Association to foster connections with the rest of the school community. Along with his fellow MSA students, Ali made the unprecedented move to invite the entire campus to join them in Jum'ah (Friday) prayers. The event, which was sponsored by a diverse group of campus organizations, offered many students their first real exposure to Muslims and Islam.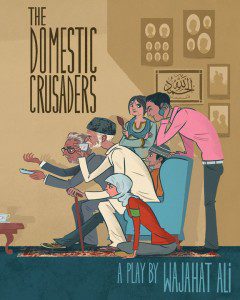 Breaking the Holy Trinity Mindset
That year, Ali also began writing The Domestic Crusaders to fulfill a short-story requirement for one of his writing classes. The play, which explores a day in the life of a Pakistani-American family, would premier four years later in the Bay Area. Prior to its release, there were some doubts in the Pakistani-American community about whether Ali's work could be taken seriously. For one thing, the holy trinity mindset held by much of the greater Muslim community was not appreciative of the arts. But more than that, Muslims questioned whether the play could even find a local audience, let alone a larger, mainstream — namely white — audience.
"At first, people were like 'Okay let's go see this play. It'll probably suck but whatever. It'll be a novelty act. It's only for 15 bucks, and he's giving us a buffet,'" Ali said. "I think people were really surprised by the play because a) it didn't suck and b) they realized it resonated with them."
Ali believes this mentality is part of a larger phenomenon in minority communities where feelings of marginalization and disempowerment lead to a dependency on approval from the dominant culture. Expressivity and cultural uniqueness end up giving way to conformism in an attempt to blend in and divert attention away from a group's identifiable cultural traits. But there are signs that this is changing. In the past ten years, Ali says there has been an explosion of creative talent from the Muslim community on both a local and national level. Consequently, Muslim culture and arts in America are gaining acceptance from a wider audience.
"When you get appreciation of talent from mainstream circles, I think it trickles down and affirms to local communities that 'oh, we don't have to be embarrassed about our culture and stories,' but that there are actually people who appreciate it and are willing to pay money for it," Ali explained. "And that really helps your self-esteem."
Following his graduation from law school in 2007, Ali initially had difficulty finding a career where he could apply his legal education. He moved back into his parents' home and began working odd part time jobs for a few months until he began to grow restless. On a whim, he decided to submit an article to CounterPunch, a bi-weekly political newsletter, on private military firms in Iraq, based off a paper he had written in law school. The article was soon published and Ali was extended an invitation to contribute more work.
After reading a Wired Magazine report on new media one day, Ali began immersing himself in the world of social media and the online blogosphere, unfamiliar territories for him at the time. Soon he had created his own blog, Goatmilk, the name of which comes from a "lactic analogy" regarding the "calcium-rich and nourishing" nature of goat's milk.
Ali used the blog to write about topics of interest as well as to promote his articles to a broader audience. That year, in 2008, he generated a prolific amount of material, writing some 50 original articles. Before long, Ali was writing for bigger name newspapers and doing interviews with the likes of Seymour Hersh and Steve Coll.
"I had no money, no power and no networks, so I used new media to just mail out my work to friends and contacts, and be graciously persistent with shamelessly promoting myself," Ali explained.
Since entering the field, his essays and interviews on politics, the media, popular culture and religion have appeared in the Washington Post, the Guardian, Salon, Slate, the Huffington Post, CNN.com and the Wall Street Journal.
Central to Ali's writing style has been his emphasis on humor, which abounds in The Domestic Crusaders. In both high school and college, Ali participated in comedy groups but rarely incorporated Islam or politics into his sketches. As a journalist, Ali was also reluctant to use humor in his work.
"If you read some of my first pieces, my voice isn't really there," Ali said. "I kind of deliberately took a less subjective, detached observer role, just documenting data and facts because I'm like who am I, who cares about my opinion? But when I began using a lot of humor, I found that it made the lesson go down more easily, and it allowed people to be receptive to otherwise hostile ideas they would never entertain."
Occasionally, Ali expresses some reservations over whether or not humor detracts from his arguments
"The other week, I gave a talk on a panel in D.C. to all of these bigwigs, and I was so exhausted I just went ahead and cracked a whole bunch of jokes," Ali recounted. "Afterwards, I asked a friend of mind 'Hey man do you think this undermines my professionalism or capacity as a writer?' and he said 'No, dude, it does the opposite … now you can say all of the stuff that I want to say but can't.'"
Tackling Islamophobia And Looking Towards the Future
In 2011, Ali and several researchers at the Center for American Progress (CAP), a public policy think tank, released a report on Islamophobia in America entitled Fear, Inc. CAP had taken the unusual step of appointing Ali — someone who was not formally affiliated with the think tank — to head the research process and lend more credibility to the report. The final product, which was expected to be around 35 pages, ended up at 135 pages and took six months to complete. Though the process was long and often stressful, it was deeply important to Ali.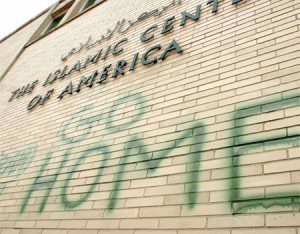 "Through my own independent research, my articles and my essays, I had followed these Islamophobes, and I saw what damage they did on a local, national and international level," Ali said. "I wanted to expose these people and marginalize them because the type of content they produce is not only inaccurate, but it's poison, poisonous not only for our civil liberties and our communal love, but also for our national security."
In the report, Ali identifies a relatively small group of individuals responsible for disseminating a disproportionate amount of Islamophobic rhetoric. He and his colleagues attempted to aggressively "name names," identify sources of funding for these individuals and clarify how they operate. After a year, Ali believes the report has been validated by the "utterly extremist" rhetoric of the Islamophobes, and is now being used as a resource for other think tanks, interfaith groups, journalists, teachers and communities to combat Islamophobia.
Currently, Ali is working with writer Dave Eggers on a pilot for a new HBO series that follows a Muslim American community in the Bay Area. The show will attempt to expand on the richness of community interaction found in The Domestic Crusaders.  
"We want to create an entertaining show without a proselytizing message that has unique and interesting characters that aren't usually seen on TV," Ali said. "We also don't want it to have a preachy 'Muslims are good' message, but instead to be something messy and relevant that fiction and entertainment can highlight."
Ali has also spent the past year co-editing the latest book in a series on Muslims in America called All-American: 45 American Men on Being Muslim. The book, which went on sale several months ago, has received a starred review from Publishers Weekly. It follows the format of its predecessor, I Speak for Myself: American Women on Being Muslim, which was centered around a collection of essays written by 40 American Muslim women.
"We wanted to really challenge what it meant to be both an American and a Muslim, but also a man, which is something that has not really been explored in as much detail as it should be," Ali said. "But first and foremost I really wanted to make sure that the product is entertaining, and I'm really proud that the book itself is actually a really good read, which is something of a rarity in anthologies."
The book is a collection of voices from different religious and political affiliations, ethnicities and cultures. Also included are stories of those marginalized even within marginalized communities, including a gay black Imam, a transgender man, a Muslim republican, and a white convert in the army. Reading these powerful narrations helped Ali to rethink his assumptions about what it means to be a Muslim in America.
"I learned a lot about life, about how people are really quite honest," Ali said. "It seems that the thing that really resonates with people — the glue of the book — is love, whether it's love for family, love for faith, or love for country."
"The quest to love and be loved takes many of them on sometimes a tortured journey, but often it leads them to a place where they are able to reconcile being both American and Muslim, where both values are shared within the same identity," Ali added. "And I think the way that these people express that love is very illuminating."
Stephen Cobbe is a sophomore and Computer Science major at Stanford. He is interested in current events, politics, and their intersection with technology. In addition, he is passionate about Arab and Islamic culture.