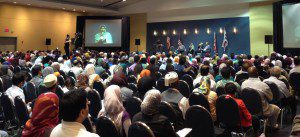 Editors' Note: This article is part of the  Public Square 2014 Summer Series: Conversations on Religious Trends. Read other perspectives from the Muslim community here. 
By Marwa Aly
Just pray. This was a text sent to me by my dear sister, Sameera, an hour before my talk with Imam William Webb of the Islamic Society of Boston Cultural Center (ISBCC), Dr. Muzammil Siddiqui a pioneer in Islamic scholarship and activism in the United States, and Usama Canon founder of Ta'leef Collective.
I was charged with the duty of speaking on a panel about "Sacred Space: Where's My Place?" at the 50th Annual ISNA convention on Labor Day weekend. The talk centered on the rapid growth of the American Muslim community and whether or not our religious institutions are adapting to the current needs of indigenous and immigrant communities. It's clear that our sacred spaces are currently transforming with the emergence of "Third Spaces" outside of the mosque, the re-crafting of mosques as "community and spiritual" centers and the development of online communities.
In further contextualizing our situation, more and more Americans are declaring "no religion" as their faith-based affiliation, which directly affects how Muslims internalize the deen. After all, we are not living in a vacuum. Whatever happens outwardly can and will affect us internally. In lieu of these circumstances, can our mosques adapt to current trends and focus on cultural relevancy while adhering to the form and function of a traditional masjid?
Judging from the audience in attendance (a packed main hall) this topic has garnered much intrigue and attention. During the talk, I sensed that we are experiencing a pivotal moment in history where we can choose which path the American-Muslim community takes. While exciting and hopeful, the feeling is tempered with the knowledge that we face many obstacles that need traversing. This candid discussion, however, was a good first step in gaining a collective vision of what we want our sacred spaces to both look and feel like.
What are the Functions of Masajid?
As a Muslim chaplain, I have seen firsthand how difficult it is for young Muslims to remain Islamically disciplined in the face of subtle and obvious pressures. As a woman and mother, I can pinpoint areas that need improvement within many masajid. And, as someone who has been intimately involved in the production of a working documentary called UnMosqued, I have been blessed to meet people across the nation who are doing impressive work both within and outside the masjid setting.
Atif Mahmud was one of the first people to coin the term "UnMosqued" with his RadTalk in which he compared the masjid to a little brother that needs some advice. In collaboration with Atif, my husband, the filmmaker, set out to discover what may be awry with our current mosques by collecting stories and asking activists their thoughts on the current model.
When we first released the UnMosqued teaser in January, we were floored at the response it received. Muslims from all over the country as well as Europe and South Africa, could relate to many of the issues that were highlighted, including the lack of inclusionary space, language barriers, generational disconnects and the lack of proper financial stewardship.
Working on this film for the past nine months, it seemed appropriate to be a part of this important panel discussion. I couldn't help but feel a bit intimidated, however, because of the level of influence and knowledge each man on that stage commanded and espoused. I started to loosen up however after our moderator, Mustafa Davis, began the session by asking us what the function of the masjid is.
Dr. Siddiqui replied by affirming the meanings of "masjid" and "jaama'" – a place for prostration, and a place to strengthen community bonds. After his beautiful response, I countered by askingif masajid are living up to those ideals. Are we serving our local communities and actively searching for what our communities need or are we suffering from a cut and paste syndrome? A syndrome that is transcending time and space?
We continue to offer the same programming to our constituents often without taking into consideration the needs of the people. I relayed the story of Imam Khalis Rashaad, who heads Masjid Ibrahim in downtown Houston. Along with being the imam of the masjid, he has received his MBA and offers business classes to ex-offenders that have difficulty finding work because of their tainted record. Of course, this same programming would not be beneficial to an affluent area housing a suburban masjid. Masajid are contextual and need to know the needs of their people.
Imam Will reflected on the need for a "listening imam." He leaves it up to his community to decide the khutba topic once a month. In partnership with the executive director of ISBCC, an annual community meeting is held to find out what programming the congregants would like to see stem from the masjid.
We need more of this in our masajid.
Family-Friendly Masajid
We also need to find creative solutions to create family-friendly masajid. What I find most striking and most disappointing is the fact that women are often the ones putting other women down. I had an older woman approach me after the talk and tell me in essence that she paid her dues by staying at home with her young children and now she wants to enjoy the masjid without hearing other young children cry.
While I understand her sentiment, I wonder why we are stuck with only binary options. We can either go to the masjid with our young children and suffer the wrath of the congregation or stay at home while we miss the spiritual edification that is needed to cope with the work of motherhood.
In a noteworthy blog post titled Give Me Back My Shoe, Rabia Chaudry writes:
"Who hasn't heard the story of how the Prophet (s.a.w.) delayed his sujood because his two grandsons were playing on his back as he prayed?  Or how, upon hearing the cries of an infant in the congregation, he was apt to shorten the prayers. So we have examples of him modifying his personal prayer as well as modifying congregational prayers to respond to the needs of children. Was there anything more dear to the Prophet (s.a.w.) than the worship of his Creator? No. There is no dispute about this. But the mercy and compassion of the Prophet (s.a.w.) towards children was so great that he made concessions in his personal 'ibaadah and the 'ibaadah of the entire community for the ease of children."
I know this may sound lofty and idealistic, but I would love to see a masjid that espoused the idea of collective tarbiya. If we are able to break through some of the sensitivities we have about other adults "scolding" our children and if non-parents didn't worry so much about offending us, we may find an effective way of having our children internalize the proper adab of the masjid.
Will it always be comfortable? No. But instead of us having to repeat the cycle of staying at home until our children have grown, we can repeat the cycle of disciplining children within the masjid just as the aunties did with our own kids (and probably did to us!).
Bring Down the Partitions
The partitions need to come down. At ISNA, the largest national convention for Muslims, there is no segregation when it comes to the seating, and yet everyone was able to behave with proper etiquette and modesty. Why then, when we return to our local spaces, the same community members feel the need to have a divider? I hope the irony does not evade us.
Eighty percentof South Asian mosques and 70 percent of Arab mosques have a divider. Only 16 percent of women from those mosques attend Jumuah. On the other hand, 30 percent of African American mosques have a divider and 23 percent of women attend the Jumuah prayer regularly. There seems to be a correlation with the idea that if I'm not listening to a disembodied voice, then I'm more likely to attend, feel connected, and contribute to my local masjid.
Unfortunately it's not just the physical divider that acts as a barrier, but also the psychological barrier that has been ingrained into the psyche of many Muslim men and women — that it is best for a woman to pray at home. You may have the urge now to cite ahadith that prove this point to be true. I would caution you to understand the context of these ahadith, just as we need to understand what a day in the life of many Muslim women living in America looks like.
Usama Canon alongside the many volunteers at Ta'leef understand this profound sentiment. He relayed a beautiful example towards the end of the discussion about a man and his mother: A man entered Ta'leef, approached Sidi Usama and told him of his desire to become Muslim. He also stated that he wanted to wait for his mother before he took his shahadah. A while had passed, and Br. Canon came up to the brother and suggested that he take his shahadah after Maghrib prayer, as it was quickly approaching. The brother responded by saying, "I really want to wait for my mother. She waited for me for nine months, the least I can do is wait for her for a couple of hours."
When his mother did arrive, she held her son's hand and thanked everyone for welcoming her and her son into the community. Br. Canon then posed a question out loud: Why when he (and Br. Davis) took their shahada, did their mothers not come? Partly because their shahada was part of an internal rebellion, yes. But more so because their mothers would not have been welcomed in the masjid back then. But this brother's mother, when he was taking his shahada at  Ta'leef was welcomed with open arms.
This is the embodiment of mercy that I hope we can all aspire to, whether it be inside our homes, inside our masajid or hanging out with family, friends, acquaintances and strangers.
Financial Stewardship and Transparency
Financially, we need to find models that keep us afloat beyond fundraising. We have so much talent in our communities, and there are many times throughout the week that our masajid are empty. Why can't we offer foodies a way to taste our culinary prowess by offering cooking classes in the main purpose room (read: not musalla) and charging an entry fee? We need to tap into the beauty of our diversity and make some money from it.
Language centers ranging from Spanish to Farsi can easily be established as well. A friend even suggested that we rent the space to Muslims who work from home but get easily distracted while at home. Endowments are another option that we should also seriously consider. I'm sure if we brainstorm for even one day we can come up with a long list of ways to keep our masajid financially stable.
Many people want to know what type of religious leadership we should look for when hiring people in masjid roles. While we are attracted to charismatic level 5 leaders, what our masajid desperately need are not-for-profit managers (A level 5 manager would be ideal). Oftentimes masjid boards are filled with selfless, well intentioned professional men that want to give back to their communities. However, they shoulder responsibilities that are outside their range of expertise, and this often translates into further headache for the board as well as the community.
There is a strong need for us to focus on specialization. Even though the Prophet Muhammad (pbuh) was the most capable of all humans, he ordered Bilal (ra) to be the mu'adhin, and commanded Khalid ibn Walid (ra) to lead the army. Collectively, we bring much more to the table and are a stronger community when responsibilities are dispersed as opposed to them being concentrated in the hands of a few.
Quietism
My experience at ISNA reaffirmed my belief in the kindness of Muslims. Throughout the conference, brothers and sisters were helping me with my two little kids. They were holding doors open, asking if I needed assistance stuffing the seven-month-old into his baby carrier and even taking my daughter to get cups of water.
There is a collective love that exists, but I also fear that this may lead to quietism in the community. By quietism, I mean that when we feel an injustice has been committed against us, we rarely speak up. We take one for the team. We suffer quietly so as not to inconvenience anyone. While well intentioned, this attitude will eventually have severe ramifications.
We need to demand transparency from our masjid boards. Is our money properly allocated? What is it funding? Does the imam have any counseling credentials, or should we look somewhere else for help? How do I become a masjid member, and when can I vote for the board? Who is actually running for the board? Can we raise funds to hire a marriage and family therapist?  How do we make our masajid more welcoming for those who are differently-abled?
ISNA provided us with a great platform to explore these issues nationally. Now, as we've returned to our local communities, let it be with a recharged spirit and a little bit more bravery as we engage in the hard work that lies ahead. I guarantee you — you are not the only person who wants to see change happen within your community even if it may feel like that at times.
I pray that the session left people with a sense of urgency and empowered to establish safe spaces while improving upon those that already exist.
Marwa Aly is a producer of UnMosqued, a Muslim chaplain and the mother of two.