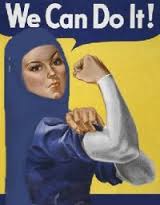 By Sabina Khan-Ibarra
Muslimah Montage and Brown Girl Magazine had the honor of recently hosting a successful "Tweet Party" with the help of Aisha Saeed, and Coming of Faith's Laila Alawa (soon to be a columnist at Altmuslim).  #EmpoweredMuslimWomen trended on Twitter, was featured on Buzzfeed and continues to be tweeted more than 24 hours after the party started. Most of the tweets were positive.  I learned a lot, and hope the people who followed the hashtag learned something, as well.
I learned  the very different meanings the word "empower" based on the very different women who partook in the event.  Empowered women all look, behave, dress and live very differently; this affects very much how they define "empowerment."  Well known women were not the only ones who are empowered — our mothers and grandmothers, with their own struggles, were just as empowered.
Muslim women are no longer talking about what they wear or how religious they look. They would appreciate it if everyone else would stop talking about it, too.
Women from all over the world participated and one thing was clear: it didn't matter where the women were from, they wanted to be able to tell their own truths.
And the biggest lesson that I learned was that women empower themselves; they do not need anyone to empower them.  They just need a supportive environment in which to do this.
There were people, men and women, who didn't like the hashtag for various reasons.  Some said it was redundant, that if you are a Muslim woman, you shouldn't have to add "empowered." But, as usual, my argument is that until this is displayed more commonly and Muslims rid themselves of the misogynistic reputation, it is imperative we qualify "Muslim women."
Some tweets were so racist and sexist that I hardly feel the need to address them.  I will say that Islam has given all humans — women and men — the same rights.  Islamic history is filled with empowered women, from Asiya (RA), who stayed steadfast in her beliefs, to Khadija (RA), an older businesswoman who proposed to the Prophet, to Aisha (RA), who related many of the Ahadith of the Prophet.
Another important thing I learned was actually from a Muslim woman who was very critical of hashtag parties.  She told me that she wished people would do more the just start Twitter trends. She wanted to see action.
I agree with her.  I hope that people who participated in the #EmpoweredMuslimWomen Tweet Party left feeling more aware and inspired to be part of a change in a very real, practical way.  Social media leads to awareness, and this awareness, I hope, will lead to more people thinking of the role of Muslim women and eventually social activism on a real, very practical level.
I hope that people who read the hashtag will help women to empower themselves. How?
By providing spaces for women to speak, to speak up, and to speak out.
By supporting women who are working on empowering themselves.
By encouraging women to own their stories and tell their narratives in whatever creative way they choose.
By not criticizing others for being different.
By creating and nurturing diverse environments so that there are no exclusions.
By amplifying the voices of those who aren't being heard.
By joining someone who is already working with projects that help women empower themselves.
By offering a helping hand to those who need it.
By being, providing, and highlighting positive role models for young women.
By encouraging young women to voice their opinions, their concerns and to be a part of discourse and dialogue.
Most of all, by teaching our daughters that we are our own heroes and not to wait for anyone to save us (Thanks Lila Abu-Lughod).
Sabina Khan-Ibarra is the founder of Muslimah Montage. A version of this post originally appeared on her Tumblr, Iamthepoppyflower.