This article comes on Day 25 of our special Altmuslim/Patheos Muslim Ramadan #30Days30Writers blog project, in which we are showcasing the voices of 30 Muslim leaders, activists, scholars, writers, youth and more (one on each day of Ramadan) as part of our commitment to own our own narratives and show how we are one Ummah, many voices. To demonstrate how our Ramadan experiences are shared yet unique to each of us.
Editor's Note – I wanted a youth voice in this 30 Days 30 Writers series,  so turned to my 10-year-old daughter and asked her to pen a piece for Ramadan. We went back and forth throughout the month trying to figure out what she wanted to writer. Finally, inspired by a post on Grow Mama Grow, I encouraged her to write a letter to the month of Ramadan telling it what she liked, what she found hard, what was beautiful about the month for her. During a time when so many of us are broken and feeling helpless in the face of tragedies, strife, unrest, horror, fighting, death and destruction all around us, hopefully it will help to read the words of a 10-year-old about why she loves the month of Ramadan.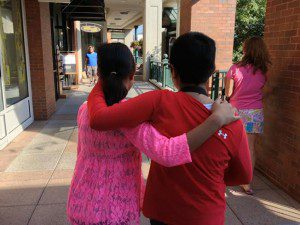 Dear Ramadan,
You are the most beautiful month of the year, and for this reason, I find it very important to write to you.
When I fast and pray, it makes me feel very close to Allah (swt). This happens because I am doing both for His sake. And for me, the more things you do for Him, the closer you will feel to Him. Allah (swt) is All Merciful, All Forgiving and All Powerful. When you are closer to Him, you will feel his mercy, his forgiveness, and his power in a way that makes you feel stronger in your Deen
Second, I'd like to tell you why I find fasting at a young age like mine important to me. (I'm 10, nearly 11-years-old.) When I completed my first full fast at the age of seven, I felt like I had gotten a step closer to Allah (swt). When you fast, you are at peace, and when you are at peace, you feel a stronger love towards everything you love. It's hard to do sometimes, and I get hungry, but I love being a part of you, dear Ramadan.
This year, three years after my first fast in Ramadan, I fasted in the month of Sha'baan doing a
Nafil Rosa
, which means an extra (non-required) day of fasting. On that day, I felt even closer to Allah (swt). From doing these fasts slowly and building up to doing more, I now think that when you fast earlier in your life, you learn great ways to grow closer to Allah (swt). Now, I do not mean you should fast at an age like five, because that is unhealthy and unsafe. Especially because you, Ramadan, are in the summer months now and the days are long.
But whenever you are ready, give it a try. I did half-day fasts and then tried a whole-day fast. My mom didn't want me to three years ago because she thought I was too young, but I felt ready!
Lastly, I just wanted to say that you are a truly gorgeous month. You are very holy and beautiful, and you give us many chances to grow closer to Allah (swt). The last ten days of you, which are known as Laylat ul Qadr, are the best ten days of the year.
I believe you are the best month of the year, hands down. Thank you for bringing all Muslims closer to Allah (swt), and helping us grow stronger in our Deen.
Love,
Amal
Amal is a nearly 11-year-old girl living in Virginia with her brothers.  She loves watching crafting videos, writing stories, doing artwork and helping her mom. Ok, maybe not so much the last part. 🙂