This article comes on Day Ten of our special Altmuslim/Patheos Muslim Ramadan #30Days30Writers blog project, in which we are showcasing the voices of 30 Muslim leaders, activists, scholars, writers, youth and more (one on each day of Ramadan) as part of our commitment to own our own narratives and show how we are one Ummah, many voices. To demonstrate how our Ramadan experiences are shared yet unique to each of us.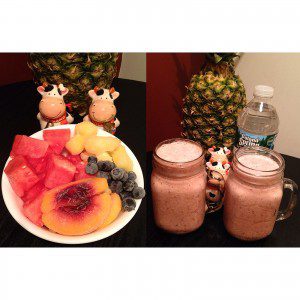 By Zainab Ismail
This is my sixth Ramadan since I converted to Islam. But here I'm sharing my fourth Ramadan story with you – the behind the scenes of which no one knows. As a fitness/nutrition professional for 20 years, eating healthy, exercising and staying fit is as essential in my life as is breathing. This past year I was blessed with making the trip to Makkah and Madinah, which has ignited my interest on the Prophetic traditions related to eating. I now design many of my meals and recipes incorporating some of the Prophetic foods and traditions.
My fourth Ramadan was much like the ones previous, but with one important exception: I started to travel 45 minutes to an amazing masjid in New Jersey (North Hudson Islamic Educational Center) for post-sunset taraweeh prayer. The masjid, which I continue to attend now, has a large group of Latino converts and really makes me feel welcome. However, the travel time shifted my routine.
Instead of working out before breaking fast, I worked out earlier in the day or late afternoon. I made sure to take a 45 to 60 minute nap. I also cooked earlier and sometimes made enough food for two days. In my small Whole Foods market bag, I  would pack my iftar of organic dates, raw organic milk and a meal, which included things like three to four ounces of grilled meat, six ounces of roasted organic potatoes and one cup roasted organic cauliflower. This was basically a smaller portion of what I ate outside of Ramadan. Personally, I have very little appetite during Ramadan, so my portions are 15 percent less than the rest of the year.  Keep in mind that your metabolism is slowing down as Ramadan, so reduce your portions accordingly.
During my fourth Ramadan, resistance training happened four times a week for about 30 to 45 minutes — the time varied from just before iftar to after iftar, or a combination of the two (20 minutes before iftar continued with 20 minutes after iftar), instead of everyday. I also attended the mosque for prayer as many times as my body could handle.
Fasting and Exercise Can be Done
You can successfully incorporate a modified exercise program during Ramadan if you were exercising prior to Ramadan. It is not ideal to start a new fitness program during Ramadan. There are many factors that will come into play in your regular daily activities, and your amount and type of worship will determine your energy and your time availability for exercise. What is most important is to keep your body mobile, and you can do that by stretching and walking.
Keeping fit during Ramadan will always be challenging. During my first Ramadan, I packed in my workouts but didn't do the additional prayers, which add so much value to the month.  The internal spiritual connection I have gained by adding taraweeh and leaving off the intense workouts has made my Ramadan 100 percent more rewarding. I didn't know about sahoor either, so my hydration levels were low throughout the day. Over time, I learned that shorter workouts were a better goal, allowing me the time and energy to improve spiritually.
I normally drink at least one gallon of water a day, so exercising during this month and keeping hydrated is next to impossible. There were days when I was just running on fumes. Now, I make sure to drink water in intervals during the non-fasting hours, such as during iftar and before I sleep. The easiest part about working out during Ramadan is my discipline – I am nothing if not disciplined.
Here's a great recipe I like to use now for suhoor:
Ramadan Watermelon smoothie
1. 1 1/2 cups watermelon
2. 1/2 cup pineapple
3. 1/3 cup peaches
4. 1/4 cup blueberries
5. 1 cup coconut water
6. 1 tbs coconut cream
7. 2 tbs Great Lakes protein
Blend everything together and enjoy!
Calories 330 (very hydrating)
"O you who believe! Eat of the good things which We have provided you, and render thanks to Allah if it is (indeed) He whom you worship. (Quran 2:172)"
Zainab Ismail has over 20 years of experience as a movement therapist, nutritional coach,personal trainer and national speaker. Her lengthy years of health and fitness experience prior to Islam involve working with top level athletes and celebrities. Zainab teaches the popular "Fit For Allah" women's fitness class at Mecca Center in New York. She is also the Vice President of Nadoona, a fitness movement based in the U.S geared to helping Muslim women in fitness and nutrition and who under Nadoona Extreme have just released a 2 DVD fitness series. As a full-time therapist, she integrates an eclectic approach of soft-tissue therapy, movement conditioning and nutrition coaching in New York City.