This article comes on Day 29 of our special Altmuslim/Patheos Muslim Ramadan #30Days30Writers blog project, in which we are showcasing the voices of 30 Muslim leaders, activists, scholars, writers, youth and more (one on each day of Ramadan) as part of our commitment to own our own narratives and show how we are one Ummah, many voices. To demonstrate how our Ramadan experiences are shared yet unique to each of us.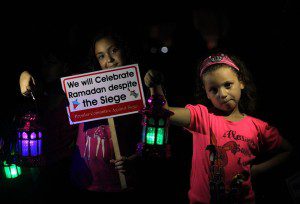 By Omid Safi
Tonight
might be
Layla al-Qadr
Night,
Shrouded in mystery
Better than a thousand months
We are told
If this is the night…
One eye
on the Quran,
One eye
on the pictures
Pouring out of Gaza
Rubbles
Children
Ashes
Blood
Grief unbearable
My heart in Gaza
Quran on my lips
Can't make it past
Ya ayyuha al-nafsu 'l-mutma'inna….
"O Soul at peace"
We are told:
"The angels come down"
Tonight in Gaza
Last two weeks
The only angel I saw
Coming down
Is the angel of death
Coming to embrace
Souls of innocent ones
Carrying them
to God's embrace
Irji'i illa rabbiki
Radiyatan
Return to your loving Lord
You pleased with God
God pleased with you.
We are told:
"Peace…
until the rise of dawn"
O dear God
Let it be
The angel descending
Meets
Faith ascending
Resistance rising
I see Ayman Mohyeldin
Reporting:
A family in prayer
Candlelight
Hallway
No electricity
Laylat al-qadr.
Ayman writes
"We are trapped by everyone.
The only doors open
to us
are God's doors
to heaven"
a Palestinian woman
who lost her son
told him.
If she has
Strength to pray
I will not let
Grief's armies
Break me
A Habib told us
"Speak the truth
though your voice
quakes."
May this dark night of the soul
The dark night of injustice
Turn into the Laylat al-qadr
The night of real power
Power mingling with love
The night of worth
May we come to know
Each life's worth
The hidden jewel
inside every breath
Let the peace come
At the rise of dawn
dawn of justice
dawn of peace
For us all
Dignity for all
Suffering for none
That would be a day
Better than a thousand months
That would be a dawn
Better than the dark night
of 66 years
Omid Safi just joined the faculty of Duke as director of the Duke Islamic Studies Center (DISC). He received his bachelor of arts, master's and doctorate degrees from Duke. Prior to accepting this position, he was a professor of Islamic studies at the University of North Carolina at Chapel Hill.