This article comes on Day Seven of our special Altmuslim/Patheos Muslim Ramadan #30Days30Writers blog project, in which we are showcasing the voices of 30 Muslim leaders, activists, scholars, writers, youth and more (one on each day of Ramadan) as part of our commitment to own our own narratives and show how we are one Ummah, many voices. To demonstrate how our Ramadan experiences are shared yet unique to each of us.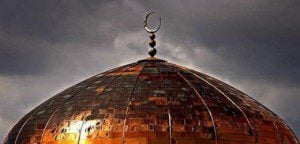 By Laila Alawa
Ramadan.
Growing up, knowing that the month was drawing near always filled me with a certain sense of excitement. It was a time for early morning meals where my Baba would insist on me eating more and more to keep me full, where my siblings and I would drink water until we could feel it almost halfway up our throats and where I felt like I was part of a secret inner circle of people, all practicing the month together — solidarity in our singular struggles with that feeling of community.
There was a certain sense of spirituality and connectedness I felt during those fleeting days, a feeling that I struggled to connect with year-round.
As I got older, the feeling began to fade. I'm not sure where I began to lose my excitement for Ramadan. Maybe it was when I began listening to other people's spiritual experiences, talking about having community or being connected. I started allowing others to define the month for me, an allowance that crept in quietly in the form of memes on the month, lectures and auntie diatribes in the mosque. Uncomfortable taraweeh prayer circumstances on the nights I found myself in the overheated, underlit and crowded women's prayer spaces at my local masjid.
I began to count the experiences others said they were having — spiritual revelations, personal peace, moments of stillness — as ones I wasn't privy to possessing. And, it made me feel inadequate. The month was no longer my own, and it would be a while before I figured out how to make it mine again.
I did everything possible to bring the blessed month back to me: Listened to different scholars talk about how to make the most of the month. Watched how my friends reveled in attending the taraweeh prayers. Tried to make sure that I was putting as much food as possible in the early mornings. Wrote my Facebook posts, tweeted to seem as though I was a part of the excitement surrounding the month. The excitement that seemed to be there for everyone else but me.
One day, the realization hit me: My attempts to make Ramadan wonderful for myself, were formed based off of what I saw others around me doing. I had lost touch with the way I used to make the month my own. Forgotten was the understanding that my struggles were mine to take on and revel in.
Community is integral, but the essence of Ramadan is in the singular journey, stripped of all that could distract us: Personal demons, external enjoyments and unnecessary consumption. We are all embarking on this alone, regardless of how surrounded by others it may seem.
It was with that in mind that I set about reclaiming Ramadan for my own. Spiritually, emotionally, physically, mentally — no longer will I make my way through the month as though it is a chore. But once again, I will savor every moment of hunger and thirst as though it was the very first Ramadan, years ago.
The month of fasting and moments of holy connections is still one of community, but now, it is also a community I have chosen to connect with — and pull back from.
We fast not to please those around us, but to prove to ourselves that we can do without. I live my life these days not to please others, but to create genuine connections and build my relationship with my faith and God through ways I have learned and understand to work for myself.
Taraweeh prayers in crowded mosque spaces might be the ones most attended, but I gain the most standing at night in the still of my own space. Ramadan is our chance to be true to ourselves, stripped bare of anything else, and I have come to realize that the only way to do that is to actually stop trying to impress those around me. Ultimately, the only One that matters is already listening.
Laila Alawa is a columnist for Altmuslim. She is a writer and cultural critic who has been published at The Huffington Post, The Guardian, School Library Journal and PolicyMic, and serves as the founder and president of Coming of Faith LLC. She is an associate editor a The Islamic Monthly.  She conducted a study on Muslim American perceptions of belonging, and is based in Washington, D.C. Follow her on Twitter at @Lulainlife.