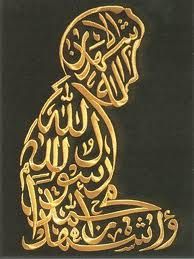 This is Day 18 of Altmuslim's #30Days30Writers series for Ramadan 2015.
By Shereen Yousuf
One of the most auspicious occasions during Ramadan is the night that Muslims believe the Quran was revealed, a night we call Laylatul Qadr or the "Night of Power." I would like to utilize this space to share one supplication that Shia Muslims recite during our Laylatul Qadr, which we observe on the 19th, 21st, and 23rd nights of Ramadan and then provide a brief reflection of how I relate to it in light of the increased anti-Black racism, Shiaphobia, homophobia and transphobia I've witnessed coming from the Muslim community over the past few weeks.
The supplication I would like to share is called Du'a Makarimul Akhlaq and roughly translates to "The Supplication on Noble Moral Traits and Acts Pleasing to God."  It belongs to a larger compilation of supplications called Al-Sahifa al-Sajjadiyya, which we regard as the "Psalms of Islam." I once heard a Shia scholar say during a lecture that while the Quran is God's way of speaking to mankind, al-Sahifa al-Sajjadiyya is our way, as the creation, to communicate with God.
The author of these supplications was the great grandson of the Prophet (pbuh) and son of the Prophet's grandson, Husayn (pbuh).  His name was Ali, and is known by his title "Zain al-Abideen," which means "the adornment of the worshippers." On a more personal note, each supplication that I have ever read by this author has revived me in my worst spiritual states.
Because the supplication in its entirety is too long to cite here, I've provided a link to the entire supplication (translation located below the Arabic).
The responses by many U.S. Muslims to recent events like the Rachel Dolezal controversy, Caitlyn Jenner, the SCOTUS ruling on same-sex marriage as well as the lack of outrage to the bombings of Shia mosques in Saudi Arabia and Kuwait has made it increasingly difficult for me to embody the mercy and community-building that is associated with this month as a whole.
Instead, when Bree Newsome took down the Confederate flag in front of the South Carolina's statehouse steps with the declaration, "You come against me with hatred and oppression and violence.  I come against you in the name of God. This flag comes down today," her expression of faith in God as a source for justice and liberation resonated with me as a Muslim and how I see God.
As a Shia Muslim, the tragic burning of Black churches throughout the Southern states reminds me of the recent attacks on Shia mosques in Saudi Arabia, and most recently in Kuwait just last Friday
killing 27 worshippers
. Drawing these correlations is not my attempt to appropriate the cause for Black liberation; rather, it is to illustrate that the processes of oppression and modes of resistance against them (in the case the attack on religious institutions and the use of religion itself in opposition) is something that I identify with as a Shia Muslim.  For me, understanding how marginalized groups can seek to liberate themselves from oppressive social structures is a deeply spiritual matter.
For this upcoming Laylatul Qadr I'm inevitably reminded that, in the end, our souls belong to God and it is to Him we have to hold ourselves accountable. This is why I not only fear committing acts of social macro- and micro-aggression against marginalized folks who undoubtedly suffer from real traumas as a result of systematic violence, but that they can additionally function as a spiritual transgression for which I will one day have to hold myself accountable on the Day of Judgment.
The lines from Du'a Makarimul Akhlaq in particular resonate with me are in light of these feelings are:
Oh Allah, bless Muhammad and his family.  Let me not be oppressed while You can repel it from me. Let me not oppress [others] while you have power to restrain me…

Oh Allah, take to Yourself, from my soul what will purify it. And leave for my soul which will set it right, for surely, my soul will perish unless you protect it.

Oh Allah, bless Muhammad and his family.  Ward away [evil] from me, by Your gentleness, feed me through Your favor, reform me through Your generosity, heal me through Your goodness, shade me in Your shelter, and wrap me in Your pleasure, and give me success to reach the most guided of affairs when affairs confuse me, the purest of actions when the actions seem similar, and the most pleasing of creeds when creeds conflict.
On the night of power, I will be negotiating my understanding of power in this world with the All Powerful.  I wanted to share this supplication with the sincere hope that it brings enlightenment in ways that are fitting for you, as I pray that it will for me.  I also pray that you, God-Willing, may derive meaning from it ways that you see fit for your own struggles this Ramadan.
Peace.
Shereen Yousuf has been an adjunct instructor of introductory level communication courses in the Chicago-land area for the past three years. She has also been a community organizer within the Shia community and is deeply interested in how Muslims are negotiating their sense of belonging within U.S. Muslim communities. She will begin her PhD program in the fall at the University of Wisconsin-Madison as part of the Rhetoric, Politics and Culture program. You can find her on Facebook at  https://www.facebook.com/shereen.yousuf.52 and on Twitter @ShereenYousuf.