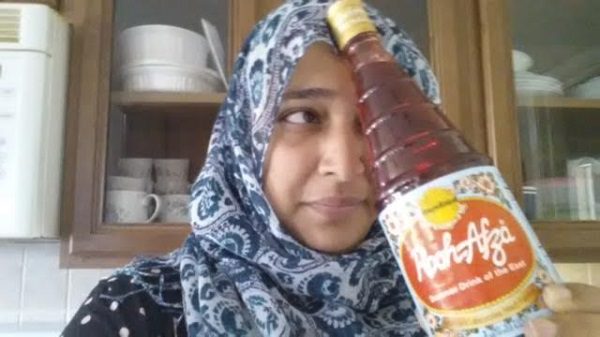 This is Day Four of the #30Days30Writers 2016 Ramadan series.
By Saadia Faruqi
A week before Ramadan,
The questions begin.
You know the ones, don't you?
Are you ready?
Have you prepared?
What will you be eating
At suhoor and Iftar?
I want to invite
All you curious people
Into my pantry and freezer
I want to shout
See how unprepared I am?
No frozen kabaab, no stacks of parathas
Not even a box of dates,
Cuz I'm the only Muslim in the world
Who doesn't like dates.
But what's this hiding
Behind the masala packets?
A tall graceful bottle
Dressed in blood red.
A throwback to older times,
Black-and-white classics,
And old Urdu commercials
Preaching taskeen-e-jaan
If you know what that means.
She's a real beauty
An eastern Grace Kelley
A work of art.
The only one I really need
For Ramadan
Even if you frown and shake your head
And call me crazy.
She slakes my thirst
After ten and a half hours
Of hard fasting.
Offering silent succor
To my parched soul.
She shines like a beacon
To the finish line.
She's a promise, a guarantee.
A glass or two after sunset
One at the first hint of adhan,
Another after I've eaten my fill
Of other foods.
Sometimes if it's been
A particularly hard day,
A third one slides down my throat
After maghrib prayers.
But who cares about her these days?
There are other drinks now:
Vimto, smoothies, almond milk.
As if any of them could compare
To my beloved lady in red.
The desi store sold her at two-for-one
As if she's a sale item that needs to be
Given away.
They give me odd glances
When I ask for her in February or December.
Stupid store clerks.
Uncaring friends,
Running after the latest craze
Low-calorie, high protein,
Not knowing the allure of that timeless
Blood red, thirst slaker.
It's my year-round poison
After a tough day at work,
Or a game of soccer
Or even a fight with the hubby.
It's better than drowning my sorrows
In a diet coke or two
Or eating a cheeseburger
With extra cheese.
Her graceful neck
And semi-transparent dress
Brings back happy memories
Of Amma cooking pakoras
Abbu checking the clock
And Dadi asking anxiously,
Is the Rooh Afza ready?
It's time for Iftar.
So all you inquisitive peeps
Asking questions
Like nobody's business,
She's my preparation
For Ramadan.
It's time for the beverage
Of kings and queens,
And the poor man
On the street.
And for the lonely immigrant
Who doesn't really prepare
For Ramadan
Except for a pantry full of
Glistening red bottles.
Snagged two-for-one on sale
But full price in my thirsty soul.
Saadia Faruqi is the author of Brick Walls: Tales of Hope & Courage from Brick Walls and editor-in-chief of Blue Minaret, a literary magazine of Muslim art, poetry and prose. She loves all things red, including cardinals, ladybugs, ripe tomatoes and of course Rooh Afzah. Visit her website at www.saadiafaruqi.com or follow her on Twitter @saadiafaruqi.