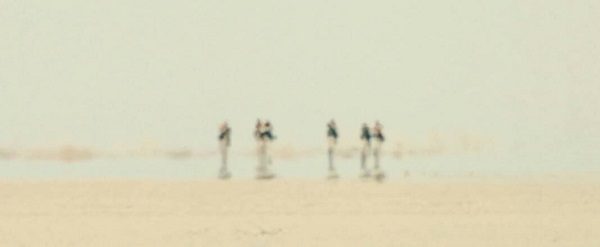 This is Day Five of the #30Days30Writers 2016 Ramadan series. Dedicated to the people of Iraq.
By Ramon Meija
A year has come and gone with no liberation in sight. If you can recall, last year my submission for Day 17 of the #30Days30Writers Ramadan series for Altmuslim was replaced by a letter highlighting my struggle with depression. Insha'Allah, God willing (I thought), this will help people understand.
"Come to Prayer, Come to Salvation."
I was not raised Muslim. Aside from a few commonly-used phrases, I do not know how to read Arabic. My recitation, beginner at best, was learned by observing friends I sat with in Dayton, Ohio, or at the University of Texas at Austin.
In April of 2003 Baghdad, Iraq, I heard, meaning I actively listened to, the adhan, call to prayer, for the first time. It was then that I promised to answer the questions: "Who are Muslims?" and "What is Islam?"
Today.
The headache is overwhelming. The thirst never quite quenched. The food always bland. A day becomes a week and extends to a year.
During my time in Iraq, I conducted dozens of resupply missions throughout Iraq. It was on these convoys I would see the devastation and pure sadness that war causes on a country and its people. Dozens of burnt out trucks, cars, tanks, countless buildings showed visible signs of bullet indentations and were on the verge of collapse.
Today.
My path to answering those questions led me to accept Islam in August of 2008 in Dayton, Ohio – one week before the arrival of the blessed month of Ramadan. I'm on my eighth Ramadan of fasting, and I want to hope I'm not the same man I was eight years ago. While at times I reside on the peripheral view of the Muslim community, this month is especially meaningful.
I love every element of Ramadan: Abstaining from food; the need for contemplation and meditation; the mosques overflowing for communal prayer as anticipation for
iftaar
builds and colored outfits and hijabs fill the prayer lines; a sense of family and belonging.
In the distance, a black figure. Can't make it quite out. I squint. It's a body. An Iraqi woman, on the river embankment, lies half-submerged and motionless. I took another drag of my cigarette. In that moment, she meant nothing to me. I had never truly looked at the people of Iraq. I mean, I saw them, but I never cared until it was too late. Their faces branded in my memories, but I never spent the time to analyze their facial expressions. I hadn't noticed their pain, their sorrow, their anger, their frustration, their fear with being occupied by a foreign military.
Today.
This is my burden. This is my story.
A man gives his life away for many years and goes off to war. Afterwards his worldly body is allowed to leave and come home. But, he sees that whatever else he may do with his life—college, marriage, family— will always be tainted by the label of an invader, an occupier. All the people killing and dying, they do so because of me. There is no escape. Even today we are all still in the desert.
This month is a renewal of our spiritual intentions. It is a moment to stop what we are doing and reflect on our own mortality, so we can change ourselves for the better.
O' Allah (swt), I ask You by Your mercy which envelops all things that You forgive me. I have been the cause of much pain. I strive to better myself while I inhabit this world. Help me do right by Your blessings.
Ramadan Kareem.
Ramon Mejia a former U.S. Marine who participated in the initial invasion of and deploying to Iraq in 2003. As a result of his experience in Iraq, he would later accept Islam in '08. Ramon is a political activist and organizer with: Iraq Veterans Against the War (IVAW) and #VetsVsHate. He is a Regional Organizer for Veterans Challenge Islamophobia (VCI) Campaign in Dallas, Texas. Follow him on Twitter: @MejiaRDZinn, and find him on Facebook at https://www.facebook.com/ramon.mejia